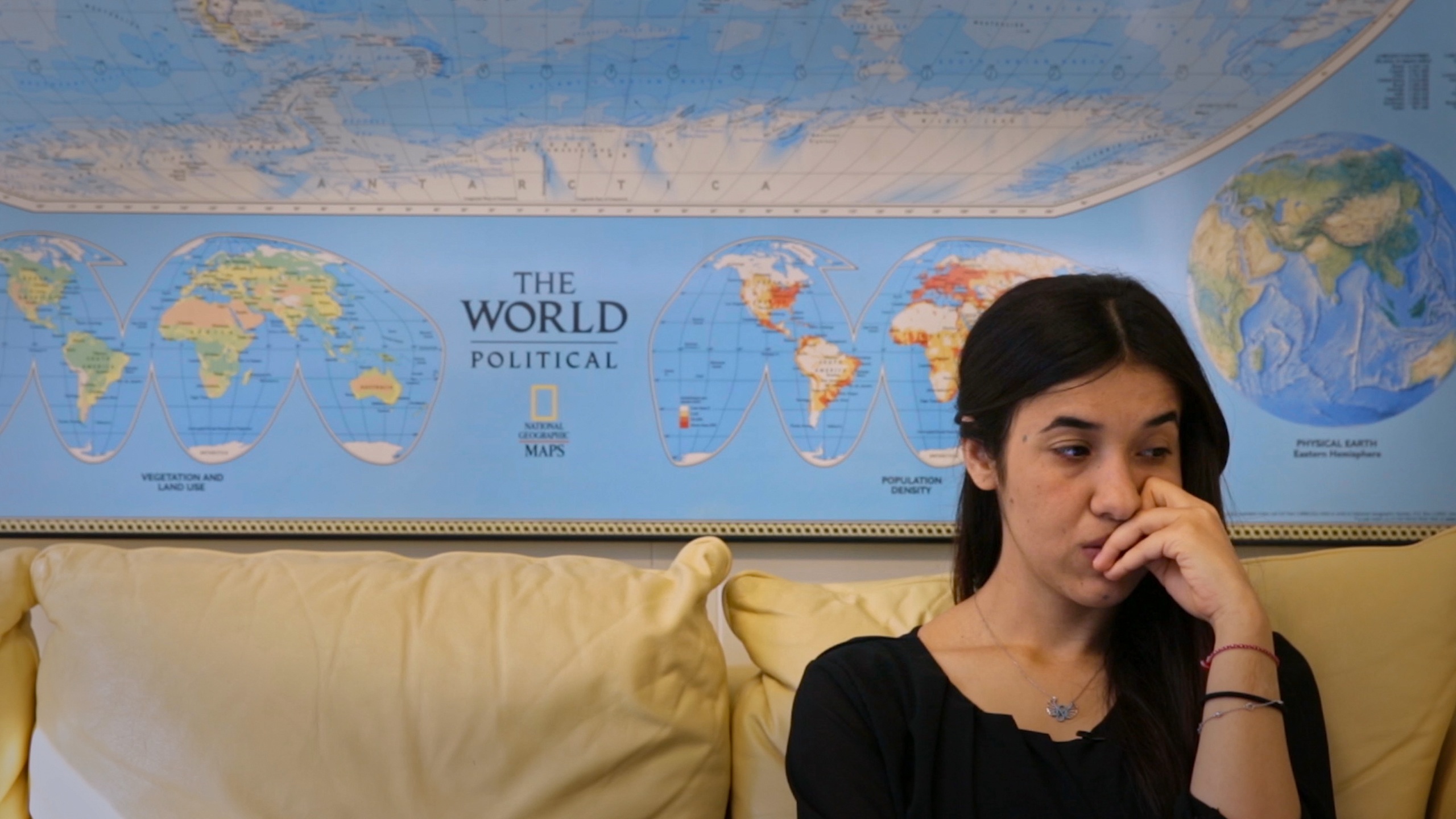 (The 2018 SXSW Film Festival kicked off March 9 and ran all the way through to March 17. Hammer to Nail has a slew of reviews and interviews coming in hot and heavy so keep your dial tuned to HtN!)
On Her Shoulders, the new documentary from Alexandria Bombach (co-director, Frame by Frame), opens with its 23-year-old heroine, Nadia Murad, pursued by an iPhone-wielding crowd of paparazzi or super-fans (or both). Is she some kind of pop-culture celebrity? She looks uncomfortable and upset, not at all relishing the attention, so maybe she is someone quite different. Indeed, she turns out to be a Yazidi survivor of the ISIS genocide against her people in northern Iraq. Abducted and sexually assaulted, she somehow escaped, and now travels the world as a goodwill ambassador on behalf of not only the Yazidi, but all victims of trafficking. It's not a life she willingly chose – as she tells us, her dream was to run a hair salon – but it is a mission she accepts as inevitable and necessary. The film tracks her journey (which you can read about in her book, Last Girl) from reluctant emissary to powerful spokesperson, horrifying, moving and inspiring the viewer in equal measure.
Fortunately for her, Nadia is not alone, accompanied in her globetrotting by Murad Ismael, Executive Director of Yazda (a Yazidi advocacy group), who acts as her interpreter. Her devoted helpmate, he is frequently overcome by her tales of suffering. With his assistance, Nadia prepares her application to become the official United Nations Goodwill Ambassador for the Dignity of Survivors of Human Trafficking. Additional support comes from human-rights attorney Amal Clooney, among others, who speaks on Nadia's behalf in front of the U.N. No matter her success as a speaker, however, Nadia is, understandably, never able to leave behind the memory of what she wen through, which includes not only her own ordeal, but the death and torture of members of her family, as well. After touring Western capitals, she returns to a Yazidi refugee camp in Greece, where, watching young boys sing of their misery, she breaks down.
Still, as tragic as the core narrative may be, this is an overall uplifting tale of resilience. Life must go on, and good people like Nadia and Murad should be guiding lights to us all. Bombach, as a director, knows just how to frame her images for maximum impact, though I sometimes wish she had used less of composer Patrick Jonsson's score (the drama requires no accompaniment to touch us). I marvel at her ability to obtain access to diplomats and politicians, who allow her and her crew to follow Nadia into the halls of Canada's Parliament, as well as into the U.N. building. As social-advocacy documentaries go, this is a superlative example of the genre, giving us a fierce chronicle as specific as it is universal. In a world with a growing refugee crisis, we need more movies like this to remind us of the importance of human dignity, encouraging others to carry the burden of finding a solution on their shoulders, as well.
– Christopher Llewellyn Reed (@ChrisReedFilm)