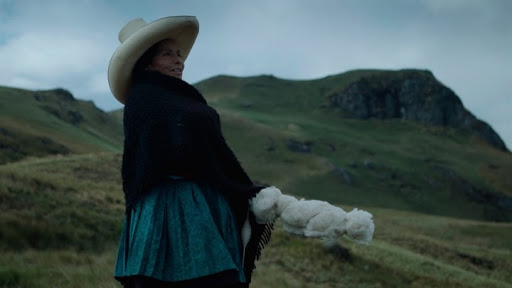 (The 2020 Slamdance Film Festival ran January 24-30 in Park City, Utah. Hammer to Nail had boots on the ground at the fest and guarantee more coverage thank any other site out there. Like what you see here on Hammer to Nail? Why not give just $1.00 per month via Patreon to help keep us going)
Máxima Acuña, an indigenous woman in Peru, thought that she and her family had finally achieved the bliss they deserved after saving up hard-earned money and buying a plot of land in the Cajamarca Andes highlands. Surrounded by beautiful peaks and fertile soil, with a pristine lake nearby, her "Tragadero Grande" plot looks like a verdant mountain paradise. So what's the catch? Not far away sits the Yanacocha gold mine, the largest in South America, which is running out of its precious metal. It just so happens to have tested her land and that beautiful lake and decided that they hold the key to future riches. Move over, Máxima. What a multinational megacorporation wants, it usually gets.
Not so fast. In director Claudia Sparrow's documentary Maxima, the eponymous protagonist lives up to her ambitious name, refusing to back down and accept her fate. Peru has a history of corruption and exploitation of its poor, working hand in glove with foreign companies like Yanacocha (whose majority stakeholder is the American-owned Newmont Mining) to rape the land. Máxima Acuña, however, finds a lawyer, Mirtha Vazquez, and fights back.
At risk is not only Máxima's peace and prosperity, but that of all in the area, Peru's poorest. The process of mining for gold is highly destructive, with the runoff – filled with cyanide and heavy metals – poisonous to surrounding flora and fauna, and humans as well. The locals have already suffered high rates of cancer and other health issues because of Yanacocha's past activities. What will happen if they pollute and destroy more? Who will stop them?
Máxima will! Though not without cost. She and her family are constantly harassed, and her lawyer threatened, as well. Undeterred, she pushes on, winning an injunction, then gathering material to win an upcoming appeal by the mining company. Along the way, she is honored with the 2016 Goldman Environmental Prize, finding additional support from groups like EarthRights International. And yet, Yanacocha also refuses to accept defeat, and has much more money and staff. The conflict, though technically resolved in Máxima's favor, legally speaking, goes on to this day.
Sparrow (I Remember You) has chosen her subject wisely, in cinematic terms. Not only does Máxima an extremely compelling main character make, but the world she inhabits is gorgeous to photograph, threatened by greed though it may be. Beyond that, Sparrow also tells an absolutely necessary story, showing that we need not accept our fate as pawns in this world. We always have a choice, no matter how hard that choice may be. Máxima chooses freedom. Here's hoping she gets to keep it.
– Christopher Llewellyn Reed (@ChrisReedFilm)
Like what you see here on Hammer to Nail? Why not pay just $1.00 per month via Patreon to help keep us going?