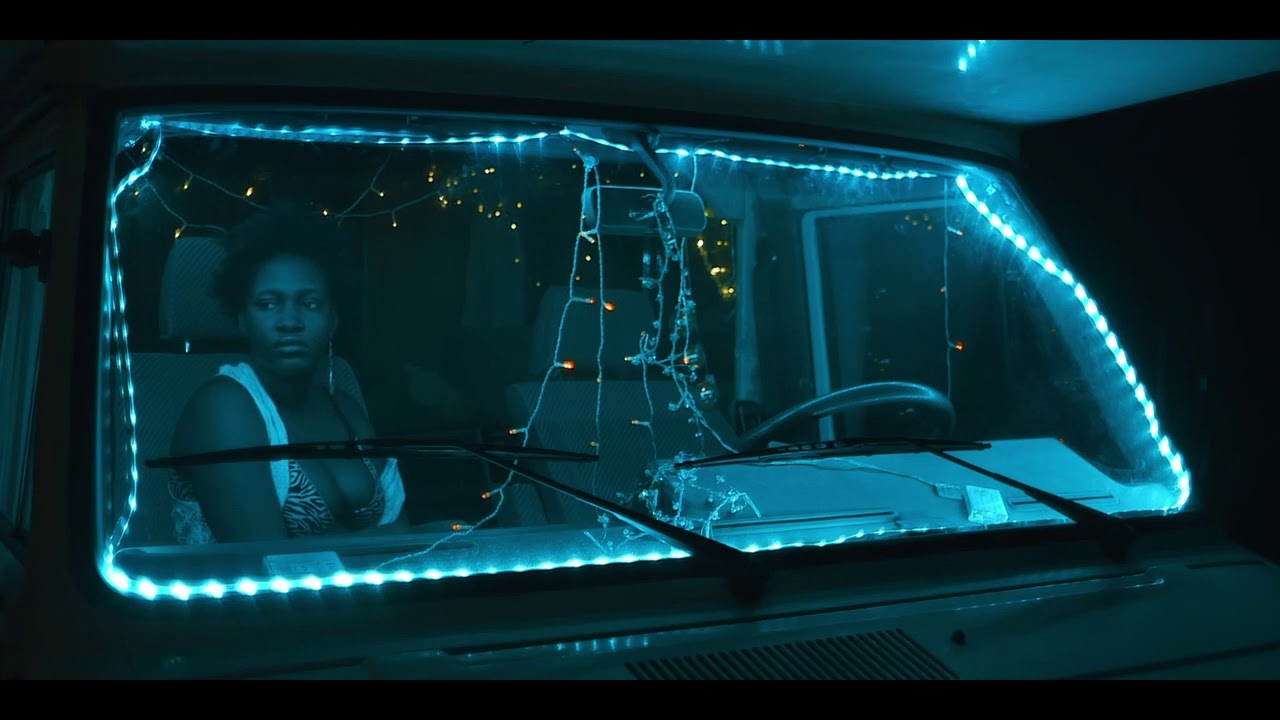 (The 2020 Slamdance Film Festival ran January 24-30 in Park City ,Utah. Hammer to Nail has boots on the ground at the fest and guarantee more coverage thank any other site out there. Like what you see here on Hammer to Nail? Why not give just $1.00 per month via Patreon to help keep us going?)
On a stretch of highway outside of Wolfsburg, Germany, site of Volkswagen's headquarters, 26 camper trailers of various shapes and sizes dot the road's edge, colorful lights providing a welcome invitation to those who might be inclined to stop by. In each of these would-be comfort stations sits a single foreign sex worker, plying her bodily wares in the hope of making a fast buck (or rather, Euro) via the world's so-called oldest profession (legal in Germany). In her engrossing, astonishingly intimate documentary Lovemobil, director Elke Margarete Lehrenkrauss profiles three of the women involved in this area's trade: the older Uschi, a German madam (and former prostitute, herself) who owns a number of trailers; Milena, a Bulgarian hoping to earn enough money to help out her younger brother back home; and Rita, a Nigerian who dreams of better opportunities than those in her native Africa. Together they make a compelling trio, the director weaving their separate stories into a moving tapestry of despair and resilience.
Art that forces the viewer to question and reevaluate assumptions is always worth considering, and here Lehrenkrauss adds layers of details that constantly shift our impressions of the subjects. This is especially true of Uschi, who begins the film as something of a strict taskmaster, haranguing Rita for the way she maintains the camper and presents herself, but then shifts as we learn more about her own background. She continues to test our sympathies, alternating between solicitude towards Rita and uttering racist statements about how African women are bred for this kind of work.
Rita and Milena, themselves, are no less complicated, but are far more consistently likable, their lack of options in this world palpable. Milena explains how she and her brother were unceremoniously shipped off to a children's home after their widowed father remarried, and then how she was forced into her first prostitution gig after a friend lured her abroad under false pretenses. Once back in Bulgaria, with no education, she found that turning tricks remained her best shot at making a living. Rita's early days were less bleak, or so it appears, but her journey to Europe, on a smuggler's boat, was a frightening experience, made worse because she cannot swim. All three of our protagonists share a common history of bad luck and misery, though Uschi, now in at least her sixties, is most at peace with her choices, even if lonely.
Remarkable in terms of its access to the women and to some of their clients, Lovemobil examines the steep cost of the commodification of human flesh, as well as the way in which we dehumanize those involved in its trafficking. Milena and Rita describe encounters with men who threaten, or even commit, violence; sometimes the better experiences only involve those with poor hygiene but otherwise nice manners. Occasionally, the johns are pleasant enough, but that way lies peril, as well, as Rita discovers when she becomes disappointed after liking one such guy more than he deserves. At one point, off camera, a sex worker is murdered, casting a pall over an already depressing locale.
It astounds me that Lehrenkrauss was able to gain the trust not only of the women but also the men, but that's what a three-year process of filming can lead to. By the time the movie ends, we have become so embedded in the experiences of Milena, Rita and Uschi that it's hard to believe we have only known them for a little over 100 minutes. Their stories stay with us, long after the credits roll. The wages of fine cinema is life, in all its vital glory.
– Christopher Llewellyn Reed (@ChrisReedFilm)
Like what you see here on Hammer to Nail? Why not pay just $1.00 per month via Patreon to help keep us going?