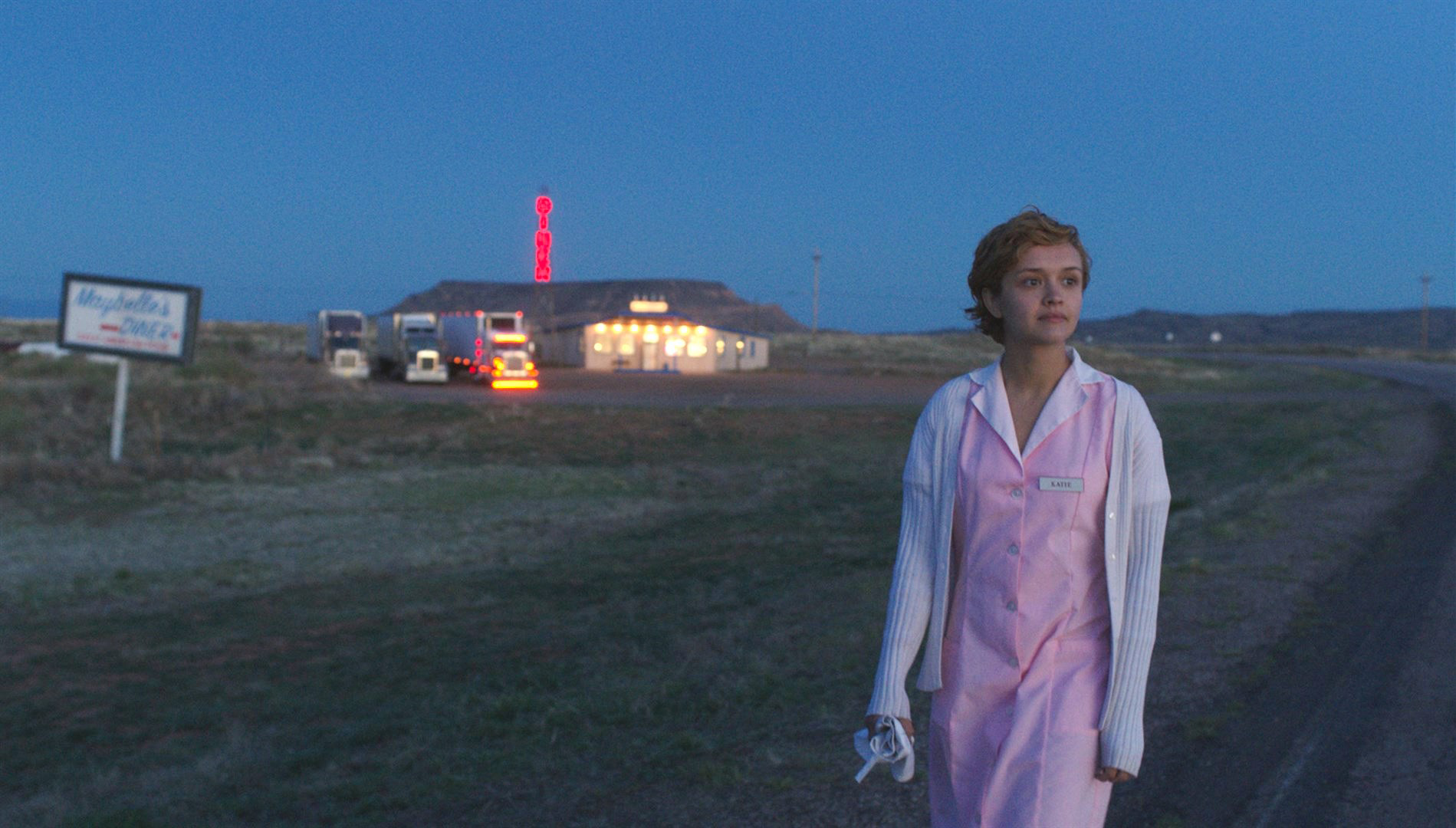 (The Annapolis Film Festival kicked off March 30 and wrapped up April 2. Here's some coverage from the fest…)
Although I have become skeptical, over the years, of films about prostitutes, concerned by the potential to romanticize the profession, I am happy to report that Katie Says Goodbye, the first feature from writer/director Wayne Roberts, avoids any and all tendencies to sugarcoat the fate of its central heroine. Katie, played by the luminous Olivia Cooke (Me and Earl and the Dying Girl), is a desperate young woman, living in a trailer park with her irresponsible mother, who resorts to turning tricks to not only make ends meet, but earn enough money to decamp to California, where she hopes to start anew and enroll in beauty school. She's a kind soul, ripe for exploitation, and Roberts proceeds to explore the ways in which her many bad decisions gather their awful momentum to deliver a near fatal knockout blow. Fortunately, in spite of her apparent fragility, Katie is made of strong stuff, and we leave with the hope that she may just make it out of her hellish origin story. Maybe. Perhaps. We can dream.
Katie's life centers around the diner where she works, her extracurricular activities, and the home she shares with mom (played by Mireille Enos, Sarah Lindon in the American version The Killing). She is never not dressed in her pink waitress outfit, nor without her nametag that proudly declares her identity. She's a small-town gal, not long out of high school, still fresh and hopeful that her existence may not turn out as bleak as it seems preordained to be. With brisk and sweet efficiency, she meets her clients during or after work. They include a gentle trucker (played by Jim Belushi, Home Sweet Hell); a creepy former teacher of hers, who is also the father of a diner colleague; and even a local cop. The men run the gamut of who one might expect to pay an attractive young woman for her services: as in, every kind of person, each with just enough categorization to avoid one-dimensionality. Indeed, one of the best parts of the film – in addition to Cooke's marvelous performance – is the rich texture of the ecosystem of a place without hope. Mary Steenburgen (Brahmin Bulls), as the owner of the diner, is the only person who seems to care for Katie as something more than a commodity, yet we worry that her solicitousness will not be enough to save Katie from a terrible fate.
It's when Katie falls in love with Bruno (Christopher Abbott, James White), a local mechanic, that things start to unravel, as the attendant jealousy this provokes among the male population starts to simmer. What had been a carefully constructed world of known rules suddenly falls apart. Her choice is an odd one, since the man in question, a former convict named Bruno, is gruff and terse, quite Katie's opposite. What soul she projects onto him seems entirely of her own conjuring. Perhaps, for a person so prone to magical thinking, this is the only kind of lover she could have, a blank screen on which to project her most heartfelt desires. Whatever the reasons, the act of choosing a sweetheart upends her universe, and what follows is not pretty. It is, however, wholly engaging, thanks to the brilliant Cooke, an able supporting cast, a smart script by Roberts, as well as his very fine direction. We've seen many "hookers with a heart of gold" stories before, but none like this, combining the harsh realism of a film like Theo Angelopoulos' Landscape in the Mist with the yearning fabulism of Percy Adlon's Bagdad Cafe, yet wholly its own unique creation.
– Christopher Llewellyn Reed (@ChrisReedFilm)