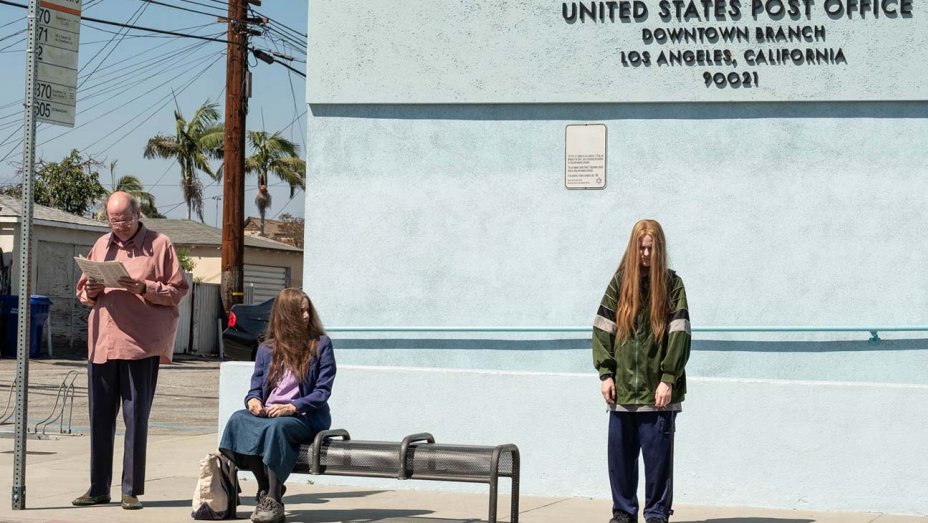 Editors Note: Kajillionaire is now playing in theaters. Below is Melanie Addington's review from Sundance 2020.
(The 2020 Sundance Film Festival ran January 23-February 2 in and around Park City Utah. Hammer to Nail has boots on the ground at the fest and guarantee more coverage thank any other site out there. Like what you see here on Hammer to Nail? Why not give just $1.00 per month via Patreon to help keep us going?)
Miranda July's latest Kajillionaire is a heist family film that really is so much more. After taking a break from film since 2009, July shifts gears for this ensemble piece about a quirky family that lives an alternative lifestyle in Southern California despite a deep fear of earthquakes.
The family is terrible at conning others until they connect with Melanie, played by Gina Rodriguez, to try a bigger con. But their life is always waiting for "the big one" that stops them in their tracks every time a tremor occurs. What starts as somewhat of a fun premise ends up infused with a beautiful romance, a real awakening and a clever ending.
Each character actor in this, Debra Winger (Theresa), Richard Jenkins (Robert), Evan Rachel Wood (Old Dolio) transform themselves for these roles. As much as this is an ensemble piece, it is truly Woods' performance as Old Dolio that keep audiences captivated. Woods entire physicality is unique in this role and she changed her voice to take on the character who struggles to connect with others. Being raised by Theresa and Robert she struggles to bond with anyone and Wood deftly handles the character's strides for change. Her desire for affection is finally met by Melanie who she first rebukes.
While never quite clear on the motivation of Melanie to be connected to this family, it is apparent why Robert wants her around from early on. Old Dolio is fearful of her ties to her family but then becomes drawn to her bubbly personality so unlike her own. Woods and Rodriguez' friendship is natural yet uncomfortable and serves as a real catalyst for Woods' character to branch out on her own. Her parents, unable to give her what she needs, do what they can to prove they love her. From surviving in a bubble factory cleaning soap off the walls each day as a team to attempting Old Dolio's con idea, the family unit is dysfunctional but tries to be more.
I've been a fan of July's since Me and You and Everyone We Know but she elevates her directional style with a quirky yet solid structure of a plot in Kajillionaire. As much as the film is about realizing your own identity separate from your family, it is also at heart a love story.
Like what you see here on Hammer to Nail? Why not pay just $1.00 per month via Patreon to help keep us going?
– Melanie Addington (@MelAddington)
Guest writer, Executive Director, Oxford Film Festival