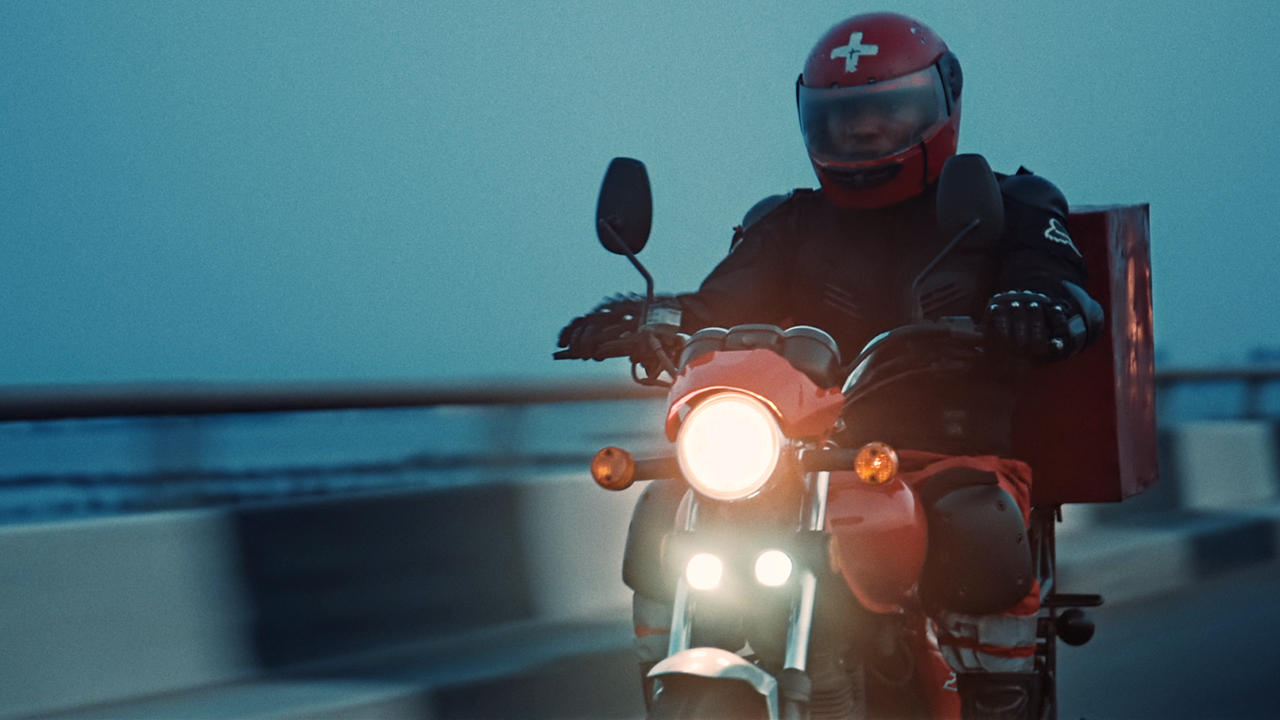 Blood Rider sounds like it could be a Hollywood action-thriller starring Idris Elba, but it's actually a 17-minute short documentary that premiered on YouTube as part of the We Are One Festival. That doesn't make it any less pulse-pounding than the next James Bond, it just means the thrills come packaged in a real world with real stakes on a smaller screen. Director Jon Kasbe (When Lambs Become Lions) and his team embed themselves with a young Nigerian man named Joseph whose job it is to deliver life-saving blood to mothers in labor, and simultaneously at the maternity ward of a local hospital. Kasbe films the mother in labor, while his second cinematographer David Bolen follows Joseph on his motorbike, as we watch their worlds converge in real-time.
In Nigeria, where the maternal mortality rate is the 4th highest in the world, death is a constant. The danger of death is one of the few consistencies for Joseph. We watch as he recounts to his friends a past mission where he arrived five minutes too late and the woman didn't make it. His friends can't fathom being a 'Blood Rider', though it's not clear if their reticence is due to the extreme emotional toll it must take, or the risky driving through Lagos traffic that puts Joseph's own life at risk. His nail-biting commute may make you more grateful for your current work-from-home situation.
Like last year's Oscar-shortlisted feature doc Midnight Family , the fly-on-the-gurney aesthetic works well and the natural light cinematography is gorgeous. The scenes with the mother in agony, the helpless father and crying newborn are quite affecting. The characters don't have as much personality as the Ochoas from Midnight Family—perhaps because there's only so much you can cover in 17 minutes—but the film is heartwarming all the same.
The short format is fitting for this story, mirroring the typically touted 30 minutes or less delivery times of a pizzeria. The film bursts to life like a theme park ride, and when it's over you'll exhale of deep sigh of relief. It shouldn't be a spoiler to say that the happy ending will leave you feeling elated and perhaps slightly more optimistic. Blood Rider may sound scary and intense, but it's also a touching tribute to the unsung healthcare heroes around the world.
Blood Rider is available to stream for free on YouTube through June 8th
https://www.youtube.com/watch?v=KjWTCB1KGFg&feature=youtu.be