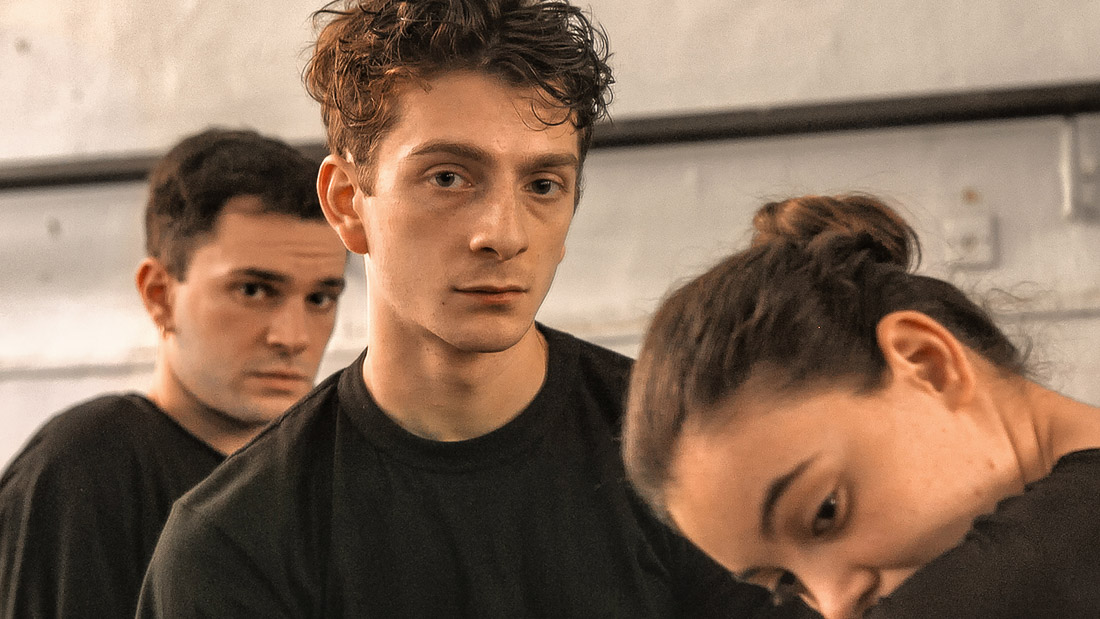 (The 2020 Sundance Film Festival runs January 23-February 2 in and around Park City Utah. Hammer to Nail has boots on the ground at the fest and guarantee more coverage thank any other site out there. Like what you see here on Hammer to Nail? Why not give just $1.00 per month via Patreon to help keep us going?)
You don't have to know anything about Georgian dance to appreciate Levan Akin's new LGBTQ film And Then We Danced set in Tbilisi at the premiere dance ensemble of the country. By the end of it you fully understand how steeped in tradition and vested in masculinity the art form is, the perfect obstacle to our lead character Merab (Levan Gelbakhiani) who finds himself attracted to the rebellious, new dancer Irakli (Bachi Valishvili). In a country as conservative as Georgia, with the national institution of traditional dance being as conservative  anything, there's no room for debate. In fact, when Akin went to Georgia to film, and spoke with the national ensemble, he was told 'there are no gays in Georgian dance.' This is their most visible cultural export, so the set up of the film that a spot has opened in the National Ensemble because a dancer has been thrown out for a homosexual relationship, is not far off, despite being fiction. Merab, who comes from a long line of dancers, finds himself competing with Irakli for the opening, though his attention goes from antagonistic to flirtatious very quickly.
There's so much to love about And Then We Danced. The plot is hardly the typical 'coming out' story because Merab doesn't come out until the very end, and not really publicly. More, the film is about his first experiences in a world he didn't even know existed, from stolen glances, to covert meetings, to a journey into the darkness of the underground queer scene (listen, every country has one…you can't keep us down, we like to dance and grind). Despite Merab's new understanding casting a shadow over everyone in his life, most of their reactions are truly secondary to experiencing his first heartbreak.
The one relationship that really does have a beautiful arc is with his dance partner Mary (Ana Javakishvili) with whom Merab has been paired with since they were nine years old. Mary has always assumed that they would end up together and watches him slowly slip away into the arms something she cannot even conceive. Her shift from anger to support is really one of the most beautiful aspects of the film. It also occurred during the best tracking shot I've seen in a long time – we watch Merab leave his brother's wedding party and appear outside in the courtyard through a window where Mary consoles him.
In fact the film overflows with nuanced relationships. There is the competition with his brother, also a dancer but who is slipping into criminal behavior. His parents, both ex-dancers, are separated, his grandmother has her own history and there is there dance instructor at the school, who doesn't like Merab, possibly based on long running issues with his family. It's the perfect example of a queer identity affecting every relationship in a character's life and yet not feeling like it is overwhelming the film. This is a dance film through and through and what Merab has been criticized for at the opening of the film, a certain lack of masculinity in his movements, becomes his greatest triumph at the audition. I never thought I could be so moved by traditional dance.
Despite the setting, the film was actually Sweden's official entry for the best International feature at the Oscars, although it was not in the end selected. This week it was named best film at Sweden's Guldbagge Awards, their Academy Awards. Levan Akin's movie also picked up best male actor for Levan Gelbakhiani, best script for Akin, and best cinematography for Lisabi Fridell. This is a film that shows how vital storytelling can still be. Many ultra conservative groups in Georgia tried to stop the screenings of the film and even organized protests outside of the theater. At one point, police had to prevent a mob from forcibly entering the theater. Despite that, all the screenings went on as planned. I hope a film like this can change the tide in Georgia, if not immediately, then over time as more and more Georgians see it.
Bears Rebecca Fonte (@BearsFonte)
Like what you see here on Hammer to Nail? Why not pay just $1.00 per month via Patreon to help keep us going?)