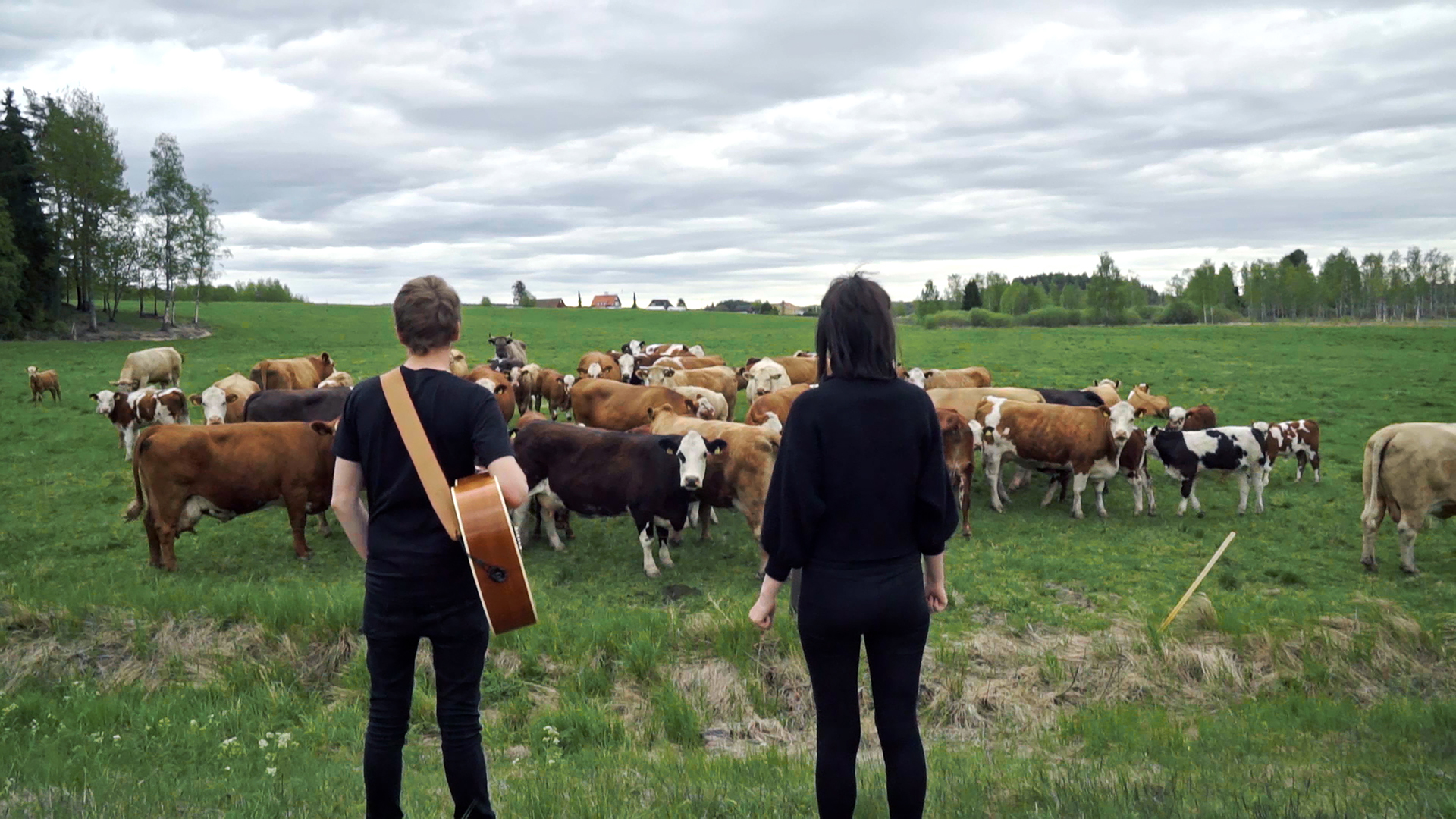 (Husband-and-wife duo Jim Hanft and Samantha Yonack's doc After So Many Days is available now on VOD via Gravitas Ventures. Like what you see here on Hammer to Nail? Why not give just $1.00 per month via Patreon to help keep us going?)
Husband-and-wife duo Jim Hanft and Samantha Yonack, otherwise known as Jim and Sam (their band name), undertook, in late 2016, just 4 months after their marriage, a year-long concert tour that would take them away from their Los Angeles home, across the country and across the Atlantic. Though they had been playing together for 10 years, they had yet to find a way to make a real living from music, he working as a web designer and she as a dog walker to make ends meet. Hoping to raise awareness and expand their fan base, the thirtysomething partners left with the goal of playing one gig a day, no matter where and no matter to whom, be it in a large venue, small bar, coffee house, or elsewhere. At times, they played in their hotel room or in gas stations, liquor stores and bodegas, as well as for a field full of watching cows (one of my favorites); they also opened for established singer LP. The goal was to perform, no matter the circumstances.
All the while, they filmed the experience, and the result is a charming new documentary, co-directed by the both of them, entitled After So Many Days (the name of a tune they compose on the tour). A ruminative examination of the joys and costs of spending every day, 24/7, in the company of the same person, along with a portrait of the struggles of a truly indie music group, the film, at just under 90 minutes, offers engaging moments full of life in which Jim and Sam find inspiration in the simple things, and provides the viewer, courtesy of copious song excerpts, plenty of opportunity to understand why these two strivers deserve to be heard. If in moments the movie overuses montages and cuts too quickly from scene to scene, there is nevertheless enough fascinating material here to deliver meaningful emotional content.
The film is also a beautiful travelogue, even if the focus is on our two subjects. From California, they journey to the American Midwest, then to Sweden (for repeated visits, as they have longstanding contacts there) and from there to other destinations across Europe, before heading back and forth to the States. If they can just break even, all is good, as they have no illusions about making a profit, though that humble objective is threatened when their landlord sends a letter prohibiting the use of their leased apartment as an Airbnb rental. Musicians gotta play, however, and the show, even if it is to one person (such as a busy food-delivery man), must go on. But good news may lie ahead, in the form of a potential deal with Nettwerk Records, the kind of label that supports artists like them. Time will tell. In the here and now, there's another concert to plan, as the 365 days are ticking away.
Given how much what we hear of the music delights, it's a shame that Jim and Sam so often choose to set up scenes with absorbing detail, then cut to the very end of a song, their audience applauding and we, as film viewers, wishing we had heard even a note or two. And then there are those montages, which serve, as do all such cinematic devices, to quickly advance the narrative and the voyage, yet in their repetition become less compelling each time. Making up for these (minor) flaws is the ongoing joy of watching Jim and Sam interact and play together, both uniquely their own selves and stand-ins for everyone else who has ever pursued a dream, long odds be damned. "After so many days," we grow to appreciate them in all their frustrations and glory. Let the music play!
– Christopher Llewellyn Reed (@ChrisReedFilm)