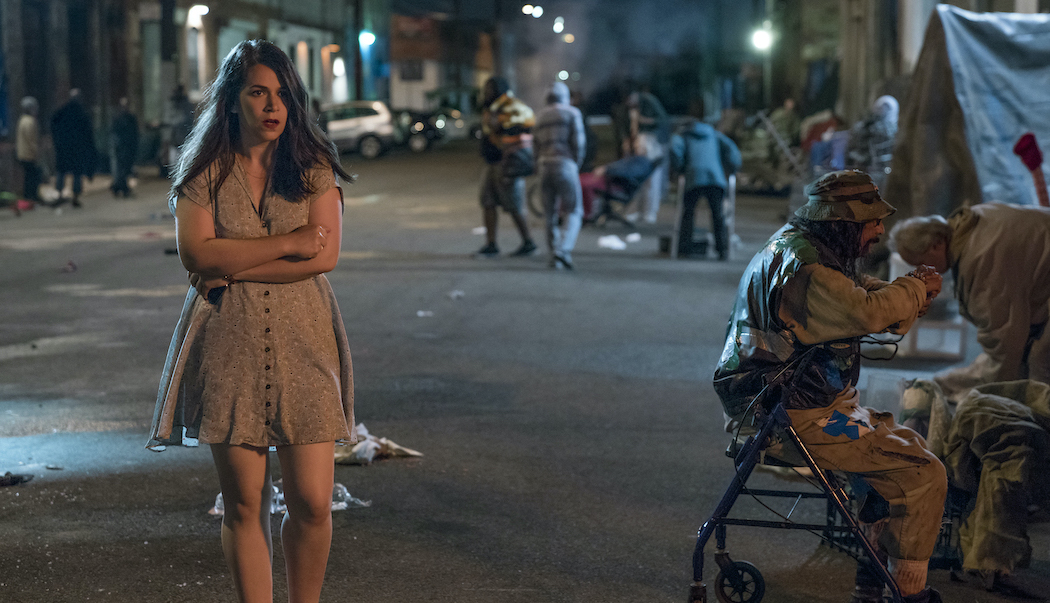 (The 2018 SXSW Film Festival kicked off March 9 and ran all the way through to March 17. Hammer to Nail has a slew of reviews and interviews coming in hot and heavy so keep your dial tuned to HtN!)
A gripping sibling drama featuring a mesmerizing lead performance from Abbi Jacobson (Person to Person), 6 Balloons carries us to a very dark place before bursting in a beautiful final catharsis of relief and release. Despite the air metaphor implied by the title, the movie is filled, instead, with a leitmotif of water, both in image and sound, as Jacobson's Katie struggles to manage the growing crisis brought on by her brother Seth's heroin relapse. She is drowning under the weight of his codependent flow of need. She has always been there for him; perhaps it is time to let him solve his own problems, and focus on Katie, instead.
In just over 70 minutes of riveting cinema, 6 Balloons ponders whether the greatest act of love Katie could perform for Seth (Dave Franco, The Little Hours) might be to stop fixing every disaster he causes. As the film begins, Katie is in the midst of setting up a surprise 35th-birthday party (hence the title) for her boyfriend. She's a micro-manager, overseeing every aspect of the preparations, her accommodating friends accepting that this is just who she is. Katie's stress is amplified by her mother, from whose tree Katie's apple has not far fallen. Despite her urgent desire for everything to go perfectly, however, Katie will soon find herself ripped away by a very different urgency: her brother's jonesing for a fix.
Just after she picks up Seth and his adorable toddler daughter, Ella, in her car, Katie realizes that something is very wrong. Seth is twitchy and nervous, and through a few quick shots and efficient dialogue – a hallmark of this profoundly cinematic film – writer/director Marja-Lewis Ryan, a playwright making an auspicious feature debut, establishes the fraught shared history between the siblings. We feel, in our gut, Katie's sinking realization that "here we are again." The presence of the young Ella only makes it all worse. From then until the shattering conclusion, we are right there with Ryan and her remarkable cast.
Beyond the performances and the writing, I love the way 6 Balloons is shot and edited. Ryan frames Katie's eyes in anxious close-ups from oblique angles, and plays with temporal shifts at important beats in the film that emphasize her characters' disorientation. No screen time is wasted, no composition not carefully considered. This moving story, finely realized by all involved, may offer up a nightmarish scenario, but the hellish dreamscape it portrays is no fantasy. This is real life, in all its harsh glory, and a great filmic achievement.
– Christopher Llewellyn Reed (@ChrisReedFilm)