A Conversation with Sarah Watts and Mark Slutsky (YOU CAN LIVE FOREVER)
When her father dies and her mother suffers a breakdown, closeted lesbian teen Jaime (Anwen O'Driscoll) is sent to live with her aunt and uncle, both members of the town's tight-knit, devoutly faithful Jehovah's Witness community. Jaime feels like an outcast. But at a religious service she's dragged along to, Jaime meets Marike (June Laporte), an exemplary JW girl and daughter of a prominent community elder. The two instantly strike up a deep friendship, and, as the two grow closer, Jaime finds herself drawn deeper into the Marike's theology, which promises an eternal life in God's promised kingdom—what they call "the new system of things"—after the world ends. Will they reach that far-away paradise they've been promised before the community discovers their secret?
You Can Live Forever debuted at Tribeca Film Festival last year as co-director Sarah Watts and Mark Slutsky's first feature. It was shot on location in Tadoussac and Sacre-Cœur, in Quebec's Saguenay river valley, where the magnificent fjord landscape provides a backdrop to the film's haunting romance, as well as at the historic Cyclorama de Jérusalem in Ste-Anne-de-Beaupré.
Set in the early '90s, You Can Live Forever rouses its place with subtle nods to the music, books and video games of the era. The soundtrack features indie legends like Cocteau Twins and The Breeders; the characters play Sega Genesis, and Jaime can often be seen reading Arthur C. Clarke's science fiction classic Rendezvous With Rama – a story of encountering an alien civilization and getting lost in their mysteries.
Hammer to Nail: So let's talk about the background and the Jehovah's Witness community that this is set in, how that influenced the story, and where the kernel of the idea came from.
Sarah Watts: Yeah. A million years ago when Mark and I started talking about this, I had taken him out for a drink and told him a little bit about my upbringing as a JW, my childhood, and he was really fascinated by all the details. So, yeah, it was basically just with the tidbits of knowledge and stories and insights into that pretty unknown religion. That really fascinated Mark, and from that, we built a queer love story, because that's the other thing I always wanted to do was write a great lesbian movie.
HtN: We need them. Was there any particular scene from the film or was there any particular scene that you had in mind from your past that you were like, "Oh, this is something I want to put in the film."
SW: I was very young, like 13, when I left, so a lot of it was the door-to-door stuff and the stuff in the meetings, which I had gone to so many of them growing up, like we really … I know I've talked to a lot of ex-JWs who are like, "The vibe in that Kingdom Hall is just so … You nailed it." Just the sort of bland colors and windowless.
Mark Slutsky: Think of it as anti-aesthetic.
SW: Yeah. We really wanted to nail that because that's such a big part of it, of my experience growing up, was that Kingdom Hall experience.
HtN: So being a few years removed from your time there, did you end up talking to JWs to kind of reconnect and to get it fresh in your mind?
SW: Because we set it back at that time, I felt pretty safe making it how I remembered it. It probably has changed now. Probably I know they've gotten more digital, but that's not my experience, and we weren't interested in making a 2020 movie, so…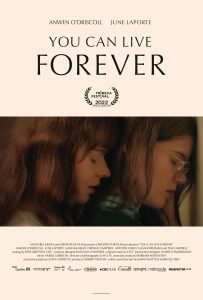 MS: The writing process took years, took a long time, for various reasons. One is just waiting for funding. And we just kept revising it. But in a way, it felt like we were mining Sarah's memories of being a Jehovah's Witness in the '90s. Just the little details would just pop out after three years of screenwriting that Sarah would just mention, like, "Oh, the kids have to pretend that in this fellowship, parents are dead." And I would fall out of my seat and be like, "That is such a fascinating and heartbreaking detail. It has to go in the movie." So it was an interesting sort of ruminative kind of self-research.
SW: Cathartic.
HtN: I do like the way the film was set in the past but not a specific past, and we never know exactly what year it is, but you give us some trappings, like the Walkman, I remember, that's such a thing that I think we connect to. Sometimes it's hard to put your mind back in what was it like 30 years ago. We're all trying to forget about it.
SW: Yes, 30. For us, it was also not so much about what to add in but what we were able to take away because of that time period. Cell phones and computers and social media and all that crap that plague teenagers now. We didn't want that to be an issue for them. They already have enough to deal with. And we have no connection with modern teenagers, I don't think. We can't really imagine what it's like, so I don't think we ever could have written a modern teenage movie.
MS: I mean, our sort of byword on set was we just wanted stuff that didn't feel like it was post-2000. It's sort of set early '90s but we were okay with a car from 1997. We weren't going to lose our minds over that. The Sony stereo that the parents have in their kitchen we found in the garage of one of the houses we were shooting in, it just brought back so many memories, and I feel like the more of your own memories you put into something, the more people are going to sort of connect with that on a subconscious level.
HtN: Mark, was there anything from your childhood that you connected in this story, that you understood where Sarah was coming from, from some completely different experience?
MS: Yeah. Well, I mean, it's obviously a different experience than I had, but on a lot of small levels, I was drawing on my own teenage years as a pot-smoking confused teenager. But like my best friend came out to me in his basement when I was 16 years old, and it was a really big moment for me, and for both of us, and so in a way, I was putting that perspective in a little bit, I think.
HtN: Yeah, that scene's pretty much in there, yeah.
MS: It didn't happen quite the same way, but … That was a really important moment that I wanted to put in. And I grew up not in a deeply religious community but a semi-religious Jewish community, and just growing up around religion is something I'm very familiar with and I've always been interested in in everything that I've written. But obviously, from a complete different perspective, but I felt like something touched me there about that world and that story.
HtN: I want to make sure we talk about the one location that I just think is so neat, which is that weird painting tower thing.
SW: Yeah.
MS: Oh yeah.
HtN Can you talk about how you found that and what it was like filming there?
MS: So it was a couple years ago a friend of ours texted us about this place called the Cyclorama de Jerusalem. I thought it was some sort of carnival ride. I googled it, and all you could really find is pictures of the outside, which looks like this very Moorish, almost mosque-like structure off the road by Quebec City. We were driving past it on our way up to Saguenay to scout and we were like, "Let's go just take a look."
And we looked into this building and the lobby looked like … I don't know, it looked like some sort of carnival concession from the '50s. But there was a sign on the door that said, "If you have any questions about this place, call this number." So we forced our producer to call the number. And it's this family who owns it — their parents bought it — it's been closed for years and they don't know what to do with it, and they're trying to sell it to a grocery store, but it got a heritage designation, so it's just sitting there.
So what it is is this a gigantic 40-foot painting that's set up in the round. So you ascend this platform and you walk around and you look at this rounded painting that depicts Jerusalem at the time of the crucifixion. And then it was painted in the 19th century. It was brought to Quebec City by boat and originally shown at a platform in the middle of the St. Lawrence Seaway. And this is what people did before television, they looked at paintings of the crucifixion… It was like their IMAX. I don't even know what people think is happening when they see this movie and they see that without a broader context.
SW: It doesn't even really show up in all its grandness because it was really something else to see in person.
MS: We ended up going back there six months later in the freezing cold because we realized we didn't have enough of an establishing shot of it. But we couldn't help but think of the paintings on the covers of Jehovah's Witness magazines, and these almost Soviet realist style paintings of biblical themes. And it seemed so perfect and it seemed like such an otherworldly place to set a scene. And I'm just glad that we've got this strange place on film, because I know one day it's going to-
SW: Be gone.
MS: It's going to burn down or something.
HtN: Possibly intentionally.
SW Yeah. We're very happy to have captured it.
HtN: So Sarah I wanted to talk to you about making a lesbian love story, and what it was when you were looking at the script, when you were thinking about going into directing this, what did you want to make sure was in it? Because we don't have enough lesbian stories, and so it's a lot of pressure. As somebody currently directing a lesbian love story, I am always thinking about, "Well, where does this exist in relation to other movies that are already out there?"
[SPOILERS AHEAD]
SW: I think, first, the most important thing for me going in was that two lesbians entered, two lesbians exit. So no death. And we get some feedback or criticism that it has a sad ending and why don't lesbians have positive endings constantly. But for us, we gave it what I felt like was the most realistic ending for two 17-year-old girls, which is, honestly, these are teenagers. It's an impassioned first love story. That was something I really wanted to do without a lot of queer angst, a lot of doubting yourself and questioning and coming out and all that. I wanted it pretty much settled with who they were. And then just for it to just be about love at first sight, and in incredible … That moment of love, that hormone burst that is the first one you ever had, and it's captured, and it's one moment, one chapter in your life, and it's beautiful, and then it's over.
HtN: Tell me about the bathtub baptism scene, because that's … It's probably the most memorable scene of the film for me.
MS: Awesome.
SW: Yeah, well, it was just a beautiful space. Gayle Ye, our cinematographer, did such a gorgeous job of lighting them, and at that point, it was quite well into the filming schedule, so they were quite comfortable with each other, their chemistry was already rip roaring, which was excellent. And then we just had sort of a cleared set, which means not a lot of people around. That was for all the intimate scenes. And, yeah, just went with it, and we shot it fairly quickly. It didn't take very long. It was more about just resetting the hair because she kept getting her hair wet and then had to dry it. But I love that scene. It's one of the girls' favorite scene too.
MS: I should say that we wrote it rather late in the writing process.
SW: Yeah. Yeah.
MS: We knew that there was something missing and we kind of felt like there needs to be a scene where Jamie really gets taken in to Marike's idea of the religion and submits to it, in a way. And they just brought … There's such a great spin in their performances on what that meant to the characters.
SW: When you have great actors like those two that have such natural chemistry with each other, sometimes, it's wonderful to see what they do with these lines. They can turn them into whatever they want with facial expressions.
MS: Yeah. You kind of want to just let them do their thing.
HtN: It's pretty wonderful to watch.
You Can Live Forever premieres in limited theaters and on demand Friday, May 5th. Check out where here: https://gooddeedentertainment.com/you-can-live-forever/
– Bears Rebecca Fonté (@BearsFonte)