A Conversation with S. Leo Chiang and Yang Sun (OUR TIME MACHINE)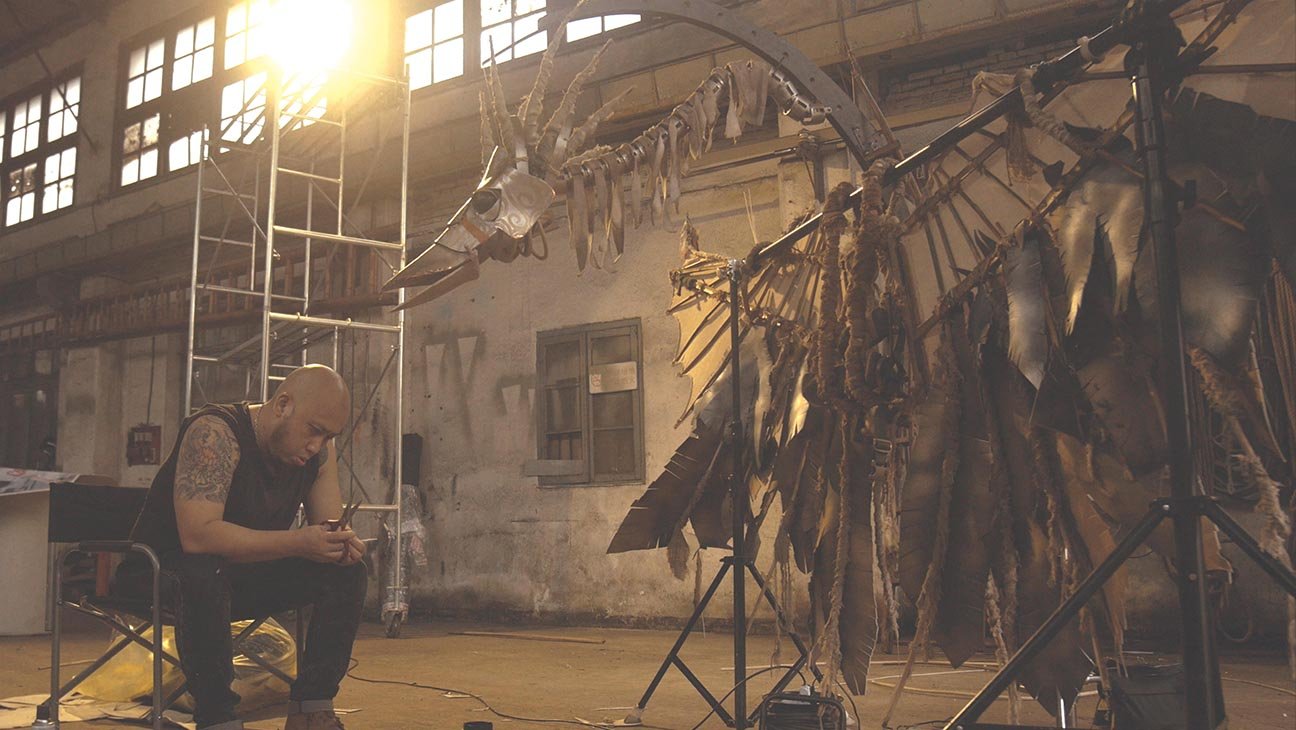 I met with directors S. Leo Chiang and Yang Sun – the former based in San Francisco, the latter in Beijing – on Sunday, April 28, 2019, at the 2019 Tribeca Film Festival, to discuss their collaboration on the documentary Our Time Machine (which I also reviewed). The film follows Chinese artist Maleonn as he develops and stages a puppet show about a boy traveling back in time to help his aging father retrieve lost memories, the premise derived from experiences with his own dad. In the course of the show, Maleonn also falls in love and marries his theatrical co-director, Tianyi, and both he and she joined in on this conversation, Tianyi acting as Maleonn's translator (though he answered once in his own English words, and she also spoke for herself, towards the end). Here is a condensed digest of our interview, edited for length and clarity, and to make the language flow in a more idiomatic American English.
Hammer to Nail: Let me start by asking you, Leo and Yang, how you met and decided to collaborate.
Yang Sun: The first time we met was when I was in college. I was his student in the summer.
Leo Chiang: When we first met, I was leading an exchange group from the film school at the University of Southern California, which is my alma mater. We went to the Communications University of China, in Beijing, and Yang was a graduate student there, so he was actually my student for that summer session. He was making a really fun piece about local expats. We didn't really think much of it, but three years later he showed up at a pitching forum in Taipei, which is one of the big pitching forums for all the Chinese-language documentaries around the world, and he showed up with this project.
HtN: So then, Yang, how did you meet Maleonn and decide to make this film about him?
YS: First I heard a good story from Maleonn. It's the swimming-pool story that we use in the film, and I heard the story and asked my friend, "Can you ask Maleonn, if possible, if I can shoot a documentary about him because I like this story?" It's a really cool story. I can see a lot of potential to make a very moving documentary. So then I had Maleonn's contact and I contacted him and he said, "Yes, just come and shoot."
HtN: The swimming- pool story is the one of Maleonn's father asking him multiple times the same question, right?
LC: Yes.
HtN: Did hearing that story pre-date Maleonn's decision to make this theatrical puppet show, or was he already in the process of making that?
YS: He was already making it for…
LC: Almost a year.
YS: I think it was half a year.
HtN: So, by the time you heard about the story the show was already in progress?
LC: Yes. They were actually in the process of building puppets and they were starting to have the play and the script ready, and they might have been starting to rehearse a little bit.
YS: Yes.
HtN: I ask because in documentaries such as yours, which are well-crafted, it's impossible to tell at what point the filmmakers actually joined the story, because you give us a great chronology from start to finish, so that's interesting. So, Maleonn, what were the challenges of allowing the documentary film crew into this very personal journey for you, as you were, in fact, building the show?
Maleonn (translated by Tianyi): At first, I felt a little uncomfortable about the camera because it is a very personal event for me, but I have been filmed before for my other works, so I have experience in this area. Besides, Yang is a very good documentary film shooter because he's always hidden behind the camera, so it makes me feel like I'm not so intruded on.
HtN: Speaking of intrusion, how big, at any time, was the documentary film crew?
YS: Most of the time, just me.
HtN: Did you participate in the filming as well, Leo?
LC: Yes, when they were actually out performing we would have multiple crews, I shot all the New York stuff because I was here, and also towards the end, the final performances, I was in Beijing with these guys and shot some of that as well.
HtN: So, I have a question about the puppets, because they're so beautiful and one thing the film doesn't explain, not that you need to, is what they're made of. So what they are made of, with this beautiful, shining gold metal?
M (via T): The facial part is fiberglass and other parts are combined with wood, paper, and bamboo.
HtN: Bamboo? I did not see the bamboo in them, but that's wonderful! So, how much have you played with puppets before doing this particular show? Is that a regular part of your work?
M (in English, himself): No. This was my first time using puppets as a way to tell the story. It's hard for me, so I spent 4 years just to learn how they walk. I needed time to study how to make the shadow puppet, how to make the big-sized puppets. It was really hard for me.
HtN: So, all of that work, even the work that starts the film that we see as the shadow puppets, that was all part of this new process?
LC: So, the shadow-puppet material is actually part of the stage performance, so there's a light element and then there's actually a projected element that goes with it.
HtN: In the movie we see beautiful close-ups of the puppets' faces, which are very expressive. Is there a way in the live theatrical performance that audiences can also see close-ups of the faces?
M (via T): Actually we have performed this in different kinds of theaters. One kind of theater is a very small one. The capacity is about 100 people, and that's the best environment for us so people can see all the details, and as you mentioned, the facial expressions of the puppets. But we also performed in very large theaters that have two floors and can have 1000 people and that is not very ideal for us because we do not have a special technique to show the details of the puppets on stage, no.
HtN: You just have to require everyone to see this movie after watching the show.
M (and T): (laugh) Yeah.
HtN: So, in the film we briefly meet Maleonn's sister, Ma Duo, but she's not in the film for a lot. Did you initially intend to include more of her?
LC: That's so funny because usually the shooting process was Sun Yang shooting in Shanghai and me in San Francisco saying, "We've got to get more of this, we've got to get more of this!," but I think that for one reason or another, the sister just wasn't in the rehearsal parts of the process very much, but I think that what we ended up having her in is a very pivotal part of the film. She stood for the family, basically. She was sort of the person who understands the family's perspective the most clearly, so when she shows up, we got to know the family much better.
(M and T confer with each other)
LC: These guys actually haven't seen the film yet. (laughs)
T: No, we have no idea.
HtN: So…the part when the puppets explode… (laughs)
(everyone laughs)
HtN: (laughs) The special effects are amazing! So, when do they get to see the film?
LC: Tonight at the premiere.
HtN: Shoot, and now I just spoiled everything. (laughs)
LC: They're getting more and more nervous with these questions that everybody's asking. (laughs)
HtN: (laughs) How long was the actual shooting process?
LC: We started in early 2015, and we finished shooting a year ago. So what is that? 3 years.
HtN: Then concurrently editing and then wrapping up post-production for another year?
LC: We started editing in late 2017, so there was a bunch of back and forth, which we were lucky to do because we had the luxury of figuring out what the story is and kind of looking for the material that we need to complete the narrative that we had in mind.
HtN: In the film, you talk about Maleonn's family history and the repercussions of the Cultural Revolution on his family background. These days, in today's China, are there any potential issues, politically, in dredging up old history?
LC: Maybe I should say this because I'm not a Chinese citizen. These guys shouldn't be talking about this. I think that it's still a little sensitive, but the fact is, I think that people are OK if you share your personal stories, how your lives were impacted, as long as there's no direct accusation of what their government has done or not. The fact is it was a seminal event that affected a huge part of the population.
HtN: Sure. Were there any other stories that you initially intended to include? Perhaps more family stories that either you were unable to film, or you ended up having to cut out. Is there anything that you ended up not including that was sort of painful to either not include because you couldn't get the footage, or you just had to eliminate it in the editing process?
LC: We basically followed the trajectory of their journey in making this play, and also the trajectory of the journey with the family, with the father's health deteriorating and increasing pressure on these guys because they had to deal with that.
HtN: And with the financial pressure of the show.
LC: And the financial pressure of the show, for sure. I don't think that there was anything that we captured that we felt was too sensitive or that there was anything that we wanted to get in. If anything, I guess, in some ways we wish we would have had more of Maleonn's family story with the sister and mother because we felt like there might be a richer story there, but the core of the story is definitely Maleonn and his father's journey with the project.
HtN: Absolutely, so how is everyone doing now? How are baby Deng-Deng and Maleonn's parents?
T: They're in good health. Besides memory, his father's health is in very good condition, actually. He can walk, talk, sleep well, and eat a lot. (laughs)
HtN:  Good.
T: Yeah, and mother as well. Mother is in very good condition. They travel a lot and my baby is now downstairs. (laughs) Maybe trying to find me! (laughs)
HtN: How old is Deng-Deng?
T: She is now 1 year old.
HtN: Wow, so really that last scene, you just shot that, literally, because she's 100 days old when we see her in the film.
T: Yes.
HtN: Well, congratulations on the film. I really enjoyed it.
All: Thank you!
– Christopher Llewellyn Reed (@ChrisReedFilm)