A Conversation with Ladj Ly, Anta Diaw & Alexis Manenti (LES MISÉRABLES)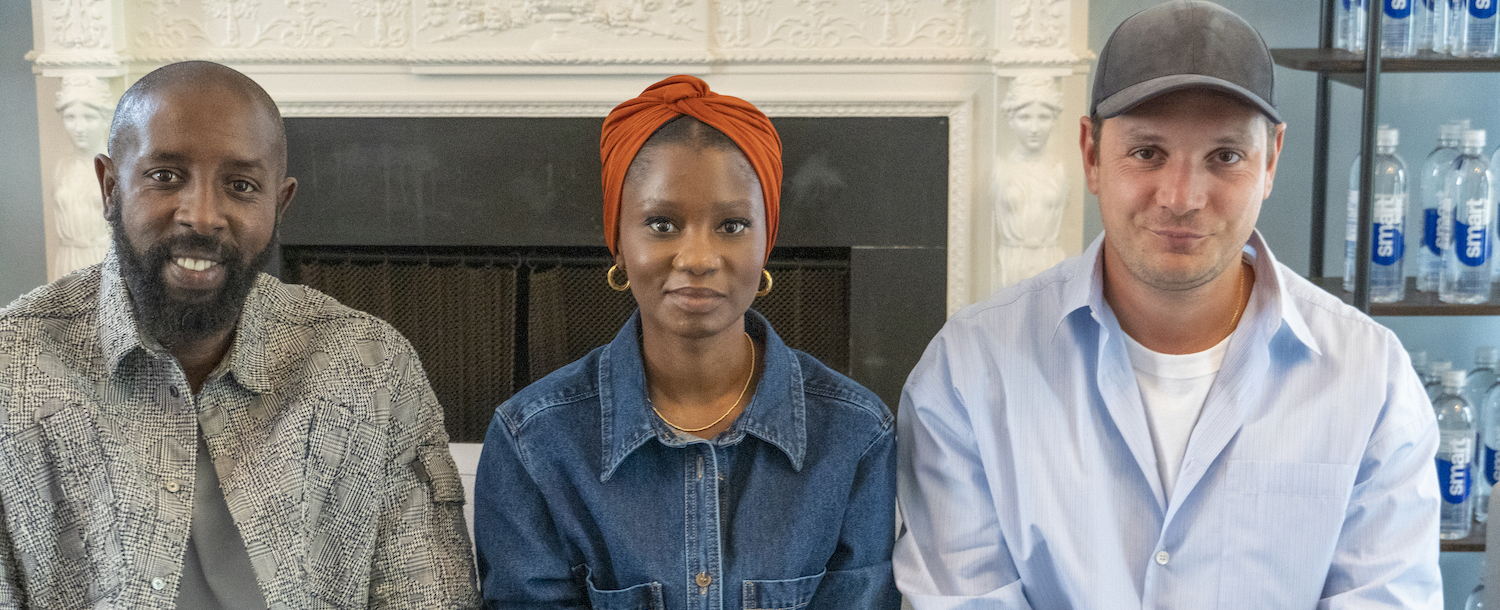 French director Ladj Ly (Les Misérables) returns to the screen with Les Indésirables, which just premiered at the 2023 Toronto International Film Festival (TIFF), where I reviewed it. In the film, he once again explores France's racial and class conflicts, this time setting the story in a fictional Parisian suburb where a newly appointed white mayor pursues reactionary policies against the mostly black and brown immigrant population. Alexis Manenti, so effective as a corrupt cop in Les Misérables, here returns as that interim mayor, Pierre. Anta Diaw stars as Haby, a community worker who becomes the leader of the immigrant protests and presents herself as a candidate for mayor in the upcoming elections. It's a powerful examination of urgent issues. I had a chance to speak with Diaw, Ly, and Manenti at TIFF, and below is that interview, edited for length and clarity. Please note that I conducted the interview in French, and that all translations—as well as any resultant errors—are mine alone.
Hammer to Nail: Just a note of clarification. What is the actual title in French? Is it "Bâtiment 5" ("Building 5") or "Les Indésirables"?
Ladj Ly: In French, it's "Bâtiment 5," but we decided to call it "Les Indésirables" for the international market. Because that's what we called it from the start, but at the last minute I decided to switch to "Bâtiment 5" in French.
HtN: Why?
LL: Because that's the building in which I grew up, which was similarly destroyed, forcing me to move elsewhere. It was my building and it's a subject close to my heart that I wanted to talk about.
HtN: So, with a story like this, I'm sure there are a lot of inspirations, but is there one particular, more direct, inspiration for this story than others?
LL: As I mentioned, I am deeply invested in the story. In Clichy-Montfermeil, we were subjected to France's most extensive urban-renewal plan. We were victims of that, in a sense. Our parents were all property owners, yet following the urban-renewal plan, they were all expropriated for ridiculously small amounts of money. And so they went from being owners to being renters with only paltry sums to show for it. These are things that really affected us from a young age and I thought it was an important subject to talk about. It affects me directly, but housing issues also affect millions of people in France. It's something we need to discuss. And not only in France, but around the world, at least in big cities.
HtN: Wasn't there also, in real life, a similar death to the one in your film, in 2015, of a mayor from the Parisian suburbs?
LL: Claude Dilain?
HtN: I think so, right?
LL: Claude Dilain, who was the leftist mayor of Clichy-sous-Bois, worked hard to try and make sure that these neighborhoods were rehabilitated. It was his life's mission. And in some way I wanted to make a film about Dilain, but while writing the idea changed. But yes, the initial kernel of the idea was Dilain.
HtN: Let's talk about the casting. Alexis played, of course, in Les Misérables, and Anta had a role in The Young Imam, for which you wrote some of the script, so I understand how you already knew them both, but when did you decide you wanted them for this new film?
LL: I think that after we did the first audition with Anta, we decided that she had something special, that she understood things, she understood the story and she understood what would be required of her performance. This was her first audition for a leading role and she was just incredible. So I said, "OK, let's go for it!" And also, in my work, I like to discover new talent from the same kinds of suburbs that I'm from. It's important to promote folks from this kind of background.
HtN: So, Anta and Alexis, how did Ladj pitch the movie and the roles to you?
Alexis Manenti: So, for me, he'd been letting me know for a good while that he was writing a movie on this particular topic. He told me that he would write a role for me. And for three years I waited, and finally he sent me a version of the script and I was able to see what the film would be.
Anta Diaw: I found out about this film when he discussed it with me when he was on the Cannes jury. And when I came across the casting notice for the role of Haby, I didn't realize that it was for Ladj's movie. But then I figured it out when they called me in to audition.
HtN: And how did you both prepare for your roles?
AD: So, together with Aristote [Luyindula], who plays the part of [Haby's friend] Blaz, I had a coach, Sébastien Davis, who helped us to understand the needs of the script. Since I, for one, did not come out of any kind of acting school, I have a tendency to stay on the surface, and Sébastien taught us how to better read and understand a screenplay, and that was extremely helpful for me. It allowed me to really figure out what made Haby tick and to understand her behavior.
HtN: Since you say you didn't study acting, what did you study? I'm just curious.
AD: I studied Business Administration and I'm actually currently employed at a startup in charge of customer service.
HtN: And you, Alexis?
AM: I was very much inspired by a suburban mayor from the Paris area, where Ladj is from. I watched a lot of documentaries about him and also read a good deal. And after that, Ladj and I did a lot of rehearsals where we tried to figure out the way he would talk and behave.
HtN: The other actors are equally impressive. I really like Steve Tientcheu. (At this point, as I struggle to pronounce the name "Tientcheu," Ladj Ly and the others laugh, saying, "Go ahead, say it!" He pronounces it "Chen-choo." The actor's family emigrated from Cameroon.) How did the rest of your casting work?
LL: As far as some other roles go, I wanted to continue working with actors from Les Misérables, and Steve Tientcheu was the mayor in that film, and here he has the role of the assistant mayor, and is great in it. And then there is Aristote, who is a revelation here; it's his first part. He studied film and acting for a number of years, but this is his first starring role. I hope audiences will discover and appreciate him. There is also Jeanne Balibar, who was in Les Misérables, as well. And Aurélia Petit, who is a brilliant actress, and plays the mayor's wife. And then for all of the others, those are people I cast from my neighborhood, people I know, people I put in Les Misérables, not necessarily folks with a lot of acting experience. The idea was to put professional and non-professional actors together and to allow people from the neighborhood to represent themselves.
HtN: And it's a very large ensemble, with so many extras.
LL: Yes, there were at least 250 extras.
HtN: And what about Tania and her father?
LL: I just found them through the audition process. They're from Marseilles. We were looking for a Syrian family and just fell in love with them.
HtN: Where did you shoot the film?
LL: Primarily in Clichy-Montfermeil, where I live.
HtN: So, at one point, it seems as if the film will have, as its dramatic arc, the political campaign between Pierre and Haby, but that's not ultimately the story you tell. Did you ever, while writing, consider making the campaign your primary focus?
LL: For me, it was important to recognize that the housing question is essentially a political problem. And I wanted to show the political side by thrusting Pierre, a young pediatrician without much political experience, into the middle of it. And from that moment on, he has to make political decisions that will completely change the lives of the inhabitants. And he is a person who tends to take extreme measures, leading to major upheaval.
HtN: But it seems, initially, like your main plot will be the actual campaign for office between Haby and Pierre, but that ends up being a secondary plot point.
LL: There are many stories within the story: the campaign, the quality of life of those in the neighborhood, the dislodging of the building residents. So it's a political film that denounces the treatment of the inhabitants.
HtN: (to Alexis and Anta) What was the most challenging part of the shoot for you?
AM: The final scene, which we shot at night, in the cold, for many takes, under a lot of pressure, which we wanted to do right. And it was a particularly physical and ambitious scene.
AD: I would basically say the same thing. That was an intense scene, even though I only show up towards the end of it. I still wanted to be there for all of it, in order to understand Blaz's distress. And it was extremely cold that night, and we did many takes. It was fairly complex.
HtN: I have to admit that I was really rooting for Blaz to burn down Pierre's house.
AM: That's not very nice! I'm done with this interview! (everyone laughs)
HtN: I'm so sorry. (laughs) So, what would you hope that an audience unfamiliar with issues endemic to the Paris suburbs walks away knowing about them after watching your film?
LL: The difficulties that they experience in their daily lives. Unfortunately, though we have a certain image of France today, people don't realize the challenges of living in the suburbs. For me, it's important to bear witness and to denounce their living conditions so that people are conscious of the suffering. Otherwise, we tend to view the suburbs through the lens of mainstream media, and it turns out that they have only a vague, caricatured notion of the neighborhoods. It is far past time to reestablish the truth and say, "This is the reality." We're telling this story because we know the reality and want others to know it, too.
HtN: Thank you for making the film and for talking to me!
LL/AM/AD: Thank you!
– Christopher Llewellyn Reed (@ChrisReedFilm)
2023 Toronto International Film Festival; Ladj Ly; Les Indésirables movie review