A Conversation with Chie Hayakawa (PLAN 75)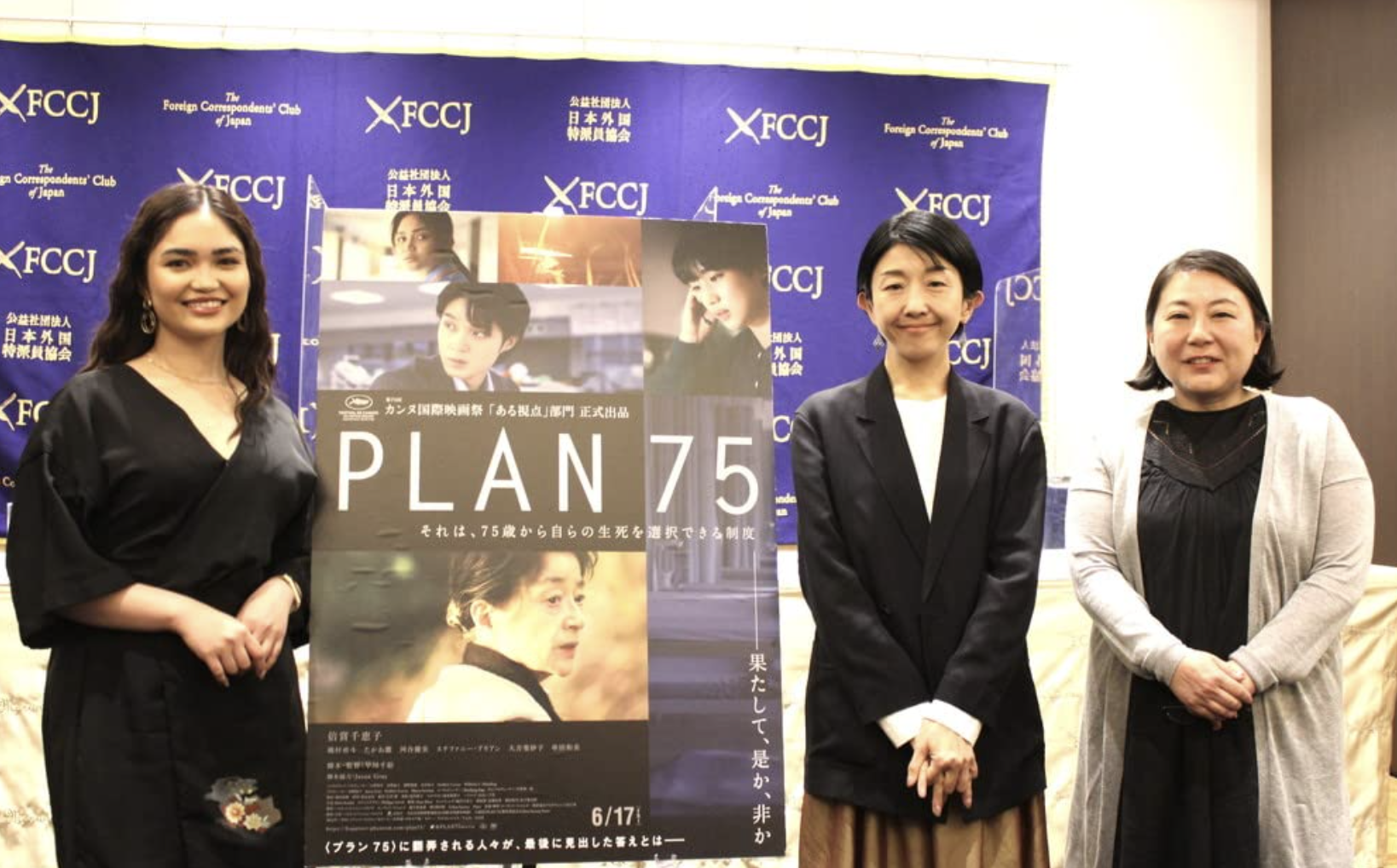 Chie Hayakawa is a Japanese filmmaker whose debut feature, Plan 75, premiered at the Cannes film festival in the Un Certain Regard Category where it won the Golden Camera award. She has been making films for over a decade now. Her first short film, Niagra, Also debuted at the Cannes film festival in 2014 in the student section. Plan 75 stars Chieko Baishô, a legendary Japanese actress, as she navigates life in a society that offers euthanasia for people 75 years and older. The film is very unique plot wise and tonally, while the sound design makes it something that should be sought out in theaters. When watching Plan 75 you will be shocked that it is a debut feature. The following conversation was edited for length and clarity.
Hammer To Nail: Jason Gray is credited for "story" in the film while you are credited for "screenplay" and "story." What was the screenwriting process on this film like and have you used this process on previous films?
 Chie Hayakawa: Jason gave me advice on the structure throughout the writing process. He has a very good eye on how to build a structure and emotional arc for the characters. Jason and Eiko, my producer, were very crucial when I was writing the script. Jason is like a script advisor.
HTN: Got it. So, how long did it take you to write the script?
CH: It took about 4 years. Every 2 or 3 months I would write a new draft. Then, Jason, Eiko and I would meet and make big changes.
HTN: Seemingly, the opening moments of the film reflect the 2016 mass murder at a care home near Tokyo. Is that the case? What other things, current events, books, etc, influenced you.
CH: That incident I was very shocked by. It was one of the triggers for me to make this film. I thought it's not the incident caused by just one crazy person. It happened because of social factors. There is an atmosphere in Japanese society that is more harsh to people of lower social stratifications. I heard many discriminatory speeches from politicians towards the impoverished. This atmosphere of intolerance is only growing. This made me really angry and it made it a necessity for me to make this film.
HTN: Were there any filmic influences?
CH: It is not directly an inspiration towards the film, however, I loved the tone of the Russian film Loveless. Michael Haneke's film Amour was another inspiration.
HTN: It's a totally unique vision so I was wondering if there were films that inspired it. The film centers mostly around an old woman. What preparation did you do for this script in order to effectively enter the mind of an elderly person.
CH: I interviewed about 10-15 elderly women, asked about their life stories and what they would think if Plan 75 was real. It was interesting. Most of these women said that they want the option. They did not say they want to use it, however, they liked the idea of having that option in case something goes terribly wrong in their lives. They saw it as something that would make them feel more secure. I also observed my mother. How she lives, how she speaks, her relationship with her friends, that informed a lot for the script.
HTN: When did this interview process take place?
CH: It was during the first 2-3 years of writing the script we conducted these interviews.
HTN: The film can be eerie, suspenseful and mysterious, however, the film can often be sad. What was the set like for this film? Was it very serious day in and day out or was it fun?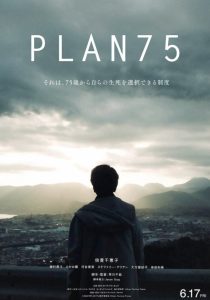 CH: It was fun actually. We worked in a very nice atmosphere. I was a first time director and everyone was trying to help me and teach me about filmmaking. Chieko Baishô, the actor who plays the protagonist, is such a charming and kind person. Everyone on the set fell in love with her. We all admire her performance and personality. So, while the film can be very sad and dark, the set was full of energy. People enjoyed making the film. It was really nice.
HTN: Speaking of Chieko, what was the casting process for this film like? How did she specifically land the role of Michi.
CH: She is a legendary actress in Japan. It is rare that an actor of that caliber stars in a film from a first time director like me. My casting director had worked with her in the past and sent her the script. After reading the script she told the casting director that she needed to meet me in person before making a decision. We had a meeting. I explained the concept of the film, why I wanted to make it, my motivation, and the thinking behind her character. She was very professional and I could sense that she would know what's best for the film. She told me that she believed in the project and took the role.
HTN: Well it worked out, she gave a great performance. Plan 75 went to the Cannes film festival and debuted in the Un Certain Regard category. What was your experience like at Cannes? When you were applying to the festival did you originally shoot for the main competition, how does that process work?
CH: My first festival experience was Cannes in 2014. I had a student short film show there. That is where I first met my producer Eiko. She was there with another student. It was great to go back to Cannes with her for my first feature. Especially this film which was made with the help of international productions from Japan to France to the Philippines. It was great for us to all be able to come together at Cannes for the very first time after the pandemic. We were never able to meet in person until Cannes so that was wonderful. We actually applied for every category at Cannes including Directors Fortnight and Critics Week but we got accepted by Un Certain Regard.
HTN: The film is shot digitally and I think that was a strong decision. Why did you choose digital over film for this story? If you could have shot on film would you have?
CH: If we had enough budget I would have thought about shooting on film, but we did not, so that was not an option from the beginning. I discussed with my DOP that I wanted it to look like film as much as possible.
HTN: Do you think on future projects you will continue to use digital, or are you interested in shooting on film.
CH: I am very much interested in using film.
HTN: One Moment I love in the film is at the 44 minute mark right after the phone call. Talk about the thinking behind this moments and how it came to life in the editing room.
CH: Haha, actually I was trying to get rid of that scene at the 44 minute mark because we did not have enough money to shoot the scene. But, after I cut it and sent the script to Chieko she told me she really wanted to do the scene. My producer told me we would figure it out and we put it in the film. We shot it in at an odd hour, however, after some time, there started to be a lot of trucks and traffic. We just kept shooting until we were satisfied. I think it was very effective because Chieko is so small and the cars that are passing by are so big. It turned out to be a great scene. At first the scene was meant to be silent, but then my music composer had an idea for the moment. I love the music that was added to the scene, it makes me really sad and I think it works great.
HTN: This film has a very distinctive style and plot line, however, where do you go from here? Would you like to keep doing these realistic dystopian films or do you see yourself indulging in other genres.
CH: I do not think I will continue to make dystopian films. My next film will be something different. It will not be driven by social issues. It will be a more personal family story. I am also interested in crime stories. My dream is to make a comedy, however, I don't think it will happen. I am not a talented comedian.
HTN: There is some subtle humor in this film I laughed at, especially with Chieko who has this dry sense of humor.
 CH: Yes.
HTN: I love the sound design in the film. I think it is one of the most important parts. talk about this process.
CH: I agree. Sound design is very important in filmmaking. I worked with a sound designer in Paris and it was great. This film does not have much dialogue. I wanted to create a soundscape that stimulates the audience's imagination and emotion. Ordinary sounds like people whispering, a train passing by, a dog barking, etc. Especially we enhanced the sound of machinery like automobiles, air conditioning and railroad crossings to express the brutality of the society where Plan 75 exists. We used bird singing in some scenes. When Michi leaves her apartment for her last day, she can hear the sounds of the birds chirping. This makes me sad because life will continue on but Michi will cease to exist.
HTN: The sound design was great. I have seen the film twice now, once in a theater and once on my laptop. I feel like the film is geared towards the theatrical experience. Was this something you considered?
CH: Yes. This is a film meant for the theater. A big screen with a good sound environment. Recently it breaks my heart when people tell me things like, I watched Plan 75 on a plane! It makes for a totally different experience.
HTN: Definitely not a good plane movie. That is for sure. So for your future projects is the theatrical experience something you will continue to consider or could you see yourself going towards television.
CH: I am not very interested in television. Maybe my film could wind up on a streaming service.
HTN: Well thank you so much for taking the time to speak with me, I really enjoyed the film and am excited for your next project.
CH: Thank you so much!
– Jack Schenker (@YUNGOCUPOTIS)
Chie Hayakawa interview; Plan 75 movie review