BE KIND, REMEMBER — A Conversation Between Alex Ross Perry And Joe Martin About The Closing Of Reel Life South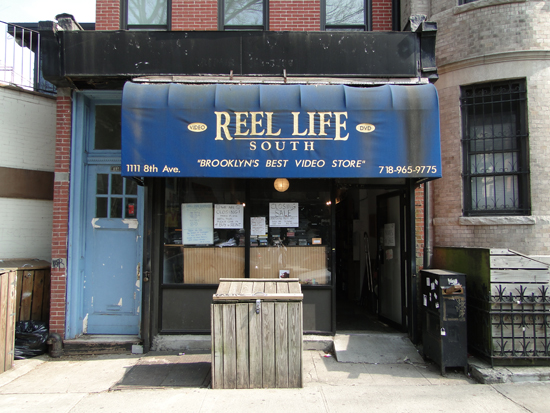 On Sunday March 18, 2012, I was walking around the neighborhood where I live—Park Slope, Brooklyn—thinking about places where I would be able to display promotional posters for the release of my film The Color Wheel, occurring two months to the day later. A shall-we-say no brainer was of course Reel Life South, an indescribably indispensable video store located on 8th Avenue and 11th Street, three blocks from my apartment. I further allowed my fantasy to include the time where, something like maybe six months from now, I could walk into Reel Life, inform the owner Joe Martin that The Color Wheel will soon be released on DVD, and that I was looking forward to the honor of seeing it on his shelf.
I have been renting regularly at Reel Life since shortly after I moved to Park Slope, exactly four years ago. Prior to that, I worked at Kim's Video on St. Marks for three years, and have a hyperbolically emotional connection to The Video Store. Like Kim's, the selection at Reel Life was massive, hand picked, and full of quasi-legal (read: not legal) bootlegs and VHS tapes. VHS tapes, it should be known, are the essence not just of my home collection but also of my rental life. I cannot explain why with any sense of brevity, so let's say that I just like them more. And Reel Life had, I would guess, thousands. Most of them were contained in the second floor's magical enclave, where the cult and horror sections made their home. This is what video stores are made for. My last four autumnal seasons were spent doing marathon renting sessions from this curated cove of terrors; all of September and all of October, this is what I did instead of watching the leaves change or whatever it is people do.
So naturally, of course, on Monday March 19th, Reel Life South announced on their Facebook page that they were closing at the end of the month after twelve years. The statement is reproduced here:
"Dear valued friends and customers: it is with a heavy heart and deep sadness that we'll be closing the doors once and for all at the end of the month. Thank you from the bottom of our hearts for the years of support. It has been our honor to have been your video store."
I had survived the shuttering of Kim's, barely, because a) I had left on good terms before it closed and while there I really put a lot of myself into the management, organization and overall success of my floor (which was DVD and vinyl sales); and b) it was relocating to a horribly truncated but nevertheless extant location. There still was a place, a sign, a name, someplace to go to and look at and touch merchandise. The new store didn't have any rentals, but that was in some way tolerable for me because I no longer lived anywhere near it.
Reel Life, however, was just a place I liked going to spend money and also time. I have spoken every chance I get about the emotional and educational connection I have to The Video Store. I am always quick to point out that I learned more from working at Kim's than I did from going to film school at NYU. So I really connect with The Store, any store, but when it is My Store, it is important to me. The other thing about Kim's that is worth mentioning here, and that every eulogy and obituary I read got wrong, is that it was not felled by circumstances beyond control, such as declining business or a greedy rent doubling landlord. (This is what is happening to Reel Life South, and had already claimed the life of the other Reel Life, the one in Williamsburg.) Kim's was done in by greed on behalf of the outstandingly poor management team that spent most of my time there doing everything they could to systematically ensure the failure of the business by any means necessary. It was a tragic loss for all of New York, and it really did not have to happen at all. And the preventable nature of this tragedy is the real crime, and one that none of the requiems really spoke of.
To refresh your memory: that collection of something like 50,000 titles was put into boxes and shipped to some town in Sicily, where it was allegedly going to create a cultural center/never-ending film festival/online database that, as per Mr. Kim's instructions, would remain 'forever accessible' to Kim's members. Keep in mind that this was deemed a better option than the offers from NYU and Cooper Union to take like 75% of the collection and keep it in the East Village, so long as they did not have to take all three beat up DVDs of Forrest Gump plus a 2-VHS set of it. This deal was untenable for Mr. Kim, so goodbye everything. (Postscript: the last I heard from somebody who was in position to know, the Sicilians had never commenced any of their plans to do a single damn thing with any of this media, never communicated again after they got the videos, and here we are four or so years later and the collection is still—shockingly—not available in any way to Kim's customers, or anybody probably. This used to be called a bamboozle. The only mementos I have are the handful of small section markers for things I identified closely with my formative experiences as a customer of Kim's.)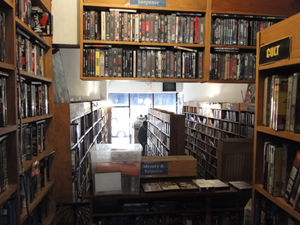 I was emotionally overwrought when I went through Reel Life the other day, browsing as I always have, but this time for keeps. Joe Martin, who is now 40, decided to sell off the collection to all the neighbors and customers to whom it was special so that they can—I assume, because this is my plan—have it at home to serve as a reminder of the special and wonderful times they spent browsing his superb selection. Without Reel Life around for Halloween 2012 or 2013, I would be at a loss. That is, if not for the 25 or more tapes I now have at home, allowing me at least two more years of fantastic double-features for the spookiest of seasons. Reel Life will continue to exist in my home, and in the homes of everybody else who will own a piece of it.
I spoke with Martin in the cult and horror section during the final days of Reel Life's life, in order to sort out my emotions on having yet another video store taken from me, and also to trace the evolution (de-evolution?) of the video store from the year 2000 (when Martin started work on the Park Slope Reel Life and when I got my first job as a part-time clerk at Suncoast Video at the mall) to today.
***********************************************************************************************************************************************************************
Alex Ross Perry: When the Williamsburg store opened, you were 25. Were there DVDs?
Joe Martin: No DVDs in Williamsburg. DVDs happened later and it was my DVD collection that we opened the Park Slope store with. I had something like 250, 300 DVDs. And I brought them here. My entire videotape collection is what we opened the store in Williamsburg with.
ARP: When this location opened in 2000, DVDs had come along. My memory of that time, for the rental business, was a weird thing because tapes had the rental period [Ed: A tape of a new release would first be 'priced to rent' and could cost anywhere from $60-$120 per copy. Only much later would it be 'priced to own' for something like $20.] and DVDs changed that because all of a sudden, the date the tape was available to rent, you could get the DVD for 20 dollars instead of the tape for 70.
JM: It was totally a huge change. For one thing, with the two stores, especially when it was just video tapes, the weekly new releases that we would get in would run anywhere from 1,200 to 2,500 dollars a week, so it was a huge amount of outlay for the new release stuff on videotape. When eventually we made the move to just DVDs, everything was coming out at the retail price. It's the trade off between getting a lot more product for the money that you were spending, but at the same time a lot of people were going out and buying DVDs because they were available at the sell through price.
ARP: The new releases were no longer purchased on tape.
JM: Yeah, although we definitely kept getting tapes for a long time, virtually right up until the studios stopped.
ARP: And at that point they were 20 dollars.
JM: Yeah.
ARP: Starting in October 2000, I worked in a store that just sold. I started the week the first X-Men movie and Gladiator came out on DVD and they were 20, 25 dollars. Did that change the way people rented right away? Did they start renting less, instantly?
JM: People definitely rent no matter what. I remember, the first tape that came out at the sell through price was Pi. I think Pi, to this day, is the movie that we got the most of anything. I think we got 30 copies of Pi on VHS when it came out. And that was strictly because it was at a sell through price and we knew people wanted to see it. When everything was in that 20-to-30 dollar range, a lot of the collectors, started to move away. The people who would actually dupe. You knew they were coming in to get whatever it was just to record it at home. A lot of those people just started purchasing their stuff.
ARP: Because rentals were four dollars, and to own was 20. At this point, you are 28 and you've opened this location. What was the rental culture like? What were people coming in looking for in 2000, 2001?
JM: The later on the store went, a lot of the customers who came in ended at new releases. That's the way it's been over the last couple of years. They just come in and do not move past the new releases into the rest of the store. In 2000, there was a lot more interest in the sort of repertory titles and stuff. A lot of people would come in for the horror. We have a foreign horror section, and a lot of people were into the more obscure stuff. It was definitely way more involved. Now the horror section wouldn't get anywhere near the use it did in 2000. Or even the cult stuff.
ARP: In 2000 I remember, if you wanted any of the new Japanese horror movies, they were hard to track down. And you had those initially. And people were looking for that, and people came to know that they could get them here.
JM: I used to go to Chiller Theater shows, and we'd spend 1,000 dollars getting stuff, and we at least knew we'd make our money back. And I think last time I went to Chiller, every title I got only rented once or twice and that was it.
ARP: Those tapes, when you bought them, were 30 dollars for a dub. And people in the neighborhood were excited about renting them. And the Williamsburg store as well, you were still keeping up with that and trying to do new things?
JM: We used to sell magazines. We had Shock Cinema, Rue Morgue, Premiere, and even Cineaste and Sight and Sound. So really the sort of thing I was trying to do, was find obscure movies. Whether they be horror or foreign or noir, or what have you, I just liked finding the most obscure stuff I could possibly find. That's what I thought was interesting, and that's when the store really worked, was when people were coming in really interested in that sort of thing.
ARP: Was this part of your dream of having a store? In the '90s, were you excited about being the guy who can provide this to people?
JM: Yes, but a lot of it was just giving myself access to this stuff. Selfishly, I'd be like, I can buy all the stuff I want to see if it's for a store. But yes, it was also to provide a community because I knew there were other people like me.
ARP: And you knew that Williamsburg was a perfect place to start your first store.
JM: Williamsburg was definitely it. They had two video stores there and they were both really bad. One was nothing but mainstream bootlegs and the other was just not a very well run video store. And I knew that there were a lot of people there who really loved different types of film.
ARP: And you knew that would work here as well. And in the '90s, it was not easy to find stuff. Without the internet, you didn't even knew what there was. So if you're going to Chiller, or if you are reading the Video Source Miami catalogue and ordering stuff, there's a chance that people would see it in the store and say that they'd never even heard of it. Now it's 'do you have this, I read about it' or 'I saw a clip of it.' But it was important to expose people to those things.
JM: Absolutely. Since we opened the first one in Williamsburg, video stores were going out of business. That was the time that video stores were really going out of business in droves.
ARP: Why was that?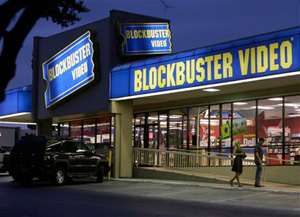 JM: First it was Blockbuster. Just in this neighborhood, there was one on 9th Street called Soundtracks. They had several locations and they all went out of business, right about the same time that we opened this store. I remember going to one store that was going out of business in Brooklyn Heights that had been a video store for something like 20 years. I remember for a used copy of Bob Le Flambeur, I paid I think 60 or 70 dollars because he was going by the Facets catalogue price and he would just seriously knock 10% off of whatever was new. But that was the only way you could find that tape, distributed by CineVista I think it was. And I had never even seen that tape before. I went to this place New York City Liquidators in Manhattan, which would just liquidate video stores from all over the country. And they had these big cardboard boxes that you would pull off shelves and just rifle through. So many of the movies that I opened both stores with came from those sort of sources.
ARP: A lot of my collection is stuff I got from stores that are closing. It's weird that 12 or 14 years ago, that was already a thing. That was the time where the places that were just rental stores were closing. I feel like even in 2000, a store like this that is just rentals was very uncommon anywhere.
JM: When I opened the first one in Williamsburg, we had posters. Posters, books, and we actually sold stuff. I think we tried to work out with Luminous and a few of the other places that did those sort of grey area bootlegs and stuff. And we tried to sell those. We might have sold some Shock Cinema tapes. Interestingly I had an argument with John Lurie when he found out we had Fishing With John. It was from a Japanese laser disc and it was released in Japan prior to it being released here. And he called up furious that we had it. And we had no idea that there were plans to release it.
ARP: Selling stuff wasn't viable?
JM: It became too hard to keep track of. We never had any sort of security situation and stuff just ended up missing and handled poorly. That's the posters too. The posters were a thing I was really into, and we had a really good poster selection. And we'd come in after a really good Saturday night, when we were open until midnight, and people had been leaning on them. And it became a thing where I didn't want to be a drag, telling people to get away from them. And then even just rolling them and putting them into a plastic sleeve. Some of the people we had working for us would be a little brutal, and then people would come back saying their poster was creased.
ARP: My memory is that DVDs became available everywhere in 1999, 2000. I bought my first DVD player early in 2000 and later in the year I started working at Suncoast Video. And they weren't very special. Just Warner Brothers or New Line titles with no special features. But then around 2002 to 2004 was the start of when the DVD became a very different commodity for a golden age of product that I believe lasted until 2008. Special editions became the norm. The second disc had 15 hours of stuff on it. This is a lame example, but I remember the first Pirates of the Caribbean DVD weighs about a pound. It has a cardboard sleeve, the second disc has something like three feature-length making ofs, extended scenes, and then the new movie that came out last year, the DVD weighs half an ounce, it has no booklet. There's not even a single special feature. This decline affected the way people bought, so I'm wondering what affect it had on people's idea of how much they wanted to rent, or get their hands on one.
JM: I remember it took me six months of a layaway at Sears to pay for a laserdisc player, and I spent thousands of dollars to amass even a meager collection of 50 laserdiscs, I think I had. That was a thing that studios really put into the collectors market. The Criterion laserdiscs, they were very expensive but they had a lot of bells and whistles and stuff. And when DVDs came out, they were pretty barebones. The movie, full-screen, no extras. I think some of the James Bond DVDs are really weird, the interaction and navigation is really weird.
ARP: [at this point I grab a copy of The Man With The Golden Gun from a nearby shelf] But it was exciting. This is the edition that I have, and look at all this. Commentary, two documentaries, original TV ads, radio spots, original trailers and a nice booklet. This is a thing that you feel good about.
JM: So then, they start realizing there is a big collectors market for this stuff. Like Anchor Bay is a perfect example of a company that started doing these horror movies that I never thought would ever be released in the United States. I was very excited. Even as a video store owner, I'd go to Suncoast and put my name on a waiting list for various DVDs. It was some obscure horror movie. Everything had an essay. Even the videotapes at the same time had an essay on the backside of the cover. There was that approach of getting some sort of journalist to write some sort of thing for it and really have it be an all-encompassing package. And then the DVDs having whatever sorts of extras they could possibly get. There are some Troma DVDs that have unbelievable amounts of extras. Even shooting new stuff, going back and doing interviews. People were interested in buying those DVDs. Some people would come in and just want to rent something purely for the extras. There was a trade off. People who were hardcore collectors would not want to rent because they want to buy.
ARP: Very quickly in this golden age, DVDs were made for collections. To take home and own them. When tapes would first come out, you couldn't own them. Then when it comes out to own, it's the same thing you rented. When you see it for sale, it doesn't occur to you that you need it. But around 2002, instantly you need to own this DVD. And I wanted to own them, buying tons of stuff. So rentals became for older stuff, things I don't want to own, because there is no special edition. Did most people then decide to just rent because they don't want to own it, just because they like the movie?
JM: Yes. The people who came in weren't all that aware of what the thing was. The people who are really into film, they knew. Oftentimes, the people really into movies couldn't afford to buy it for 20 dollars, but they could rent it for three.
ARP: Overall, what was the effect on the rental market of this golden age of collectors editions?
JM: I don't know if it was a big change in how people rented or how much they rented. It was a conscious thing that people knew what they were renting, and became informed as to what did and did not exist. They'd come in and say, 'Which one did you get? Did you get the two-disc edition or the five-disc edition?' A movie like Blade Runner is a good example, in that it seems to come out every couple years, and everybody always knows what edition is what. And then someone wants to watch Blade Runner, they want the director's cut, or the theatrical cut, or the final cut.
ARP: So re-releases of something like Blade Runner or James Bond, they're not being released a fourth time for renters. At all.
JM: It's strictly for people buying.
ARP: That's no longer part of the thinking in 2004 or 2005. It's so that you can throw away your flimsy DVDs and purchase these nice ones. And that was the prevailing idea of video production at the time that DVDs were incredibly profitable. But they were no longer being released exclusively for rentals, as tapes were.
JM: You're right. Even the Anchor Bay stuff was definitely not marketed towards video stores. It was marketed towards the home buying market. And the studio films, they would first release the movie with nothing. And that was for the video stores, because they knew video stores would buy 1,000 copies of it. And they can make them cheap. So after the video market is saturated, towards Christmas when they are focusing on the buying market, the version with the bells and whistles would come out. And the people that would come in and say, 'Which one do you have? The re-release version?' And as a small video store it was rare that you would have the resources to go back and buy a movie that you already have a dozen copies of.
ARP: Right in the golden era, The Lord of the Rings movies were coming out, and everybody knew that in six months you get the deluxe package. But you need to rent them right away, so you had to buy 4 or 5 copies for new releases. But you're not going to buy 4 or 5 copies of the big box set. That's for people to own. People don't need to rent it. They know they love it, so they want it. People became frustrated by that. So in 2008, at the end of the golden age, something like Zodiac comes out and it is already announced that six months later we're getting the special edition. But walking into a video store has never been prone to remembering something and coming back for it in six months. Did people stop trusting the merchandise?
JM: Definitely, people were immediately wise to that, the bare bones edition coming out first. It's a common thing for people to say, 'Isn't there a longer one coming?' And everyone knew around Christmas generally there'd be a saturation of the special features edition, or the director's cut. The Lord of the Rings is a perfect example. We had to buy that I think three different times. Three different versions: the initial ones, the ones that looked like books that had four discs, and then another more bare bones extended edition.
ARP: It started getting confusing for people. And this is also the time that walking into a store is not the only option. And people stopped making time to come in and deal with this. Even though we were being deceived and lied to with new releases, the catalogue is still back here. But it just became confusing for people to wade through what they wanted, because all of a sudden they became out of practice with how to walk in here and look. This is also right when you closed the Williamsburg store, right?
JM: In 2008, yeah. It was a rent thing, just like this.
ARP: Was business stable?
JM: Even when we opened the one in Williamsburg, people were like, 'You're crazy.' Even opening a video store just to rent in 1997, people thought we were totally insane. And then opening the store in Park Slope, there was a lot of resistance.
ARP: So around 2008 people started to migrate away from the experience of walking over here, or walking somewhere.
JM: By 2008 you had a lot of stores popping up selling really cheap DVDs. You could start to find brand new copies of a movie in Target for five, six, seven dollars. Studios started mass selling out their back catalogues to places like Entertainment Outlet, and you could start getting things for about five dollars, or like two-for-ten. Also the DVDs themselves became so cheaply manufactured.
ARP: They got worse. They thought people stopped buying them, but I think that slowly because of the special edition thing, people started getting a little bit more hesitant to buy, so they notice a tiny dip in sales and they say, 'Let's stop putting money into them.'
JM: The money that people pay for a DVD, so little of it is for the duplication and the printing. It's virtually nothing, but that's where they chose to draw their money from. Very early on in the video store's life, the studios stopped treating video stores as a viable or appreciable market of theirs. They didn't want anything to do with us.
ARP: You think about the James Bond movies, somebody has to edit and produce those featurettes. And for some reason that disappeared. And part of what made DVDs special when they first appeared was that stuff. It was very exciting to see deleted scenes, or behind the scenes. And that was the first thing they got rid of. And now, 90% of new releases have no special features.
JM: The most you can ask for is a commentary track. The bare bones DVD is going to have virtually nothing on it. A lot of the film distribution companies did not want people renting movies. They want people buying movies. The clearest example of this is that we stopped getting screeners. We'd get a box of screeners for stuff coming out six months in advance sent to us virtually every month. And it was really cool to get access to movies that weren't going to be out for another six months. That was when studios actively wanted video stores to push their product. And when DVDs started becoming available for less money immediately, the screeners virtually halted immediately. And I couldn't even tell you the last time I got a screener from a studio.
ARP: That was the end of that era. Yet stores continue to exist, DVDs continue to get made. You can buy them at Best Buy or whatever. But now they're 15 dollars, and they're totally disposable. It's the same thing as box office. You want to put it out, sell a lot in the first two weeks, and then forget about it. They're not making these to still be bought five years from now. This stuff is everywhere, even at drugstores. It's easy now, but we're forgetting how difficult it was to find stuff in 2000. You're talking about Anchor Bay, but I don't know where one would find Anchor Bay new releases at that time. Blockbuster certainly was not going to stock every Anchor Bay DVD. You need a place for all these items. People come in for something else, but these other things they don't know about are right here too.
JM: Absolutely. We had a video store, but I would end up going to Suncoast. That was one of the few places where you could buy a new a VHS for 80 dollars. Laserdiscs too. And that was a place where I bought all of my initial Anchor Bay titles. I would buy them there and bring them to the store, because our distributor didn't even have them.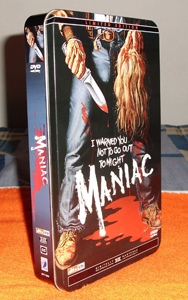 ARP: I wanted this [I grab a special limited edition tin of William Lustig's Maniac] but I wouldn't know where to find it when it came out. But that changed, and all of a sudden everyone in the country knew where to find something on the internet in 30 seconds. How did this affect people's curiosity to come out and search?
JM: That's when a lot of the stores stopped existing, at least for the customers. When we opened the store we knew it was a risky proposition. Every neighborhood had a lot of video stores. Our thing was to have the items that other video stores didn't. So that's why I had to go to conventions and buy those obscure movies. Or use a place like Facets for obscure foreign titles, or TLA. And also go to stores and buy weird horror movies. I never saw them in other neighborhood video stores. It was strictly Paramount, Disney, MCA and Warner Brothers.
ARP: And customers will find the places that have that stuff. My first response walking in here several years ago, or into Kim's for the first time, was, 'Where else can I find this, I need to keep coming here.' And of course I know that I could find that online, but for me that never made sense. So a Japanese horror tape, I don't need to own that. And people forgot that.
JM: I always thought that what made a good video store was a really good horror section, a really good noir section, and a really good foreign section. So, I knew not everyone had that. If we had those things, then you have a good video store and it's going to be a viable business. When it became clear that people don't need to go to the video store to find something strange, and there is so much information out there, there wasn't a lot of, 'Have you ever heard of this movie?' and they say, 'No, I haven't.' People already knew and in fact, they'd be like, I saw it through this channel, or some other way. You don't have all the excitement of a horror section anymore.
ARP: That sentence—'Have you heard of this?'—is to me the essence of what walking into a store is all about. It kind of became obvious at some point in the last ten years that people don't care, and it's difficult. There are easier options presented to them, and everyone took it. So product became very accessible. I didn't know where to buy these weird movies, or foreign movies. It was very confusing to me where stores got their merchandise. But then all of a sudden a huge effort was made to get that merchandise directly into the hands of the customer. Cut out the middleman. With websites like reel.com around this time, you don't need to go to the store to see what's new. You don't need the board of new releases. That information was everywhere. You no longer had to pick up Video Views to see what was coming out, and keep it until the next issue.
JM: We used to have the poster of upcoming releases, people would come in just to look at that poster. And they would write it down, on little pads. Or they'd be upset the new poster hasn't arrived yet, and then they're upset if you don't get everything on the poster. So we had to take a marker and X out straight-to-video nonsense.
ARP: So that ties into the neighborhood function of a store for people to walk in. You said that Williamsburg and Park Slope were two ideal places.
JM: Very cinema savvy people. My philosophy for the video store is that it can only be as good as the neighborhood that supports it. You can have the greatest video store in the world, but if you put it in a neighborhood where they don't appreciate it, or it doesn't have what they want to see, it's not going to do anything. You need to understand the neighborhood first before you do anything. I knew for a fact that a lot of people in Williamsburg were working in film or studying film, and I knew that there was a big customer base to tap into. And I know from living in Park Slope for 20 years that it was very similar. Maybe a little older, but similar.
ARP: The type of people who can appreciate coming in here and speaking to a human. Looking around, calmly and slowly. So does it say something bad about a neighborhood if it can no longer support a store? I've seen in the last few days, 50 people coming in here, saying emotional things about the store closing. Perhaps the same thing happened in Williamsburg.

JM: Business has declined. But the thing with the film savvy clientele, is they also tend to be technologically savvy. And they were the first people to start using Netflix and stuff like that. So, a lot of the people who worked in film stopped coming in. It changed. We had to get way more austere and I couldn't get everything that I wanted to get anymore. The neighborhoods did support the stores. We were willing to get pretty severe in order to keep it going.
ARP: You had to focus on what is going to work just for you. Blockbuster didn't pay attention to the Facets catalogue.
JM: The video store I grew up with in Bayside Queens, this store was in Flushing and it was called Video Wizard. It was the most awesome video store. When I was 10 years old I would beg them to let me work there. They had a huge horror movie selection. It was so busy they probably had four, five guys working every single shift. All adults, too. This is their career. I really thought they were the coolest. My father would drop me off and I'd spend hours there. He'd go to a bar, and he knew he could leave me in the video store and endlessly peruse the shelves and maybe rent one movie. So it was always my intent to have a leisurely place where you could spend the whole day if you want, and rent one movie. It always felt much better when there was at least one person in here. Suddenly the store was very tranquil.
ARP: Right, the function of a store is to give people a place to do that. I want to do that, and that's still important. Stores in general fulfill that function, of being a place to go and stand, and be, and think. It's always been soothing to me, or people like me, and for some reason that's no longer something that can be sustained. There's no dollar value on tranquility. But there are still a few more video stores in Park Slope.
JM: I've lived here for 20 something years. And prior to owning one, I was a member of a dozen different stores. I was a member of a place called Video Theater. And another place called Captain Video. When these stores were closing, I'd take advantage of them. I'd find amazing foreign films. I think Cinematheque was the distribution company. I'd find rare videos, and they didn't seem to know what they had. And they all had a distinct personality.
[At this point where we are talking about the value of walking into a store and experiencing the environment of it, Martin's wife and baby stop by, during which I learn that they met the day the store opened. She was the second customer to open an account. She was across the street, noticed the store opening and excitedly hurried over, and was cut off from being customer number one by some guy.]
ARP: Would you still rather go to any of the video stores we still have rather than rent online?
JM: Absolutely. I want to start a blog called The Last Video Store. Interview filmmakers about the influence of video stores on them. I know from my own experience, when Todd Haynes was making Velvet Goldmine, he went through anything glam rock at the store in Williamsburg, in-depth. He rented the T-Rex tape that we had half a dozen times. So to do that, to talk to filmmakers about what the video store meant to you, and to highlight video stores that are still going. And maybe bring some attention to them.
ARP: So you still believe in the video store?
JM: Absolutely. I think it's an experience that is valuable and worthwhile. Going in some place and talking to someone about movies is what it's all about. These places should exist, and there's an investment in that.
ARP: I want to talk about the era of Netflix, which brought a seismic shift to the world of home video. So starting around 2008, which I called the end of the golden age of DVD, what is your take on what Netflix means? Talk about the changes to your business or the business in general since it started, specifically now that coming to a store is a choice for movies, instead of the choice.
JM: The first wave that decimated things was Blockbuster. The store I grew up loving as a child, a Blockbuster opened up a block away and bought them out and closed them down very quickly. Netflix was the second big thing, which ironically spelled the end of Blockbuster. It definitely changed everything. I'd have to say that 75% of the customers that still come in have Netflix, either the mail service or streaming. The same way people have cable and other things, they have Netflix. A lot of times people will come in with a movie, red envelope in the other hand on the way to the mailbox. There's been a lot of bad interactions over the whole Netflix thing. The second you bring up a late charge to somebody, they immediately throw Netflix in your face, like a threat. They'd say, 'I guess I'm getting Netflix now.' You know, what can I say? I can't keep the store open without late charges. I understand to some people it's an outdated notion, it just so happens for a rental store that you need to do that. I remember one time, we didn't have the movie Start The Revolution Without Me. This woman was so incensed that we didn't have it that she said, 'Well, I guess it's time for me to start my Netflix account, now isn't it?' I thought that was a rather extreme thing, considering Start The Revolution Without Me isn't exactly the most common thing. This was totally antagonistic.
ARP: Part of my problem with it is this ridiculous claim people have that Netflix has 'everything.' In my opinion, and the opinion of thousands of other people, Kim's had everything with a capital E. But it actually only had 50,000 titles. Netflix says it has 120,000. But you have 10,000 titles, and I feel like I could come here three times a week for 10 years and not see everything that I want to. I don't understand what people mean when they say 'everything.' I was here recently and couldn't find what I wanted, so I got something else. People are so impressed by the claim of everything even though they can't possibly process that.
JM: A week ago, I could have walked around the store in 10 minutes and pulled 200 things that Netflix doesn't have and won't ever have.
ARP: Way more than 200. Obviously anything on tape that is not on DVD.
JM: And out of print stuff. New Yorker Video, all of those titles, Netflix won't have.
ARP: Right, they'll stop circulating stuff that is out of print, and for me that is the bread and butter of why you come to a video store. It's 'everything' vs. a curated selection. This is your stuff, and there's nothing here that you didn't choose. It's not all 50 new releases this week. It's what you know will rent here. We never sold any children's movies at Kim's. A Disney DVD that will be the top seller of the week with a million copies, we got four.
JM: At Walmart they'd have a thousand of them.
ARP: Yeah, and people are so put off by not having everything. Like Amazon has everything, so: no need to go to the bookstore. Netflix started at the end of the golden age of DVD, and I believe it is largely responsible for studios saying that the bonus disc, with the three one-hour long making of featurettes, that's not necessary because everybody who will rent or even see this DVD are getting it on Netflix, and they don't get that second disc.
JM: Yup, they just get that one disc.
ARP: So now that Netflix is the thing, you have to get the bonus features separately. And nobody is doing that, so why would we bother to make them? So a small percent of the people can buy them? DVD came in and the idea was, you don't just need the movie, you need everything about the movie. And Netflix says, 'No, you just need the movie. And you don't need the artwork anymore, no packaging, no booklets with essays. Just distilling it to this thing. The thing you go to the store and put your hands on, that's worthless. We throw it away and just keep the disc.'
JM: I don't know the inner workings of it, but I wonder if it ever had the artwork, or if they just ship the discs to them, ready-made Netflix versions.
ARP: I'm sure the bigger companies anyway.
JM: My fundamental problem with Netflix is the fact that it's purely a moneymaking endeavor. There is no care for cinema, the enduring tradition of cinema. The second they started the business, they were thinking of their exit strategy. It's only there to corner the market, create this enterprise and then move on to greener pastures, like producing, streaming, and god knows what else. The second they started shipping those red envelopes, they were looking to get away from it. To take people in, as I think Reed Hastings even said, to put every brick and mortar video store out of business, then get out of it and move on to other things. Whereas video stores by and large, this video store and virtually every video store that is still in business, is not there to be about money. It's about the environment, and about community. It's something you do because you love it, not because you want to get out of it.
ARP: It was kind of charming when the public fought back against Netflix's plans last year to not offer them videos. They said, 'We actually just want movies, please don't take this away. We have taken it away from someone else to give it to you.'
JM: I think they really showed where their head is at with that.
ARP: It was ugly, and definitely harmful. And this goes into the next thing, which is streaming. Which Netflix has said is the future of our business, and since we are the future of video, it is the future of video. It is teaching people not to have a television in their house. Streaming or buying the movies on iTunes, as somebody who loves film and makes films, I think is incredibly destructive.
JM: It's not conducive to good viewing.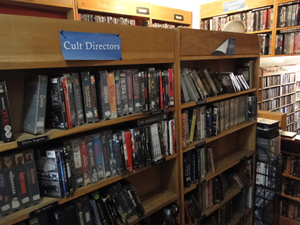 ARP: They just said, 'Now you can do this, and it is easier than anything you have ever done.' People flocked to it. Why do you think that is? Were people really looking to make their lives that much easier? Now they don't even need to go pick up the mail to get a movie.
JM: I think so. Whenever I talk about the video store, I talk about people's investment. Their own personal investment in what their entertainment is. It's the thing of going to the video store, and going through stacks and stacks of movies to find something. It's an investment. And I'm not talking about the money investment. It's an investment in your time, an investment in your senses and finding something that appeals to you, even if it is just the box art. And I've certainly rented movies strictly on box art. Or something on the back. Just something about it interests you, and there's an investment of actually walking to someplace, going through it, interacting with the person at the counter and bringing it home. And knowing you only have a finite time to watch it. There's an investment there and it is going to be a more reverential viewing experience than just pulling something up online. I made a short film (watch it here) and I put it on Funny or Die and I can't stand that as the only viewing platform for it. It seems like a really disposable viewing platform. And especially with low budget independent film. How can you compete when you have something done on a low budget as opposed to something with a hundred million dollars? When people are only looking for something to instantaneously grab them. If it doesn't have a huge scope or a visual to pull them in, what can you offer when someone's only going to give you a few minutes of their time? They have no personal investment in it. Like iTunes gives you 10 seconds to choose if you like a song or not, and then you go to the next one. Because there are five hundred million choices. When you take a movie home you have one choice, and you are going to watch it.
ARP: When the extent of your selection is just clicking play, it reduces your film viewing to channel surfing, because if you don't like it after 30 seconds, you just click next. If I come to the store and hand you three dollars, I'm not going to watch something for five minutes and turn it off. If it was something I felt that I wouldn't like, I probably wouldn't spend money on it. If people think of something as having a dollar value instead of an endless supply of free content, it teaches them to actually value it. This clicking for a minute is killing spontaneity. I wanted to mention the day of the Superbowl, my girlfriend and I wanted to watch a sports movie that was not about football. And we came here, and we got Bull Durham. And if Bull Durham wasn't here, we could have looked for ten minutes and found something else. That's impossible with any sort of online thing. If we wanted to watch it on Netflix, it might not be streaming. If we wanted to get the DVD, we would have had to made the plan a week in advance. That experience is so human, and so important. It's the way people should function: to have that option, to be free and pick up something that it occurs to you that you want.
JM: We used to have a really odd tape of this movie called Ghost Watch, which is a BBC-produced mockumentary. It was made for TV, got to be one of the top five scariest things ever made for television. There's no great special effects, but just from the second you picked up that box, with the f**ked up cover, it already planted a seed of 'this is going to be creepy.' I took it home, turned the lights off and watched it, and it really did scare the sh*t out of me. That movie is impossible to find. So many people in the UK got freaked out by it, it had a War of the Worlds type reaction and it was banned from being shown for 20 years. It's on YouTube, and I have since tried to watch it. To say that the effect of watching something on YouTube kills any sort of atmosphere or ambience that has been created is absolutely true. It was not nearly as effective as when I picked up that bootleg videotape with the f**ked up cover, and brought it home. I felt immediately like I was involved with something unique. When I watched it on YouTube, I was bored.
ARP: A movie like that, the way to watch it is on tape. Why do you think that is not important to people? Do they just not notice or have we been conditioned through advances in technology to think it is better?
JM: As if clarity in picture is the foremost thing we should look for in filmmaking, this extreme reality. People don't want reality. When people go to see movies with special effects, they certainly aren't seeing reality. There's something about the look of VHS that adds something. Like vinyl people love to hear the crackle of the needle. There's something about hearing the hum of the VCR and the somewhat blurred look of a horror movie or a film noir that really adds a depth. We have a really not good version of Detour, the Edgar Ulmer noir, and that movie looks like the movie makes you feel. The warped quality with blurred edges.
ARP: DVD was sort of the start of that. Throw away your tapes. Here is a widescreen, crisp image. And that just keeps going. I reject so thoroughly the idea that anything needs to look better than DVD. I understand how Blu-ray or what theaters are projecting now is different, but I don't understand why that matters to people. So 1080p feels smart to people in a way that they don't even understand.
JM: The studio jargon just clings to people, and they go out and want that.
ARP: Did that make people abandon the stuff that was just normal?
JM: Definitely. Even today, somebody said, 'Your DVDs are picked over but you have so many VHS. No VHS is gone, huh?' And I explained that a ton of people bought VHS. We just had a lot of it. People are always amazed when I tell them that people still love VHS, and there has been a groundswell of support for it. A movie like Friday the 13th Part II, I don't want to watch a DVD of that. I want to watch the tape. Halloween, I want to watch the tape of Halloween. I don't need to see Jamie Lee Curtis crystal clear.
ARP: You don't want those blacks to be black. You want it to be muddy and unpleasant. That's just not part of it.
JM: It's not The Bridge on the River Kwai.
ARP: If Netflix really can make everything that people want available for free in the best possible quality right now, then I don't get how anybody could ever have a relationship to something that is supposed to be a nice item. If everything is just a file, on an iPod, an e-reader or something, then I am afraid that movies will reach that point of immaterial irrelevance to people.
JM: It's there one day, you move it to your trash the next day. Or it's on some hard drive you have at home. Having it reduced to that is the death of cinema. I don't understand why Roger Ebert advertises what is streaming on Netflix. I don't know how many film critics are going to be employed to criticize a movie that is just streaming. It seems like an irrelevant exercise to have people criticizing one of 50,000 things.
ARP: It's just too much content. People can't make a choice. If I come here, I'm not going to spend four hours looking for something. I'm here for 20 minutes, I'll pick something and I go home. On Netflix I could be browsing for an hour and my time is spent doing that. People no longer have to remember how to make a choice. Like the kid in the store who is taking so long, the parent says to just make a decision. Just pick one thing, and the next thing you want, you get it when we return this. With streaming or Netflix, they'll never be told to pick one thing.
JM: It'll be, 'Let's watch it for five minutes, and move on to the next thing, and the next thing.' I think it is about that personal investment in handling something and bringing it home. It gives a heightened sense of import towards what you're watching. It doesn't matter if it is a thousand dollar or hundred million dollar budget. If it comes with enough investment on the person's part, they're going to watch it and give it a real critical view instead of an erstwhile glance.
ARP: There are movies that if I saw them on streaming, nothing would inspire me to click on it. But when you have told me, 'It's actually really good,' I took it home. Because that small difference makes more sense to me. No matter what I think about a movie, it might never be my top choice. Because there are a hundred other things I already know I want to watch. If I'm here and you tell me about it, I quickly decide to take it home. And a lot of wonderful decisions happen that way. And if you don't get it today, it's still on the shelf next time you come in. Because we thought that things would always be there for us, which is obviously no longer true. And now you are allowing people to take home a piece of the collection. Which is emotional for me. How hard was it to say goodbye to physical product that you've been surrounded by every day?
JM: It is out of necessity. The store has been my livelihood, but has not been a moneymaking endeavor, to the point where I have no savings. So it is in order to support my family, but it's heartbreaking. It's very hard to see the store dwindle in front of my eyes. A lot of the stuff was my own personal things that I kept in my apartment and brought here to pull off the shelves and enjoy whenever I wanted to. This is an extension of my home. Would that I could, I would be here another 12 years at the very least. I believe in the experience and I believe in video stores. I love video stores. Watching it go is very hard, and it's very bittersweet. To see every day, the customers who have supported the store are the ones that are taking stuff home, I appreciate that. When I tell people, 'Thanks for giving them a good home,' I'm serious. The whole experience of closing it feels like a death in family. Both of my parents have passed away, and I feel very similarly. It is kind of overwhelming and you don't have time to focus on what you're losing. But every night since we've been selling the stuff, I have a blue period where I'm bummed to see the shelves no longer stacked tight.
ARP: There is an emotional value in the fact that I will have at least two more Octobers of horror double-features from Reel Life. The tapes will have your numbers on them, and the store will live on. It belongs to everybody now. So my last question is your take on the future of video as a medium, or video stores, or just stores.
JM: Video stores obviously are tied in with bookstores and music stores. It's going to be very hard to keep them going, unless you have some sort of ownership of the property. And there are some great video stores around the country. I don't know if they are dealing with a situation like me with landlords, but there are great video stores. I think they will exist for as long as they want to exist. The thing to realize is that they're doing it because they love doing it, and they love movies. And that in and of itself has a value to people. When I go to a store, I know I'm going to a place where someone loves movies, and wants to keep that tradition going. As far as video though, there's less and less places to even go and buy DVDs. Virtually the only place when anyone needs a book or a DVD or a CD is go to Amazon. And that's a sad comment on society, that that's what it's come to. There's one enormous retailer that only exists in cyberspace and some warehouses across the country, and that is the hub for all media. For all packaged media is through that, and virtually nothing else exists. And whether they want to ship something to you is another story altogether. With things like Amazon On Demand, our entertainment is becoming very cheap. I think it's very hard to picture what entertainment will look like in 20, 30 years.
ARP: When you opened the store in 2000, there's no way you could conceive of what streaming would be. But that's not owning a movie. Movies need to be owned after they are in the theater, so there will be some way to do that.
JM: The video stores that are here and have been doing it, I think they have a good chance of doing it as long as they want to pursue it. And thank goodness for them.
ARP: Can the same be said for the future of the appreciation of films?
JM: No.
ARP: The store is a troubled institution. There's nowhere to go and buy stuff anymore. I feel like human interaction is over. This has all come up this week, thinking about the store, but I think this is a sign that the people made a tiny bit of noise that what they want is to do all their stuff on their computer, and within 10 years every business, every institution has said, 'Let's make it so you don't have to go anywhere.' You can get your movies, your clothes, all of your books, all without leaving your house, without communicating with a human being. And everyone seems really okay with that.
JM: I know. It's scary. For a kid who grew up awkward, I find it strange to say to some that the social interaction is a huge part of our everyday lives, and it's all going to be gone. We won't even go to a supermarket anymore, we'll use Fresh Direct. Even Ray Bradbury or George Orwell couldn't think the future would hold this time without face-to-face human interaction. You see it the way attitudes change 180 degrees if something is face-to-face or an email exchange. People are so aggressive one way, and not so much the other way.
ARP: It's easier, it's safer, it's anonymous, it's devoid of risk or humiliation. So my final point is that this isn't a shame for me or for you, because I've lived through this. I grew up going to the store. It helped me become the person that I am, and it helped my relationship with film. The worst thing is for the young kids today. The worst part about any of this, about there not being bookstores and there not being video stores or any humans to interact with, is people that are 10 right now and want to find a way to explore that. They go online, and there's too much. Kids are smart now, they can download 50,000 movies. That's too much for them. They need somebody to focus it. They won't care about a movie because a book tells them to, or because Netflix is streaming it. They'll care about it because someone who they have a relationship with puts it in their hand. In the future, people who are coming of age now will have no relationship with speaking to other people, learning things from a person, or going out and being forced to interact with the environment around them. And there's nothing more indicative of that to me than stores closing.
JM: I remember distinctly, the guy who worked at Video Wizard, this guy named Les giving me The Prowler VHS. I asked him for a recommendation. I must have seen that movie two dozen times, the Tom Savini The Prowler, not the noir. And I remember that. I know that some of our younger customers will remember a movie that I told them to watch, and that's a gratifying thing but it's also sad because there's not going to be a lifetime of that like I had. It's pretty much going to end here for a lot of the kids who come in here.
***********************************************************************************************************************************************************************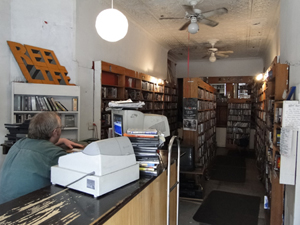 That last part is not hypothetical. You can't claim that things such as a small, quaint store are uniformly unimportant to the youth of today. In the several days I spent at Reel Life during its last week, I saw youngsters (all between the ages of six and 15, I would guess, although I am pretty bad with stuff like that) doing the following: photographing every inch of the store, every director's section, every shelf, asking for a tape of The Empire Strikes Back, bemoaning an impending gap in their cultural exposure and generally being decent, kind and thoughtful in a way I do not associate with teenagers.
I don't want to consider a future populated by people who grew up without nice places to go and explore their developing interests with a stranger whose opinion they trust. With nobody like Joe Martin to communicate the value of unheralded art directly to their face—really, in my limited experience, the only way children will understand anything is if you present it directly to their face and give them no other option—I am afraid that the next generation of filmmakers, cinephiles and just plain movie nerds will have a pitifully limited understanding of what they might not already want to see. I met a precocious child at Reel Life (the one photographing every inch of the store) who has made it a goal to see every film in the book 1001 Movies You Must See Before You Die. He refuses to see anything not in 'the book.' Martin has repeatedly tried to impress upon him the value of all the titles left out of 'the book,' succeeding occasionally. Netflix is not going to be so forceful. The day I interviewed Martin, this child had apparently gotten permission from his mother to attend a theatrical screening of Shoah. My heart really just breaks thinking about all the other ones who no longer and will never have a place like Reel Life to hang out after school.
It is hard for me to deal with another loss of a beloved spot that, as Martin pointed out, was just a place to go where you knew other people loved movies. I have taken my love of this culture out of the store and used it to make some films, which I am deeply depressed I will not see on the shelves. But more importantly, anybody who lives in some small town and is starting to think seriously about film won't see them on the shelves either. And to be honest, they probably won't click on them on Netflix. Maybe they will, but I doubt it. I live for the type of film that speaks to the person behind the counter, and I have trusted them to inform me.
If you deeply and passionately love film, you owe everything to what video stores have provided over the past 30 years. You wouldn't have known what to see or what to care about. You wouldn't love movies, you wouldn't make movies and you might not even watch movies. Martin summed this up perfectly, and in a way finally made me understand why I personally am so bereaved when a store closes:
"THE DEBT THAT INDEPENDENT CINEMA HAS TO THE VIDEO STORE IS HUGE. IT CHANGED THE WAY MOVIES WERE MARKETED. THERE'D BE NO MIRAMAX WITHOUT VIDEO STORES, THEY WERE SORT OF THE OUTLET FOR MIRAMAX. MAYBE A HANDFUL OF THEATERS ACROSS THE COUNTRY WOULD SHOW THE MIRAMAX TITLES. BUT THEY ESTABLISHED THEIR NAME THROUGH THE VIDEO STORE. NOT EVERYONE AROUND THE COUNTRY COULD GO SEE A MOVIE LIKE RESERVOIR DOGS OR CLERKS. BUT THEY WERE ABLE TO GET THEM INTO VIDEO STORES. AND IT REALLY CREATED AN OUTLET FOR INDEPENDENT FILM."
— Alex Ross Perry