A Conversation With Lysa Heslov (SERVED LIKE A GIRL)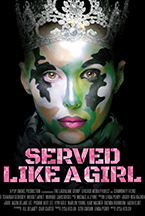 I met with director Lysa Heslov on Tuesday, March 14, 2017, at SXSW, to discuss her feature-documentary debut, Served Like a Girl, which profiles a group of brave women, all military veterans, who compete for the title of Ms. Veteran America (I also reviewed the film). The competition's proceeds all go to benefit homeless women veterans, whose numbers, currently at 55,000, are growing in this country. We follow seven women, in particular – Andrea, Denyse, Hope, Jas, Marissa, Nichole and Rachel – each of whom has a moving tale to tell. Here is a condensed digest of our conversation, edited for clarity.
Hammer to Nail: So you have, ultimately five main women – the four contestants, plus Marissa – that you profile, along with the two administrators, Jas and Denyse. Did you start out with those five in mind? How did you choose them? Did you film more and then whittle it down after the contest's choices were made for the 25 finalists? Please describe how you got to those five women.
Lysa Heslov: So, the 25 finalists were announced three years ago on July 4, and I only had a couple of weeks to cast them. So I got very detailed bios on them; I spent time on the phone with them; and then I gave 10 of them video cameras, and started watching some of the footage. I started having more conversations with them, and then went to start filming and visiting with 8 of them. And then it just sort of ended up down to 5. 750 hours worth of footage later…
HtN: Were there any specific reasons why, of those initial 10, then 8, that these 5 women stood out to you the most? Did it have anything to do with access, or were they all willing to work with you, from the beginning?
LH: Some were harder than others, I think because they needed and deserved to earn my trust. I had no experience going into this. The only thing I had to rely on was to have an open heart and to be malleable. And I know this sounds really weird, but the five girls that I ended up casting, I saw myself in all of them. It was almost as if they had different components of my personality. We just had a connection, and trust, and as that trust built over time, more and more intimate stories came out. Other than the competition, itself, it was just the DP [director of photography] and myself, shooting. So we did everything, because the stories that we were talking about were sometimes very intimate. Most of the time, these girls had never shared these stories before, and it was just easier to have a smaller crew and just be an all-female crew.
HtN: So would you be on sound while your DP was shooting?
LH: Either I would be on sound, which I'm not very good at, or we would mic our subjects. But then, for the competition, we had five cameras and five sound people, but otherwise it was just the two of us for many, many months.
HtN: Well, a small crew does work better in intimate environments. So, without giving away any major plot spoilers, at the end of the film, there's a character you could have profiled, perhaps, but didn't, and I'm curious if you had an opportunity to film this woman that we see, but never get to meet quite as intimately as the others, and who becomes a central figure in the final competition?
 LH: Yes. I did have an opportunity to follow her. And she was fantastic, but in the end, the other characters were incredibly compelling, and without giving away the spoiler, I wanted it to end a certain way.
HtN: There's always a challenge dealing with archival material, especially when all you have are photos. Did you have a particular approach in terms of how you chose to present those photos on screen?
LH: Yes. Well, some of the video comes from the girls, and a lot of the photos come from the girls. In the opening of the film, I knew that I wanted it to be very ironic, so the archival stuff would be beauty mixed with brawn mixed with warrior mixed with beauty mixed with warrior, and it was really important to me to create that irony.
HtN: I was struck by how many of your subjects have dogs. Dogs seems to be an integral part of their lives. There has been a lot of research into the therapeutic value of dogs, particularly when it comes to veterans and PTSD. Did you have opportunities to explore that, as a theme? I ask because you feature them so prominently.
LH: And cats.
HtN: And cats. Although I would say more dogs than cats.
 LH: More dogs than cats? No, it wasn't…that's a really great point and I know that Hope, when I first started filming her, she had a dog with her because of her military sexual trauma, but no, I didn't think about it. I was just there, in their space and their environment and wanted to get every little bit that I could of them, and their animals were hugely important parts of their lives. Film the dogs, film the cats. Film some pigs.
HtN: Good cutaway footage if you need it.
LH: Film some roosters…(laughs)
HtN: Although I don't remember seeing pigs or roosters in the film…
 LH: Oh, you saw roosters.
HtN: I guess I just missed them.
LH: (laughs)
HtN: Speaking of Hope, there is a very important plot point in the film between her and her mother. How did you approach both parties to film that for the movie? How did you set that up?
LH: Well, Hope and her mother had not spoken for five years, and Hope desperately wanted to reconnect with her mother. We were able to find Hope's mother and alert her to the fact that Hope was going to be competing in this competition. We did not tell Hope that she was coming. We didn't know what was going to happen when the door opened, but I'm really glad that it worked out the way it did.
HtN: It's a very powerful moment in the film.
LH: Yeah, I was terrified, actually. Because you never know what's going to happen if you haven't planned anything out or manipulated anything…(laughs)…you're just leaving it up to whatever, if you know what I mean.
HtN: Fortunately, it's not live TV, so if it's not what you expected, you just don't put it in the film.
LH: Yeah, that's true.
HtN: Speaking of live events, the pageant…
 LH: It's a competition. Not a pageant. If Jas [sitting in another part of the room giving a different interview] hears you say that, she's going to make you drop to the ground and give her twenty push-ups.
HtN: Which I think I could do.
LH: (laughs)
HtN: I have not been exercising while at SXSW, so maybe I should say that, just to be forced!
 LH: You could just run over there, say it to her, and you'll be on the floor. (laughs)
HtN: So one of the things I really like about this competition – which I hadn't heard of before – is the fact that it's not like a typical pageant that's mostly about beauty. It's about every part of the contestant. And it's all women judges.
LH: Who've all served.
HtN: Who attends the competition? During those final performances that we see, we don't get a sense of who's in the hall, since you focus on the women. So who's there?
LH: It's a melting pot of family members, friends, veterans, veterans groups – they sell tickets – so it's a mixture of different types of people. I would say predominantly family and friends, but there are a lot of veterans who attend.
HtN: Do you get a sense of how recognized the competition is outside of those circles?
LH: Well, I'm really hoping that the film really broadens the audience for Ms. Veteran America, because I think it's a fantastic competition. In my dreams, I would hope that it be televised, because I think it's really cool, and these women are really badass. So I'm hoping the film opens it up. I do think that since we started filming, Ms. Veteran America has really grown, nationally, in terms of national press. It just seemed to get bigger.
HtN: Great. Thank you so much!
LH: Thank you!