A Conversation With Joe Frank and Zack Reed (SWEATY BETTY)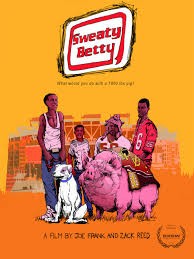 (Sweaty Betty made it's world premiere at the 2015 SXSW Film Festival. While the film is a hybrid documentary/narrative, it was placed in the Narrative Competition category where it received positive reviews. Our own Donna K. was so taken with the film she tracked down directors Joe Frank and Zack Reed to have a word…)
I've been a crazy person about my love of the film Sweaty Betty, which recently had its world premiere at SXSW. There are a lot of reasons I believe in this movie. It starts with a tight, fast montage that demands attention and shows real skill. The story is unique and quietly poignant, a loose amble around a Washington D.C. area neighborhood mixing the local fact and fiction. It has an avant-garde/outsider approach to filmmaking that looks at the medium with totally fresh eyes. I also think I love this film so much because it reminds me of all of the potential in the early days of indie film- real indie film- a gritty, lo-fi quality that tests the limits of what a film can be. Like Richard Linklater's Slacker it democratizes the art form and allows people to make movies both about and for a different kind of hero. I e-mailed a few questions over to Joe Frank and Zack Reed, the directors behind Sweaty Betty, to see how they were able to turn a movie mostly about a pig and a dog into something so much more.
Hammer to Nail: So guys, you made me cry about an aspiring football mascot pig. Nice work! But the film isn't entirely about that, it's more about the loss, love and dreams of a largely under represented community. What made you want to tell this story? Why did you want others to experience it?
Sweaty Betty: We made this movie because we thought it was a good idea to make a movie about real life moments and what it is like to grow up in our neighborhood. Most movies made about areas like ours are about drugs and violence. We wanted to show people the other side of life in this type of community. The untold stories. Our characters and ourselves were all affected by crime in one way or another. We choose these stories because they are representative of the people who are sick and tired of crime, so they try to do new and different things either to better themselves, their families or to inspire the people around them.
HTN:The film is basically a staged documentary? Things happened and you wanted to capture them after the fact. How did you shape the retellings? Did you script them? Did the characters lead them? There was a serious sense of empowerment in this format, like a recognition and control of the importance of one's own story.
SB: We think of it more a combination of both documentary and narrative film formats. We created an outline based on the story format used by Larry David in Curb Your Enthusiasm. Floyd's idea of turning his pig into the Redskins mascot and Rico and Scooby's dog story both actually happened. First, we created an outline which placed emphasis on certain plot components. No script. We put the actors in situations and they improvised the dialogue. We told them that they must remember to say certain things to push the story forward. The actors were good because we would shoot twenty minute scenes without cuts and they would have to remember the right timing for four or five different points of emphasis spread across a long scene. We gave the actors ultimate control and our full confidence. Yes, we agree this gave the movie a sense of empowerment.
HTN: It's hard to explain the style of Sweaty Betty. I really felt like you were approaching the formal aspects of film in a different way. The rhythm, the use of music, the pacing it was all pieced together with a different vision of what a movie should act like. How did you guys approach the editing? Did you have a strong conceptual style going in?
SB: We approached the editing in a specific way. We had two real life stories and felt the need to allow the stories to unfold at a realistic pace. We had this in our minds before we shot the film. This was inspired by the John Cassavettes film, Faces. We loved the natural pace of his storytelling. Thank goodness Joe met a lovely French girlfriend a few years ago who introduced us to a new genre of independent and foreign movies that we had never heard about. Other great filmmakers she showed us were Werner Herzog, David Lynch, Harmony Korine, Jean Rouch, Bruno Dumont, Takeshi Kitano, and many others. We were very inspired by these filmmakers, but our approach was different because we were self-taught from watching a diverse set of great filmmakers, and we went into it with the goal of making something different.
HTN:It feels like everyone is interacting with everybody else's dreams in the film, you know? One guy dreams of making his pig famous, other people are aspiring actors, you guys are filming the film…there was something really communal and rare in this feeling. Has the community seen the film? How are they reacting to SXSW?
SB: The community was very involved in this film. We are very happy about how well our film is being received by a wide audience here at SXSW. The community has not seen it, because SXSW was our world premiere. We hope to show it at the Maryland or DC film festivals this year. Our main goal is to create more film opportunities for minorities and low/middle income people. Hopefully one day we can open a free film school. So many people aspire to rap and do sports, why not give them a camera so they can make a movie? There's no shortage of stories where we're from.
HTN: What's next? I think I read somewhere Sweaty Betty might be the first in a trilogy?
SB: There are a lot of stories we are going to film that take place in our area – some docs, some fiction and others in the same Sweaty Betty hybrid. Our next project is going to be a comedy TV series about Zack's uncle. It's inspired by the TV show Martin and it's a living room sitcom with hilariously gritty characters who we'll film on a studio set. We're looking for the right financing now. We also want to remake Linklater's Boyhood, but instead of fiction it will be a doc following our actors from this film – Rico, Scooby, and their children for the next 15 years.
– Donna K