A Conversation With Jesse Moss and Burt Reynolds (THE BANDIT)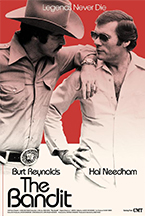 I met with director Jesse Moss and Burt Reynolds – director and subject – on Sunday, March 13, 2016, to discuss their collaboration on Moss's new documentary movie The Bandit, for which I also wrote a review. Reynolds came down to SXSW to also present the 1977 film Smokey and the Bandit, the production of which is profiled in Moss's film. Here is a condensed digest of that conversation.
– Christopher Llewellyn Reed
Hammer to Nail: So it is an honor to speak to you both. Let me start with a question for Jesse. I have a question about the archival footage, because it's really amazing. And I want to say how much I enjoyed the film. Did you have a team helping you find all of that stuff, or did you find it yourself? And please explain that mind-blowing first scene with Burt Reynolds backstage. Where did that come from?
JM: So we did have the good fortune to have some amazing archives in the film, and I really wanted to tell an archive-based story. When we first interviewed Burt, at his home in Jupiter [Florida], he shared his archive with us, which I wasn't anticipating, but it's extraordinary. Photographs, videotapes of old talk-show appearances, some film footage, and that was sort of an easy find, but then it was a lot of hard work, and we did have a team. Rich Remsberg is a footage researcher – he's amazing – and he found some extraordinary things like the footage of [Smokey and the Bandit director] Hal Needham doing the airbag test, footage from a local Georgia television station that had covered the production of Smokey and the Bandit, so it was a lot of sleuthing. And it was a lot of work to organize that archive: thousands of images, hundreds of hours of footage, it was just a very time-consuming task. But it was essential on a film like this, which is really built from that material. And I wanted to find interviews with Burt and Hal, from the period, where they told this story in their own words, or talked about their relationship. So it was a collaborative effort amongst our whole film team.
HtN: It's an amazing effort. So can you tell me about that opening clip?
JM: Well, Burt and I have talked about that. It comes from something we found in Burt's archive: it's the "Burt Reynolds Late Show," which was taped in 1974…is that correct, Burt?
BR: That's correct, yes.
JM: And how many did you do?
BR: We did about 8. And it was great fun. Because, you know, I was doing so many talk shows, that I thought, what the hell, I'm just going to do my own. The network was very kind of up for the idea, and we had some incredible people. I would have all men one week, and all women the next.
JM: Yeah. I've seen, I think it's called "Burt and the Ladies" – the episode with your lady friends, which is wonderful. You did a show in prison, in Georgia…so that show, which I don't think has been seen since 1974, we thought, this is amazing, this is going to take our audience back to this period, to what Burt was doing, and how funny he was, and that clip, in particular, introduces him, and introduces the film. When we saw it, we were like, this has got to open the movie!
HtN: Speaking of how funny Burt is, I re-watched Smokey and the Bandit before watching your film, just to be reminded of how relaxed and charming you always are in front of the camera, Burt. And those clips from Deliverance remind me of your terrific range. Do you really think, as you say in the film, that your chances of an Oscar nomination were hurt by that nude Cosmo spread?
BR: It didn't help. (laughs) I don't know. It's a rather…non-humble situation, where you're saying that it crushed any hope that I would have of being nominated because of my work in Deliverance. There were other great actors in that film, like Jon Voight, and great work by the director, John Boorman, who's the best director I ever worked with.
HtN: It's a great film. Every time I've seen Deliverance, I'm reminded of just how powerful it is. It's a touchstone, too, of the 1970s.
JM: Well, Burt, what I love is the story you tell in the film, where you were cast – I don't know if you want to talk about this – but you were cast in that film based on an appearance on The Tonight Show, and not through a typical audition. Right? You were exhibiting something that John Boorman saw that made him think you were right.
BR: Well, when I went in for an interview, I, like all good Southern boys, had read Deliverance, and thought, what a great film it would make. And so when I went in, I said to Boorman, what was it that you saw me in? And I named some of the worst films that you've ever seen in your life that I was in, and he said, no, I didn't see any of those, I saw you on The Tonight Show. And I said, what? And he said, I want a guy who can control four other guys, and I saw you do that. You were totally in control of them. And these were all pretty heavy-duty actors. And I said, well, I don't know if I was totally in control of them, but I tried to make them shut up and I had to say something. And we had sort of a fun interview just about that. And so that became the genesis of what I was going to do on the show.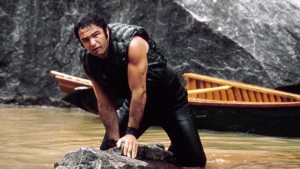 HtN: And that anecdote is wonderful in the film. So what I love in The Bandit – among many other things – is that it's a mix of character studies and movie history. That's what makes it so affecting. And it seems like they're could have been a lot of stories in the film that you decided not to pursue, and focus, instead, on the story of Hal Needham. It could have been a history of stuntmen, or a story about the relationship between stuntmen and the people they double. Can you briefly describe the process of winnowing it down? Did you always want to focus on Hal? Was that the motivating factor? Or did it become that after focusing on other things?
JM: I mean the early discovery, for me, was the friendship that was at the core of the making of Smokey and the Bandit, between Burt and Hal. I didn't know anything about that. I mean, I knew of Hal and his work. Of course, I knew Burt's work. But I didn't know that they had this long relationship, professional and personal, this friendship. So instantly, I thought, this documentary is a buddy movie…about a buddy movie. That's what I want to do here, and to use the framework of Smokey and the Bandit – the scaffolding of that, the story of that production – as a way to look back on their relationship and their individual journeys.
And you know, there are a lot of balls in the air in the film, because we're telling all of those stories, and moving backwards and forwards in time, but that was just a process of trial and error. But I felt that what was really essential, or central, or the emotional center of the film, was the story of friendship, of risk, of loyalty. And that's what struck me, too: how much these guys were risking to make this little film. Burt was a huge star at the time, and it was a leap of faith for him and a huge leap for Hal…in some ways…in other ways, he was very experienced, of course, but to step up and be a director of his own work.
HtN: And a great act of friendship, on Burt Reynolds' part, to help out Hal. Can you tell me, how did you two meet? Did you first have the idea of the film, did you first meet Burt? How did that work?
JM: So, CMT – Country Music Television – and I were discussing a film around Smokey and the Bandit, or Burt Reynolds, and I thought, well, there's no way to make the film that I want to make – that should be made – without Burt's support and his cooperation. And so the first thing we did was reach out to him and say, here's our vision for the film, is this something that you would be willing to be a part of, never expecting him to say yes, thinking…there's no way. You just don't know. And much to our surprise, he said, come and visit. We went to Jupiter and spent the weekend. Got to see Burt teach acting, which was really a lot of fun, which he still does. And we had a two-day conversation about his work and relationship with Hal. So… (turning to Burt)…I don't know what that was like for you…but…
HtN: Was it a hard sell?
BR: Well, actors are never tired of talking about themselves, you know that. And I liked my friend here immediately…immediately. We had a good time. We just had a good time, talking.
JM: And to be honest, I didn't know what it would be like. I mean, Burt's a huge star, who's worked with so many directors and incredible people…directors in Hollywood, and I thought, who am I to walk in here and expect something…and Burt was just a real professional. I felt like he really gave a lot to us. And your openness and willingness to share those archives with us was a leap of faith – it's always a leap of faith in a documentary, you know: can I trust the vision of the filmmaker to do justice to the story.
HtN: And I have to say, that along with the interview with Burt, the archives make the film. That footage is essential to the story.
JM: But I also felt that a present-day conversation was just as essential to the story. You know, I think that there's a real power to looking back on that relationship. I mean, Hal's no longer with us, and it's an elegy of sorts to him and to a way of making movies that's changed, right? Burt and I have been talking about that. The stunts they did were not CGI, right?
BR: No. Never.
JM: I mean, Hal put a car up in the air, and so…the film is really a celebration of that, and I think the present-day conversation gives it a sort of historical weight.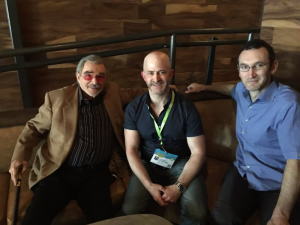 HtN: Jesse, I noticed in your filmography that you did a documentary in 2003, Speedo, about a stunt driver. Was that in the back of your mind as motivation to make this new film?
JM: Very much so! I mean, I may not look like it, but I love cars – muscle cars – I love car movies, I have a muscle car, I loved Smokey and the Bandit, I love Burt's White Lightning…I don't know, it speaks to me. I think of this documentary as a kind of a sequel, in some way, to Speedo. And the character, Speedo, was a real person, and had something, I don't know, and this is maybe presumptuous to say, but there was a little bit of Burt Reynolds in him. He was an outlaw. And so when I thought I could make a film about the legend, about Burt's work, about these films, I just thought that this would be so much fun. And I didn't know the story.
And another thing I want to say, when I was starting the project, somebody told me that Hal Needham really didn't like documentaries, that they're boring, which they often are. And I said, I'm going to set out to make a documentary that's fast, funny and has heart, you know, and that Hal Needham might like…and that Burt Reynolds might like. And so hopefully we've succeeded. I don't know.
HtN: And do you like the film, Mr. Reynolds?
BR: I love it. And Hal. Hal was the damnedest man I ever knew. I mean, I've never, before or since, known a man with that kind of bravery, and that kind of chutzpah. And the way he carried himself. I mean, there wasn't anything that he ran into that he didn't think he was on a par with, and just as good. And he was! He was just as good as any director I've worked with.
HtN: And you did a number of films with him.
BR: Yes, I did.
HtN: Well, gentlemen, thank you very much. It was a pleasure.
– Christopher Llewellyn Reed (@ChrisReedFilm)