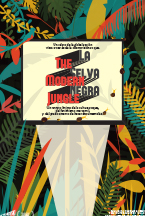 (The 2017 Slamdance Film Festival kicked off on January 20 and ran through January 26. The HtN staff repped Slamdance hard with reviews like this one,Charles Fairbanks and Saul Kak's doc The Modern Jungle.)
Set in the mountains of Chiapas, the southernmost state of Mexico, The Modern Jungle takes us on a journey to and from countryside to city, and back again once more, highlighting a clash of old and new ways of life that remains deeply unresolved in that part of the world (though not unique to it). A documentary, the film features occasional staged sequences in which the first-time feature directors Charles Fairbanks and Saul Kak make it appear as if their two primary characters are watching the very same movie we are. This is just one of the many ways in which Fairbanks and Kak explore the interaction between filmmaker and subject in this fascinating and self-aware examination of both cinematic and economic exploitation, the two inextricably linked.
65-year-old Juan is a local shaman, living a bare subsistence-level existence, reduced to begging money from his ex-wife (which she refuses to give him). To make matters worse, he has a nasty abdominal hernia and no way to afford the surgery to correct it. Carmen, approximately the same age, lives nearby, calmly foraging for food and enduring profound loneliness since the passing of her husband, years earlier. Sometimes they meet for tea – usually when Juan comes for a visit – yet theirs is not a relationship to provide much in the way of mutual solace; Carmen's tranquility, however sad, places her apart from Juan's chaos. Adding to Juan's problems is a campaign by an apparently unscrupulous marketer of vitamin-and-mineral powder, Omnilife, which sends salesmen into poor districts hawking a miracle elixir. It's cheaper than the medical procedure, so why not give it a go? And by the way, o director, could I have some pesos, please?
This constant plea from Juan for money, directed at Fairbanks and Kak, is the refrain of the story, and is what elevates the film above the usual ethnographic study. It's a good thing, too, because the camerawork is inconsistent: sometimes beautiful, sometimes shaky to the point of distraction (if I could wish but one thing on the film, it would be a tripod when the shot does not require tracking). We quickly forget whatever imperfections there are, however, since the real story is the ethical dilemma faced by all documentarians when their human subjects suffer before them. What is the proper response? On the one hand, to interfere alters the reality on screen; on the other hand, to do nothing requires the absence of a heart. And while this film does not definitively answer the question, it foregrounds it in a highly unique manner that makes The Modern Jungle a film to see and ponder, for filmmakers and film lovers, alike.
– Christopher Llewellyn Reed (@ChrisReedFilm)