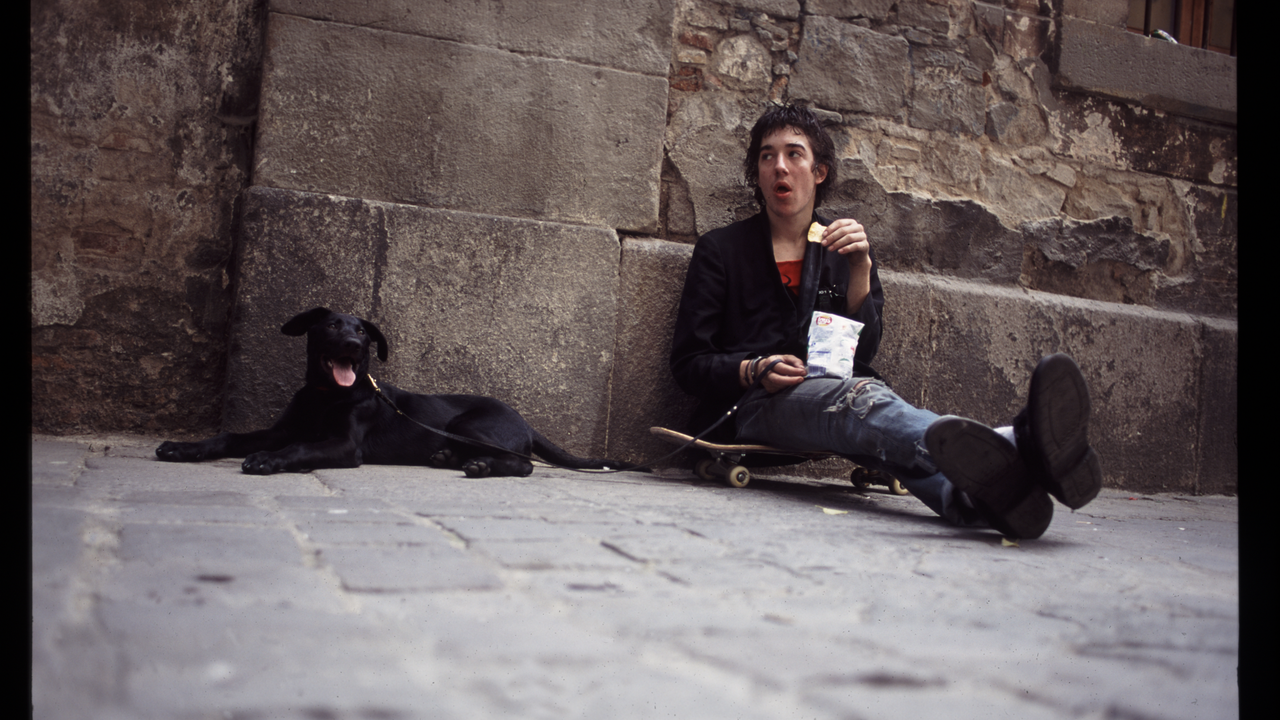 (The 2021 Tribeca Film Festival opens Wednesday, Jun 9, 2021 and runs all the way through Sunday, Jun 20. hammer to Nail has you covered with tons of reviews and coverage, coming your way! Like what you see here on Hammer to Nail? Why not pay just $1.00 per month via Patreon to help keep us going?)
"Scars on the inside are the worst. The outside and broken bones and whatever don't really matter." Those haunting opening words narrated over old static footage will stay with you throughout Max Eriksson's fiery, intimate, and melancholic documentary centering on the rise and fall of titular Swedish skateboarding prodigy in The Scars of Ali Boulala. Eriksson, in his feature debut, relies heavily on vintage footage shot through old camcorders of Ali and his skateboarding buddies. This creates a vulnerable firsthand experience of their decades long journey from teens to adulthood. What follows is a Citizen Kane-esque tale that explores Ali's life through candid interviews with a cadre of his past and present compatriots. The documentary emanates freedom and recklessness in youth, ultimately proving how a few seconds would change their lives forever.
In one of the film's opening moments, a grown-up (present-day) Ali and his mother, Raija, are going through his skateboarding collection at his home in Sweden. When going through his tourist mug collection gathered from places he traveled to in his younger days, he does not remember most of them. At this point, we are not made aware of what actually happened to him that affected his memory, but through interviews with his now middle-aged former comrades, his family, and ex-wife, we learn that something did happen, which is revealed more than halfway through the film. 
We are first introduced to teenage Ali through 90's home footage when he is first trying to perfect his skateboarding skills, risking injury to become the best he can be. His friends idolize him. After traveling to the states and taking part in skating competitions, his skills and infectious energy caught the attention of other professional boarders, including the brand Flip Skateboards which recruits him to travel all over and appear in their videos. Thus marks the beginning of his deep friendships with his fellow Flip skateboarders who would form the now legendary group known as "The Piss Drunx" – many of whom we meet through present-day interviews.
We experience first-hand the jaw dropping stunts The Piss Drunx practice and then perfect in public spots, whether it be a dangerous drop off a high shed or ollies over concrete staircases. Also known for their "fuck everything" attitude, they embraced a lifestyle of excess which also led to trouble-making antics, a lot of which were drug and alcohol-induced. Much of the spotlight is put on Ali as the one who pushes his luck the most, and we see his teenage innocence unraveling. Wreaking havoc one too many times leads to him being deported from America. But not even that would break up The Piss Drunx. We also see young Ali for the perfectionist he is when it comes to his stunts, even going as far as to smash his board repeatedly into pieces in a fit of rage when he can't get one right. Despite his bad habits and recklessness, Ali is ultimately an endearing protagonist due to his clear passion for the sport. But as one interviewee warns, "If you can get away with anything, sometimes bad shit's gonna happen." 
In the mix comes Shane Cross, a young Flip skateboarder from Australia who quickly became accepted into the Piss Drunx family. Everyone being interviewed in the present day looks back fondly on Shane as a magnetic force known for bringing smiles to the whole room. As their tolerance for thrills got higher and higher, things soon took a turn for the worse when a drunk motorcycle accident involving Ali and Shane would shatter the group's no-consequences reality and shake up the skateboarding world. It's an event that would leave Ali with permanent brain damage, no longer able to skate. A four-month coma and a two-year prison sentence later, Ali would have to grapple with both guilt and a new reality.
The Scars of Ali Boulala does a good job of immersing us in Ali's life through vintage video compilations, seeing firsthand everything that made, broke, and rebuilt him. If only it dug a little deeper into his family life growing up to provide an even more personal understanding of his background. Nevertheless, it is an intricate, nostalgic look at a generation that embraced freedom, and would sadly pay the price for it. The Scars of Ali Boulala paints a stimulating portrait of one of skateboarding's greatest subjects.
– M.J. O'Toole