New York Film Festival 2017 Report: ZAMA and MUDBOUND
(Mudbound will be released on November 17, on Netflix and in select theaters. Strand Releasing plans to release Zama in U.S. theaters in early 2018.)
Two noteworthy historical films made their local debuts at this year's recently concluded New York Film Festival: Lucrecia Martel's Zama, about 18th-century Spanish colonialism, and Dee Rees's Mudbound, set in the Jim Crow South. Although both explore the topic of racial oppression, the films could hardly be farther apart in their approaches to their subjects, or in their aesthetic strategies and effects.
***
Martel's fourth feature, and her first in nearly a decade, is adapted from a 1956 novel by Antonio Di Benedetto. The titular character, Don Diego de Zama (Daniel Giménez Cacho), is an emissary of the Spanish crown who presides over a distant South American outpost in what is now part of Paraguay. Zama is no mighty lord of all he surveys, but a put-upon, paper-shuffling bureaucrat, whose only wish is to be transferred to another region, where he can be reunited with his wife and child. Meanwhile, as he has for many years, he waits—for a helping hand from his superior officer, for acknowledgement from his faraway monarch, for deliverance from his dreary, deadening life.
Rees and Virgil Williams adapted Mudbound from Hillary Jordan's 2008 novel. It's her third feature, following her Sundance debut Pariah and a Bessie Smith biopic for HBO. The film follows the linked destinies of two families, one white and one black. Henry McAllan (Jason Clarke) and his wife Laura (Carey Mulligan) move from Tennessee to Mississippi to take over a small farm where Hap Jackson (Rob Morgan), his wife Florence (Mary J. Blige), and their children work as sharecroppers. At the center of the story are Henry's brother Jamie (Garrett Hedlund) and Hap and Florence's oldest child Ronsel (Jason Mitchell), who share a bond as fellow WW2 combat veterans. Jamie and Ronsel's overseas experiences make for a difficult readjustment to the narrow confines of the rural South, especially as their budding friendship threatens the racial order of things.
***
Zama is mysterious and oblique, an art-house film with no clear lines of action and no easily discernible meanings, whereas Mudbound is a mainstream American prestige picture, high-minded but accessible. Both succeed on their own terms, thanks to the very different talents of their respective directors.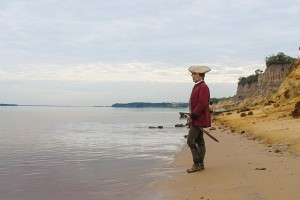 Anyone who has seen Martel's previous films knows that they're challenging viewing experiences; anyone who has swooned to her densely poetic, dreamlike thickets of image and sound knows that a little head-scratching is a small price to pay for cinematic delight. She makes movies you can't fully understand the first time around, but still can't wait to see a second time. Watching Zama, I felt as if the blinkered obliviousness of the main character was somehow fusing with my own state of pleasant semi-confusion as a viewer: Zama struggles to perceive what's happening around him, as I struggled to perceive what was happening to Zama. He longs for a clear resolution to his destiny, and he takes decisive action toward the end of the film in an attempt to force things to a conclusion. But true closure never arrives, and Zama leaves the audience, like Zama himself, adrift in a sea of ambiguity.
Mudbound has no mysteries that aren't clearly explained by the end of the film, no meanings that expand in one's mind after one leaves the theater. What's there on the surface is all you're going to get. But what's there is a big-hearted and intelligent melodrama, sprawling in its reach (the story spans three countries and several years, and is narrated jointly by several of its main characters) yet finely observed in its details. I haven't seen Pariah since it was released in 2011, but what stands out in memory is the combination of warmth and unsentimentality in its treatment of its characters, a quality on fine display in Mudbound as well.
***
Martel, in an interview:
It's very difficult to represent violence without endorsing it…I didn't put [a murder from the novel] in the film because I didn't want to show a dead woman, which would have been necessary in that scene, when in Argentina every sixteen hours a woman is killed. I can't see any poetic reason to show the body of a dead woman in Zama. I don't think that is necessary to reflect on things…. I don't want to see a dead or an injured woman in a scene and I don't want people to get used to this image.
In Zama, she avoids turning the destruction of human life into a cinematic thrill ride (and when violence does arrive, in a surprising turn at the story's climax, it's visited upon the colonizer, not the colonized). After all, her natural bent as an artist is toward subtlety, understatement, and ellipsis. The odd result, however, is that Zama is a fundamentally genteel portrait of colonialism. Martel isn't interested in conveying the horrors of imperial conquest and enslavement, the sense of human waste and suffering on a massive scale. Instead, her exquisite sensibility zeroes in on the slow-motion disintegration of Zama's dreams of escape. Zama is helpless, hapless, an ineffectual leader, the butt of a cosmic joke, undermined and laughed at by his subjects and his superiors alike. He's a delightfully original creation, wittily and feelingly embodied by Cacho. But the cruelty a man in his position would have visited upon others is only glancingly alluded to here.
Mudbound, in keeping with its more literal and conventional approach, doesn't shy away from depicting graphic violence—in the wartime scenes, as Ronsel and Jamie watch their comrades being slaughtered, and especially in the film's wrenching climax, as the two men's friendship provokes a savage racist backlash. In both instances, the bloodshed feels justified by the narrative context, and Rees's restrained storytelling, measured pacing, and deeply humane approach to character throughout the movie make the sudden explosions of brutality and destruction seem earned.
***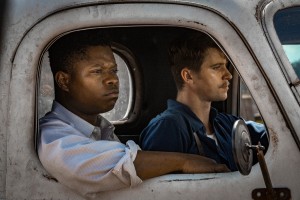 If mainstream cinema reflects changes in popular sentiment, then in one important regard Mudbound marks an advance in American movies' attempts to grapple with this country's legacy of racism. As in so many well-intentioned Hollywood films dealing with black-white relations, Mudbound contrasts "good" white characters with "bad" ones. In the former category are Jamie and Laura, who are untainted by race prejudice and are offered up for audience identification and sympathy; in the latter are openly hateful types such as Henry and Jamie's father Pappy (Jonathan Banks), as well as quietly compromised individuals like Henry, who doesn't go out of his way to mistreat people but unquestioningly profits from an immoral social hierarchy.
Where Mudbound differs from most such films is in denying us the easy comfort of the white-savior myth, which would have us believe that a few courageous individuals taking a principled stand against racism will redeem the whole rotten system. Jamie and Laura engage in large and small acts of kindness and solidarity across racial boundaries, but those acts prove almost completely ineffective in helping their black friends at their time of deepest need. Rees sweetens the medicine a bit by ending the movie on an upbeat note, but this is still a tough message for a mainstream movie to bear, and it gives Mudbound a jolting resonance in the present that makes it very much a film of its (our) racial moment: angry, unillusioned, resolute.
— Nelson Kim