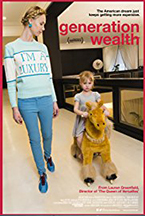 (The 2018 SXSW Film Festival kicked off March 9 and ran all the way through to March 17. Hammer to Nail has a slew of reviews and interviews coming in hot and heavy so keep your dial tuned to HtN!)
From accomplished multi-media artist Lauren Greenfield (The Queen of Versailles) comes a new documentary that compiles a quarter-century of her work as an ethnographer of the rich, famous and deeply neurotic. More than just a recycling of her "greatest hits," the film examines not only the corrosive effects of wealth and its grotesque accumulation, but also the wages of all kinds of compulsion, with Greenfield, herself, as Exhibit A in her retrospective of workaholism. Though occasionally so broad in its reach that the focus breaks down in discursive asides, Generation Wealth offers, overall, a compelling and insightful look at the decline of Western civilization, so wrapped in excess that it ignores the impending apocalypse.
Above all, this is a very personal journey for Greenfield, who began, not long out of college, photographing sun-kissed subjects in her hometown of Los Angeles in the early 1990s. This was the same world that Brett Easton Ellis (interviewed in this film) had profiled in his seminal 1985 novel Less Than Zero. Part of the joy of Greenfield's movie is seeing the evolution of these same kids as the filmmaker stays in touch with them over time, lending Generation Wealth an additional "Up series" quality, as well. Their odyssey, from happy-go-lucky celebrity-, body- and drug-obsessed youth to (sometimes) more reflective and better-adjusted adults, provides, along with Greenfield's own story, the heart and soul of the narrative.
For yes, not only is Greenfield behind the camera – as photographer and videographer, both – but also very much in front of it, along with her parents, husband and two children. This is her drama, too, as chronicler and subject of the consumer trends of the past 25 years. Though not from extreme wealth, herself, she grew up in the same milieu as some of her characters, thanks to the aspirational choices mom and dad made to send her to a school outside their neighborhood. Greenfield is certainly not fixated on prestige and money in the same way, but she sees similarities between her own artistic ambitions ­– which have frequently kept her away from home – and the more pecuniary ones of the people she profiles. Her children clearly still love her, as well as recognize the value of her work, but nevertheless express, on camera, their complicated feelings about their mother's long absences.
I'll admit that my own biases question this equivalency between all forms of obsession, but it is certainly an interesting comparison, Beyond that, Greenfield travels the globe, interviewing, among others: disgraced former hedge-fund manager Florian Homm; a woman so fixated on perfecting her body through plastic surgery that she ignores her own daughter's suicidal tendencies; a female CEO whose values change once she decides to become a mother; an Icelandic fisherman-turned-banker who has to go back to fishing after the 2008 financial collapse; the managers of a strip club; and a former porn star once linked to Charlie Sheen. There are more, and, as previously mentioned, it doesn't all fit neatly together. But it does all make for a thoughtful discussion on the current state of the (first-world) planet, and for fascinating viewing.
– Christopher Llewellyn Reed (@ChrisReedFilm)