As I AM: the Life and Time$ of DJ AM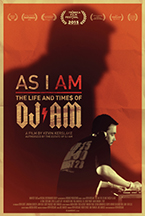 (As I AM: the Life and Time$ of DJ AM, Kevin Kerslake's documentary on the tragic life of well-known DJ AM is available now on VOD and iTunes)
Bear with me, dear reader, as you – cultural maven that you happen to be – are about to witness my appalling confession: until watching this new documentary by Kevin Kerslake (Electric Daisy Carnival Experience), I had never heard of its principal subject, DJ AM. Leave aside, for just a moment, your justified horror at my ignorance, and think about what this means. In some ways, I am the perfect audience for the film, as the ideal cinematic guinea pig on whom the director can try out his storytelling skills; if I walk away satisfied, then imagine how perfect the film must be…In other ways, however, perhaps I am exactly the wrong person to watch the film, as I have no built-in interest in the narrative, and all terms need to be explained. So which am I? As it turns out, both.
Adam Michael Goldstein was born in 1973 (although I learned this fact from an online celebrity biography, rather than from the film), in Philadelphia, where his parents had a rocky relationship; part of his childhood involved watching his father do drugs. In his early teens, he and his mother moved to Los Angeles, where his own addiction issues blossomed alongside his budding musical talents. And what were those talents? Goldstein – soon to adopt the moniker DJ AM (the A from Adam and the M from Michael) – had a unique talent for mixing and scratching, that art form that allows a DJ to control the vibe of the dancehall or party over which he presides. After a short stint in a horrible rehab center for wayward youth, he finally beat back the drugs and was able to build a career that made him a star among DJs and a national celebrity who dated other stars. And then, in 2009, the banished specter of addiction made a return, and he was found dead of an overdose in his New York apartment, a victim of the pressures and stress of success.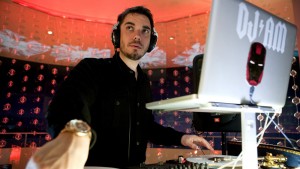 Most of that story is in Kerslake's movie, though not all. This is more of an impressionistic take on DJ AM's life and career than a strictly chronological and detailed history of the man. It is rich in personal testimony from the many fellow DJs, artists, addicts and others who knew Goldstein well, and from their interviews comes a vibrant portrait of a deeply troubled, yet talented, individual who overcame many obstacles before succumbing to an old foe. Even someone like me who came to the story cold can still, after watching the movie, appreciate the many contributions of DJ AM to our contemporary popular culture. As one interviewee says (and I paraphrase), "DJ AM was not the first guy to do mash-ups, but he was the first to do it in a club and the first person to do word play" (where a word from one song inspires the cut to the next song, with that one word as the common link between the two). That fact (which I did not know), is but one of the many ways in which DJ AM was truly innovative. Personally, I think Kerslake should have led with this, rather than burying it halfway in, but then the movie is much more for the initiates than the novices, for better or for worse.
What we do start with is footage from a dashboard camera, to which we will return later in the film. It turns out that this comes from a police car approaching the site of the 2008 plane crash from which DJ AM miraculously escaped, but the stress of which many believe contributed to his eventual relapse. Flames consume the wreckage, and Kerslake uses recurring images of burning objects throughout his film to emphasize the constant Damoclean threat of self-immolation under which Goldstein labored. It's a powerful and very effective visual, but then most of As I AM: the Life and Time$ of DJ AM is visually brilliant; among other aesthetic choices, we see traditional lower-thirds titles replaced by full-screen graphics superimposed on the faces of the talking heads, a nice change from the usual, although they don't help a viewer like me recognize the subjects. Overall, then, it's a film to savor, if not enjoy (it's never any fun to watch someone self-destruct), and one that, though better suited for fans, is still accessible to the pop-culture philistine.
– Christopher Llewellyn Reed (@ChrisReedFilm)