*Watch It Right Now* — WELCOME TO NOWHERE (BULLET HOLE ROAD)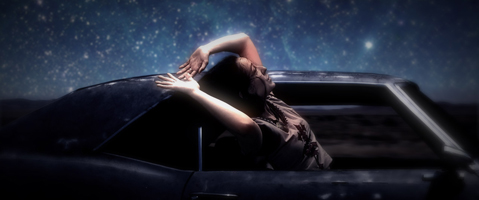 Have you ever wondered what would happen if Gregory Crewdson, Sam Shepard, and Cory McAbee took mescaline at a roadside motel and got freaky with a video camera? Thanks to Kentucker Audley and his newly revamped NoBudge website, you can find out right now by taking advantage of the free online premiere of William Cusick's Welcome To Nowhere (Bullet Hole Road). It's hard to believe that a work of visual art such as this began as a stage performance (by Temporary Distortion), but it apparently did.
The "story" follows five characters as their lives overlap, intersect, and merge underneath an expansive, wide, tripped out desert sky—and when I place quotes around the word "story" I mean it, since it's up for the viewer to ultimately decide what the story is, or if there even is a story. In fiction cinema, a defiantly anti-narrative approach to narrative is typically more off-putting than alluring—it's usually a sign of screaming pretension is what it is—yet in this particular case, the cosmic visual and sonic wizardry achieved by Cusick and his collaborators cast such a spell on me that I didn't care if it "made sense" in any logical way (full disclosure: my intellectual verdict was that it didn't). Which is honestly the highest compliment I can pay an experimental work such as this.
Don't overthink things. Simply follow these instructions:
— Shut out the world
— Turn off the lights
— Turn up the speakers
— Press play
— Bonus: if you want to smoke something beforehand, well, that honestly might not be a bad idea
***WATCH IT RIGHT HERE, THOUGH HURRY UP AS
IT'S ONLY AVAILABLE FROM SEPTEMBER 17TH THROUGH OCTOBER 16TH (2013)!!!***