SUNDANCE 2012 STATUS REPORT
(EDITOR'S NOTE: As is all the writing on this site, the opinions expressed within this piece belong solely to Mike S. Ryan, but I believe that Mike's ire was borne out of his love for ambitious personal cinema and not out of any personal bitterness, which is why I'm posting it.)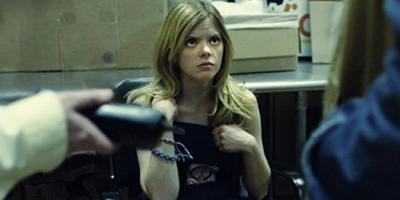 We've seen many films this year at Sundance receiving quite a polarizing reaction. Titles like Rick Alverson's The Comedy (which I produced), Craig Zobel's Compliance, and the horror short film anthology V/H/S all went through aggressive Q&A's in which some viewers felt threatened and insulted by each film's particular depiction of offensive male behavior. Despite the fact that all three of those films are male critiques of men behaving badly, lazy viewers still decided to use the films to advance their own PC agendas by focusing on the fact that the films either show weak women or too strong women or just simply naked female breasts. The reality is that Q&A's are not really the forum for viewers to proclaim their opinion of complicated films whose themes and intent are either carefully obscured or camouflaged, or embedded in a formally inventive structure that may at first glance seem casual or exploitative.
I, on the other hand, was deeply offended and aesthetically violated by a number of bland TV sitcom style films. Unfortunately, 2012 is the year in which corporate aesthetics and the Big Beach model of the twee-cute-soft-and-cuddly-but-a-little-bit-wacky comedy returned in an attempt to score a big sale. Once again a major studio allowed itself to be suckered into buying a bland piece of indie wannabe mush with the sitcom-like For A Good Time, Call…, which I found insulting not only in its depiction of women but also in its assumption that the indie film audience actually still wants this type of mindless TV pap. When will the distributors realize that the only way to get young people into theater seats for indie films is to push bold, distinctive, formally aggressive personal stories? I am sorry, but for me there were way too many films at this year's Sundance that were mostly motivated by the goal of trying to reach the most amount of people possible. Maybe Sundance can start a section called "Twee Dishonest But Fun For Some Comedies."
For those who enjoyed films in which they were challenged rather than distracted by TweeV pap, the options were for sure less available than last year. I saw most of the films in the NEXT and New Frontier sections and unfortunately I was not excited. On the other hand, this may possibly have been the best Park City at Midnight lineup ever. As always, docs were strong with several titles like The Imposter getting excited buzz. For me, I felt that The Imposter worked too hard at trying to be an old style Errol Morris investigation film, but it was less manipulative than other past docs of this ilk.
There were many strong exciting voices to be found with Benh Zeitlin's Beasts of the Southern Wild, Ry Russo-Young's Nobody Walks, and the aforementioned Compliance. Beasts is a truly bold, ambitious film and I think it is fair to say that it is an American Indie Film Event. Though I felt distracted by its ignorance of the subtextual collateral damage of its hero being black, the film goes where very few to no indie films have ever dared tread (despite my problematic issues regarding race). At the end of the day, Sundance 2012 may be simply remembered as the year that brought us Beasts and the sad return of corporate aesthetics. Maybe SXSW will be able to more effectively shut out the commercially minded mush and keep focused on the formally ambitious personal film that defines true indie film for many of us who seek insight and intelligence rather than distraction and lowest common denominator entertainment.
— Mike S. Ryan