SARASOTA FILM FESTIVAL '13: JURY DUTY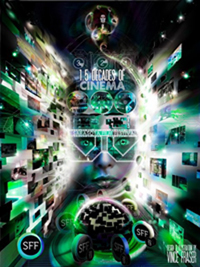 Though I've attended the Sarasota Film Festival every year since I flew into the Sarasota-Bradenton International Airport for the first time back in the spring of 2006, my participatory role this year was of a different capacity than it ever had been before. This time around, I wasn't a filmmaker. I wasn't a journalist either. Nor was I the doting boyfriend of a programmer*. So what was my title this year? Though my younger self surely would have scoffed at myself, for the 2013 Sarasota Film Festival, I was a dreaded juror.
What's wrong with juries? Isn't it obvious? Watching movies is a totally subjective act, so how could or why would anyone rank or, god forbid, pass judgment on them? When it comes to art in general, how could anyone have the gall to call anything "the best?" Thankfully, as I've gotten older, I've come to accept juried competitions for what they are: a positive way to call attention to a film that a group of admittedly subjective eyes collectively appreciated the most (as opposed to simply making a larger batch of filmmakers feel like total losers).
Back in 2006, my directorial debut Cocaine Angel lost the Independent Visions prize to Erica Dunton's Find Love. In 2011, my fellow juror Alex Ross Perry's The Color Wheel also lost the Independent Visions prize to Mark Jackson's Without. Apparently SFF artistic director Tom Hall believed that Alex and I would know what an Independent Visions winner looked like, since we understood so well what being an Independent Visions loser felt like. This year, our category had four jurors as opposed to three. The remaining two were C. Mason Wells from the IFC Center, and, last but opposite-of-least, Factory 25's Matt Grady, who was responsible for our section's totally rad award: a distribution offer from his company!
In our presentation at the truly lavish closing night awards ceremony at the Sarasota Opera House, Alex commented that it was nice of Tom to program so much work in this category made by one of the most underrepresented groups in American independent cinema, the group to which we jurors also belonged: yes, that's right, White Males Living In Brooklyn. Thankfully, the crowd got the joke.
It's awkward—dare I say inappropriate?—to write a festival wrap-up of films where one is a juror (for an example of how to do it right, check out 2012 SFF juror Jordan Hoffman's report). This position, compounded with our core mission at Hammer to Nail to exclusively focus on the positive, makes it impossible for me to write too much. So while I wouldn't be lying if I said that every film programmed in this section had ambition to burn, I also can't say that I loved everything. To be as "fair" as possible, it seems only right to mention the films we awarded our prizes to.
GOLDEN POND AWARD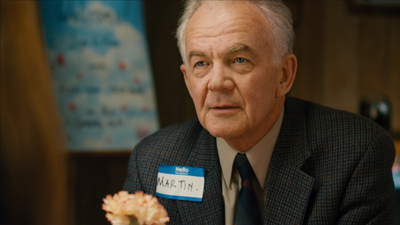 I greatly admired Chad Hartigan's This Is Martin Bonner when I first saw it at Sundance, but after watching it again in Sarasota (I made it a point to watch all the nominees in conjunction with my role as juror even if I had seen it/them before), my opinion didn't waiver in the least. As an example of doing more with less—in this case, doing most with less—This Is Martin Bonner should be taught in undergraduate film programs everywhere. But it isn't just the technical expertise on display. Though he's still young, Hartigan imbues each of his characters with a measure of grace that somehow never feels trite or cheesy. For its technical proficiency, in which all the elements at hand are servicing one noble goal, and for treating the elderly with respect, tenderness, and dignity, we bestowed This Is Martin Bonner with our Special Jury Award.
GRAND JURY PRIZE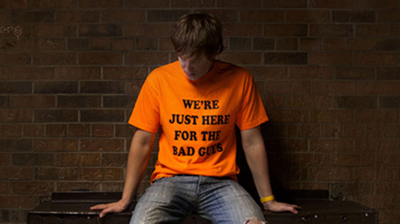 For the record, I had never met or emailed or anythinged with Matt Johnson before we walked off the stage together after handing him our Grand Jury Prize for The Dirties. So while I'd love to say that what Matt told me afterward factored into our decision, it really didn't; the film spoke for itself. That said, it felt like a nice bit of affirmation to hear this 25-year-old Canadian kid—who was actually rushing back to Toronto the next day to close out his first year of graduate school in film—tell us that his teachers hate his movie and don't think he knows what he's doing and that his ongoing American festival success doesn't really matter. What he was saying sounded familiar, so I quickly asked him if he just so happened to be attending a university like the undergrad one I attended, where Experimental Cinema was the Only Truth and 'entertaining narrative movie-making'—however socially conscious—was a frivolous waste of time. Johnson confirmed that I had hit the nail on the head. So while those professors likely wouldn't want a distribution offer from Factory 25 for their films (not that they'd ever get one), I kind of hope Johnson brings his award to class anyway to show off to his fellow students and further aggravate his teacher.
As for the movie itself, let's be honest here: The Dirties is a horrific idea on paper. "It's a fake documentary about a movie-obsessed high school kid who sets out to make a film condemning the bullies, but eventually his obsession gets the better of him and the 'movie' becomes reality!" Seriously, that's what The Dirties is about. But in the hands of Johnson, who also plays that unhinged, nerdy high school kid, it becomes something altogether more incisive—and, more importantly than that perhaps, hilarious. It's clear that Matt Johnson is still growing into his voice, but it's also surprising how distinct and formed that voice already is. With the references and samples and everything else permeating this movie, it might be a rights clearance nightmare. Or maybe not? In either case, check out The Dirties whenever you get a chance. It's the funniest movie about school shootings that you will ever see.
RANDOM UN-FILM-RELATED MOMENT THAT SAYS LOTS OF THINGS
This has nothing to do with cinema specifically, but it has everything to do with everything about the world we are living in right now, so I feel I owe it to everyone to tell this story. One of my favorite things to do in Sarasota is visit the Bahi Hut, a dive bar in the parking lot of a dive hotel on Route 41 that looks like the set of some shady '70s sitcom (i.e, The Regal Beagle). At the Bahi Hut, their most famous drink is the Mai Tai, only the way the Mai Tais are prepared here, the staff will only serve you two before forcing you to downgrade to the less overtly overpowering Sneaky Tikis for the rest of the night (you can have as many of those as you want, though, don't worry). Ask anyone who's been to the Bahi Hut before. Their Mai Tais don't get you drunk. They get you crack high. Anyway, the Bahi Hut is the type of bar where strangers become friends within the blink of a drink. This year, we went early—around 5pm—on Friday, but that didn't stop things from getting sloppy quickly. At a nearby table, a group of gals appeared to be already setting sail for the night. A friendly conversation emerged out of the ether, and at one point we asked if they'd be kind enough take a picture for us. Later, when they were getting up to leave, a simultaneous decision was made: we needed to take a picture of all of us together. When AJ Schnack (We Always Lie To Strangers) set out to take the first photo, one of the girls lit up and pointed at him mockingly. Laughing in disbelief, she shouted, "Look at him, he's using a camera to take a picture!"
FRANCES H…ELL YES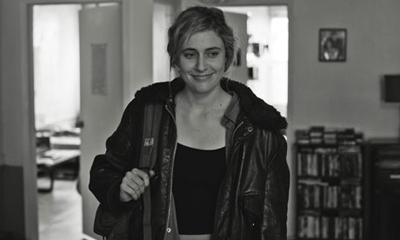 Sadly, my position as a juror didn't afford me the time to see as many movies as I would have liked this year, though the only non-Independent Visions title that I did catch was a great one: the closing night film, Frances Ha. In Greta Gerwig, Noah Baumbauch has found a muse who has injected his cinematic universe with some bona fide buoyancy. In the spirit of Manhattan comes this effervescent comedy about a 27-year-old named Frances, a bumbling dancer who can't seem to find her groove. Having been a terribly frustrated and confused 27-year-old myself living and struggling in New York City, I found a lot (too much?) to connect with here. Co-written by Gerwig, Baumbauch's film has a more stable sense of framing and movement than his recent New York stories (Margot At The Wedding, The Squid And The Whale), though he retains the same frisky editing tempo (by Jennifer Lame) that keeps the movie hurling forward. At one point, I found myself quite shocked by the overt steal from Leos Carax's Mauvais Sang as Frances runs/dances/bounds down the street to David Bowie's "Modern Love"—they didn't just borrow the visual idea, they used the same frigging song?!—but in this case it made complete and total sense. Later, when "Modern Love" plays over the film's closing credits, it felt even more perfect. By that point, my crush had been sealed. Frances Ha isn't just another movie about privileged white 20-somethings coasting through life in an artificially constructed New York City. It's a lovely expression of the beautiful confusion of being young in the hopelessly big city.
Next year, I hope to be attending the Sarasota Film Festival as a writer/director, but at this stage it is wayyyyy too early to tell. For now, I have the lovely memories of another successful festival to reaffirm my belief that the service Tom Hall is providing to the people of Sarasota is a truly special thing.
— Michael Tully
[*This year's SFF marked the seventh anniversary of when I saw my wife for the first time. It struck a heavier chord since we had literally just closed on our new home less than 12 hours before I had to wake up and catch a morning flight to SRQ. So while I have special feelings for so many film festivals, there's only one that I'll forever be able to say introduced me to my wife. Indie film might not pay the rent, but if you play your cards right, kiddos, it might just bring an even more incomprehensibly wonderful reward.]