As the father of an 8-year-old daughter, I've had the immense pleasure of introducing her to The Movies. Every cinephile who has or wants kids has a desire to take them to the movies –and indeed, it's all been mostly as wonderful as I had hoped. My daughter does this thing when she really likes a movie and is deeply into it where she leans her head on my shoulder to watch it and I swear, I could just about die happy in that moment. However this summer there's been a lot less of her head on my shoulder as overall, the offerings for kids and families has been, well, damned awful. While this may not seem like a proper Hammer to Nail post, bear with me as I do have a point that gets back to love of film and supporting Independent voices. There is a silver lining to all of this and it very much has to do with personal filmmaking and beautiful, glorious, true cinematic storytelling and creativity.
Much like the issues facing indie filmmakers and smaller movie theaters today in terms of bloated, brain-dead blockbusters hogging the screens as they morph into ugly franchise mega-monsters, intent on devouring space and advertising for little movies, big screen entertainment for kids and families serve a somewhat different but equally grotesque purpose. They want to sell crap to kids. And believe me, it's all literal crap derived from crap movies that no one who made them really cares about the quality of anyway. These "kids movies" are simply commercials to sell crap to kids.
I began to take note of just how lousy kids movies are lately last summer with the horrid piece of garbage, The Minions. While it's somewhat undeniable the Minions themselves are kind of cute and funny, what The Minions film itself represents is the ultimate in dumbing down of movies for kids. Worse, it's an embodiment of corporate groupthink that is under the impression kids are stupid and want brain-dead movies.
Fading onto our screens (and the isles of every Walmart/Target, toy store, grocery store and later, Dollar Stores) in 2010 via the very good film Despicable Me, the Minions characters were the sidekicks of Steve Carell's bad-guy-who-just-wants-to-be-loved character Gru. They added some wonderful doses of slapstick comedy to both that film and 2013's sequel, Despicable Me 2 but both of those films are superior and are really about need for love, acceptance for who one is and building a family. But then, the studio behind the films, Illumination Entertainment, made a sadly savvy choice. They would lose the humanistic, family aspects of these Despicable Me films and focus solely on the characters that were selling like hotcakes on the secondary and tertiary film product markets; the Minions themselves.
Thus we have last summers grotesque The Minions which is awful in nearly every way. My biggest issue with the film (which ties into how dumb the studio and filmmakers believe children to be) is the fact the Minions speak in an idiotic, gibberish, nonsense language that honestly seems to exist solely to reach out to foreign markets. Their lingo sounds part English, part Spanish and part possibly some form of Asian dialect. Whatever the language is, it literally makes no sense unless you can parse out a few words that usually have to do with the Minions food of choice, bananas. Because the word "banana" inserted into gibberish is apparently hysterical worldwide.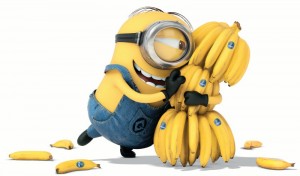 So, from the get-go the film is setting all audiences on an equal low footing in – that no one of any country or origin can understand them – it speaks to everyone by saying nothing. And it doesn't matter if you understand them or if the film has an even halfway decent plot. The studio and filmmakers don't care (Note- the film doesn't have a decent or discernable plot, it's as forgettable as a Big Mac from a Drive-Thru on the highway and just as good for you). They want your kids entertained for the requisite 90 minutes so they can then go out and buy all the shitty Minions toys, games and junk food out there.
We all saw it in the stores; stuffed animals that lie forgotten in a child's toybox at this very moment. Plastic yellow Minions toys, created in cheap overseas factories, destined to fill up landfills for generations to come. Banana flavored garbage "food" like Icee's and Tic-Tacs, the latter of which still aging on shelves because banana candy is gross. Cheap, mostly plastic backpacks that were in style for half of one school year if they even lasted that long. On and on goes the list of despicable garbage products sold to parents of kids who can't say "no" to instant gratification. And it all started with a really dumb movie with dumb characters doing dumb things while we all stuffed out faces with candy, popcorn and soda (hey man, present company included!).
While clearly The Minions got my dander up last summer, this summer many things came across the screen for families that lead me to this diatribe. And don't worry, that silver lining I mentioned is coming. Summer 2016 was a particularly vapid roll-out of garbage family films like Ice Age: Collision Course, Alice Through The Looking Glass, The Secret Life of Pets (all of which I took my kid to see, all of which were memorable only for the time I spent with her). Even well-meaning but ultimately bad movies like Kung Fu Panda 3 and The BFG somehow failed due to, I think, a rigid corporate structure that has a mandate that demands characters fart, smell a fart and/or get kicked in the balls. Luckily my kid missed the debut of the terrible looking The Wild Life (fine, I hid it from her) but she's all about the Trolls movie coming soon which, much like The Minions before it, looks created strictly to get fuzzy hair troll dolls into every home. However, there were spots brighter than any we've had in recent memory with a handful of family films and as of this writing, they're still in theaters for the next week at least.
David Lowery is no stranger to this website and many people (myself included) were stunned and thrilled when it was announced he'd be reworking the weird and aged film Pete's Dragon for Disney. Disney! But wait a second, does this make David Lowery a sell-out? Isn't pretty much every thinking and caring filmgoer sick and tired to remakes and retreads? While you may have a different answer to those (rhetorical) questions, I feel like Lowery has taken his singular vision, honed via decades of indie film work as a writer, director and editor, to the next level. Pete's Dragon is every bit a David Lowery film but with a bigger, and pricier, toolkit.
If you're seen Lowery's previous works such as the short A Catalog of Anticipations or his wonderful feature St. Nick, you'll know he has a knack for looking at the dark and scary as well as fantastically curious world through the eyes of a child. And while I'm not totally sure his aforementioned efforts would be appealing to kids, Pete's Dragon sure is and luckily, Disney is apparently playing the long game with the film, leaving it in theaters for longer than any of the other films I mentioned previously. Much like the garbage they were made to sell (I'm looking at you, Secret Life of Pets with your $50.00 Louis CK voiced talking dog) the truly bad films I mentioned served their short scam purpose when they made a truckload of money quickly and served to showcase more crap for your kids to play with for a week and then forget about. If you're looking for Pete's Dragon merch you'll have to settle for a single stuffed animal or one plastic dragon (Note: I have both). Anyway, Pete's Dragon is a wonderful film for everyone and I honestly cannot recommend it highly enough.
Also in theaters and simply fantastic is Kubo and the Two Strings, the latest offering from our finest underdog animation company, Laika. While somewhat scattered in the plot department, the visual stylings of Kubo are truly unparalleled. Using stop-motion animation in ways I've never seen before Kubo is truly a special film, creatively and artistically speaking. I honestly cannot remember the last time I was so enamored and taken aback by the visual beauty of an animated film. Sure, there's been some films and moments over the years that are breathtaking but at least four different scenes in Kubo were so beautifully realized and so creatively amazing, I actually found myself gasping.
The final film I want to mention here is the fantastic The Little Prince. This film is so deep and different, it scared Paramount Pictures into dumping it a week before it was set to premiere. I'm not kidding. There were trailers, posters and ads for the film and my daughter and I were excited to go then, bloop, Paramount pulled it. I've literally never heard of such a thing. They spent money promoting it and a week before it was set to bow, it was pulled. I bet they spent more on PR for the film than most indie filmmakers reading this have seen on a budget for one of their films only to literally throw it away.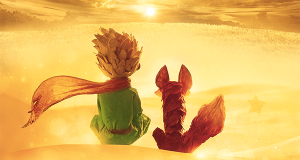 While I don't know the reasoning behind this odd move, I can't help but think the execs got cold feet when they realized the movie is about deep issues like growing up, life and death, staying true to oneself and not giving in to vapid corporate, material pressures that inundate us in real life every day. Not one person got kicked in the nards or even dared pass wind! I like to imagine some Paramount exec watching the film and going "hey…wait a minute…I think this movie is talking about ME!" and then pulling the plug like a big, spoiled baby. Or maybe it was the brilliant combination of stop-motion animation and CGI that threw execs (Same Exec in my mind: "I don't get it? Why are there two styles? What is this?"). The silver lining to Paramount dumping The Little Prince is that Netflix swooped in and bought it and now, it's available to a wider audience.
By now, if you've read this far, you're wondering perhaps why I'm so worked up. These are kids movies after all. Well, I happen to like and respect kids. Having worked in schools and youth recreation and development for 20 years, I happen to really believe that kids are awesome and given the right support and opportunity can grow up to be amazing people. Plus, I have a kid. Yet the most popular family and movies aimed at kids presuppose kids are dumb and only want dumb entertainment. That's just damned offensive. Yet it's also a sad fact that at this moment, all of the movies I noted as being lousy have made at least 3-4 times as much money as the ones I think are superior and more worthy of people's time. Catching the reference to small indies versus big blockbusters now? Anyway…
Not only are Pete's Dragon, Kubo and the Two Strings and The Little Prince three of the best animated films of the year, they're also fully creative expressions of art and vision. They tell great stories that are made to sink into your soul and make you reflect and think. These are films built to last and not one single person farts, gets kicked in the nuts or uses a modern social media tool in an ironic way (that dog is on Twitter! Hahahaha! Ugh.) . To paraphrase President Obama from a few weeks back at the Democratic National Convention, rather than boo bad taste, we should actively vote to change it. Movie goers vote with their wallets and I hope you'll give these films your money and time either now or when they hit the home entertainment market.
– Don R. Lewis (@ThatDonLewis)