NETFLIX HIDDEN GEMS: Issue #7
After last month's open call in which we suggested readers submit their own Netflix Hidden Gems titles, we were quite pleased to receive this fine list from the filmmaking duo Playa516. If you too have a stack of Netflixable titles that you think are overlooked, or if you are inspired to make your own creative playlist the way the cool kids used to make mix tapes, send 'em to this address: clinkAThammertonailDOTcom. Up first, a brief biography of our esteemed guests, followed by this month's edition of Netflix Hidden Gems…
Playa516 is the nom de guerre of the writing/directing/producing team of Benjamin Cummings & Orson Cummings whose last feature was If I Didn't Care (which can be found on Netflix under its alternative title, Blue Blood). The Hitchcockian noir, set and shot on location in The Hamptons, was the last film of the great Roy Scheider. Their work can be viewed on their website: www.playa516.com. They are presently at work on their follow up feature.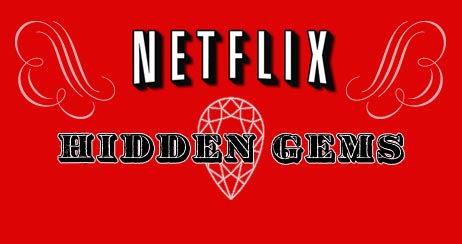 ***ISSUE #7: MARCH '10***
A Shock To The System (1990) — Graham (Michael Caine) is a murderous advertising executive whose nagging wife (Swoosie Kurtz) won't stop reminding him of his failures in this 1990 film that slipped under the radar most likely due to its intensely dark humor. When he accidentally commits a little murder, Graham is not punished, but rather his life and career are energized; not a message for the masses but hilarious and gripping. Unforgettable are Graham's tete-a-tetes with the detective trying to catch him in a slip up, played by the great Will Patton. Their encounters are delicate dances that both of these heavyweight actors clearly relish.
The Twilight Samurai (2002) — Huge in Japan and nominated for Best Foreign Language Film, this is not the type of picture to garner much hype in America. Unlike most Samurai movies, it is not dominated by action but rather tells the tale of the everyday life of a poor, dirty, smelly and terribly unlucky low ranking Samurai. He works a boring job, is a good man who avoids conflict, and takes care of his ill mother and young daughters. Delicate scenes that would be instantly tedious in the hands of a mediocre director are somehow intensely compelling when handled by the master Yoji Yamada. But fear not, as the slow pacing will carefully build and lead to the encounter all fans of Samurai pictures crave; even if this one involves a bit of sitting around and talking while blood spills from open wounds. ***STREAM IT***
The Chocolate War (1988) — Keith Gordon's surrealistic debut about the tough road faced by an anti-conformist was criticized for playing with the book's ending and not delivering the author's intent. But films cannot be slaves to their sources and the ending here is sufficiently complex. The plot revolves around a student's dilemma when he refuses to follow orders and sell chocolates for the school. The secret society known as "The Vigils" is brought in to squash the rebellion. The music of the '80s is a key layer, ending with memorable use of Kate Bush's "Running Up That Hill". Like many great films, this one is dominated by the villain, Archie (Wallace Langham), an intellectual heavyweight who raises his nefarious deeds to the level of art as the leader of the Vigils' campaign to reek havoc on the psyche of the rebel.
Elevator To The Gallows (1957) — As the great era of the film noir gets further and further behind us, classics like Double Indemnity or Touch Of Evil remain on best ever lists while lesser knowns are in danger of slipping away. In my campaign to watch them all, one that stayed with me is this 1957 Louis Malle classic. It follows the noir template: a bad decision and fate trap man in a web from which there is no escape. In this case it's a faulty elevator that literally does the trapping. But this gem has two special elements: the visage of Jeanne Moreau and a score from Miles Davis that jazz critic Phil Johnson called "the loneliest trumpet sound you will ever hear and the model for sad-score music ever since. Hear it and weep." Indeed. ***STREAM IT***
Groove: Requiem in the Key of Ski (1991) — This is quite simply the greatest ski film—no, not just ski but extreme sports film—ever made. It rises above the genre into the realm of art film with a political edge. The best athletes (Laird Hamilton windsurfing at 30knots with Iggy Pop belting out "Butt Town"), a sublime soundtrack ranging from Seal before anyone had heard of him to Ice-T, and a phenomenal show-stopping final segment of extreme off-piste skiing and boarding in the mountains of Alaska. The film asks: If the world is at war and falling apart, what should one do? Work for political change? Or disappear into the snow or surf and live a simple life enjoying the beauty of nature? There is no easy answer, though the Vietnam vet chopper pilot who ferries the athletes to the top of an Alaskan mountain long ago made his decision. (Special Note: The film no longer has its original soundtrack after Mr. Stump ran into some legal problems with regard to licensing.)
The Rachel Papers (1989) — Based upon the Martin Amis novel, this is a film about a precocious English lad, Charles Highway (Dexter Fletcher), who uses all his intellectual and technological prowess to woo women of all stripes. He falls for an American played by Ione Skye in her only real role other than Say Anything and falls in love with her. But old habits die hard. Will true love survive Charles's persnickety attitude? Featuring performances from many notable names before they got big: James Spader, Jonathan Pryce and Michael Gambon. A great soundtrack and smooth, stylized imagery add to the potent mix.
Vernon, Florida (1981) — This is one of Oscar winning documentarian Errol Morris's early films. He set out to meet and film the residents of Vernon, who, he had learned, had become known for severing their own digits and then filing insurance claims on the injuries. The film evolved to be about the town in general: a turkey hunter forever on the prowl, a couple who 'grow' sand in jars, a policeman who mans a speed trap where no one is ever in a hurry. Totally surreal and utterly gripping. ***STREAM IT***
Suture (1993) — In one of the great surrealistic Bunuelian casting ploys, half-brothers Clay (Dennis Haysbert – black) and Vincent (Michael Harris – white) approach one another and one says to the other: "Isn't it remarkable how much we look alike?" No, they don't, of course. But everyone else pretends they do, which is audacious and sets the tone for this psychological thriller/noir directed by Scott McGhee and David Siegel. The plot is a fun one in which one brother attempts to get away with the murder of their father, whilst pinning the crime on his sibling. It involves classic suspense elements of amnesia and a case of mistaken identity. It's shot in black-and-white, is slick and smart, and oozes style and suspense.
Car Wash (1976) — With appearances by Richard Prior, George Carlin and Professor Irwin Corey, Car Wash is routinely thought of as a lightweight comedy. It's funny, yes, but it's also so much more, capturing a day-in-the-life of minorities in America (not unlike Do the Right Thing). The Hispanic, African American (and one homosexual) crew of the car wash experience what it is like to be a minority and under-employed at a menial job at a white-owned business. What begins as funny and lighthearted during the sunny LA morning becomes darker and increasingly dramatic after the sun sets. Great music, including the famous disco title track, lend a great deal to the proceedings. ***STREAM IT***
Rififi (1955) Yes, Rififi is acknowledged as a gem but do the kids really rent it today? They should because it invented the heist film and even though, yes, it is in French, subtitles don't matter when the 30-minute set heist set piece has NO DIALOGUE, a tour-de-force that still enthralls as the criminals ply their trade in real time. It is also notable as the work of an American directer, Jules Dassin, working in France, where censorship was not the issue it was in the States during that period. As for the ending, well, it's French and it's Noir. Need we say more?
The Vanishing (1988) — Not the remake (1993, starring Jeff Bridges), but the original adaptation of the novel, The Golden Egg, as directed by George Sluizer. The film tells the story of a man obsessed with finding out what happened to his girlfriend, who disappears one day when they innocently stop for gas on a trip. His desire to know what happened leads him toward a fate of Greek proportions. The Vanishing does not, like most pictures of this genre, wait to reveal the identity of the kidnapper in a zinger at the end. Rather, he is introduced about halfway through the film, a choice that ironically provides much more suspense. All pictures must be judged by their endings, and rest assured this is one you will not forget (and one much too audacious to be found in the studio remake). It might very well cost you a few night's sleep. ***STREAM IT***