It's Time for Wind-Up Fest, 2015
Williamstown and North Adams Massachusetts are two little hubs of creative life nestled in the Berkshires. North Adams boasts  MASS MoCA a museum that sets the standard for contemporary art and, just up the road, Williams College and the venerable Clark Institute call Williamstown home. The Williamstown Film Fest has been been annually rolling on for over fifteen years but this year a new initiative from the fest is looking to bridge the gap between these sister cities. The Wind-Up Festival will kick off this week, starting Thursday October 15th and ending Sunday the 18th, featuring the art of the documentary in all of its expanding forms and solidifying the region as a leading voice in nonfiction media.
New managing director Sandra Thomas (and long time force behind Images Cinema in Williamstown) and new creative director Paul Sturtz (co-director of True/False film festival), along with the local community, are the key to making Wind-Up go. Through a series of citywide forums leading up the fest and lots of open minds, the collaborative effort has resulted in an entirely new way of conceiving a film festival. It is a film festival in the sense that there are films screened but, the program also reaches outside of the confines of film focusing more on the genre of nonfiction storytelling, visual and otherwise. The fest invites podcasts, a new wave of experimental short nonfiction, expanded cinema- and expanded radio!- performances, in addition to longer, in depth discussions with those shaping the documentary landscape.
The fest opens with the gorgeous and ground-breaking Olmo and the Seagull by co-directors Lea Glob and Petra Costa (the former making her feature directorial debut and the latter the director behind the recent collaged documentary Elena which is deserving of a lot more attention!). Olivia, an actress in a theater company, learns she is pregnant as she prepares for her role in Chekov's The Seagull. Her body, the thing that has defined her existence, is no longer her own. The audience is taken on her intimate, vivid and honest journey – real and imagined – through the complexities, contradictions, expectations and emotions that shape modern day womanhood. The layered moments of directorial interjection that happen throughout the film leave the audience in a state of flux: one never knows which fiction or nonfiction one is witnessing. This film is a form all its own, do not miss it!
Other feature film highlights, each shown only once during the fest to allow for more insightful discussions after each film, include Uncertain, a southern gothic portrait of the inhabitants of a small Texan town as they face their haunted pasts in search of their futures. Very Semi-Serious is an exploration of the heart and soul of TheNew Yorker magazine: its single panel cartoons. Cartoonists Bruce Eric Kaplan (Omg! BEK! In the flesh!) and new-comer Liana Finck will be in conversation following the screening. The crowd pleasing Breaking The Monster tracks the kid-fronted, metal band, viral sensation Unlocking the Truth after they are plucked from the streets of New York City and thrust into a strange career path, their adolescence colliding with a changing music industry. Breaking The Monster will conclude with a discussion between director Luke Meyer and outspoken visionary Pixies frontman Frank Black! The issue of PTSD in veterans is a hidden side effect of conflict that Of Men and War wades through alongside patients, families and doctors communing in a Napa Valley retreat center as they seek post-war solace. And lastly, Sound of the Forest opens our ears to the work of Louis Sarno, a musicologist that embedded himself in the Central African Republic, his life with the Bayaka Pygmy population one of total immersion. The dense soundscapes from the film will be unraveled with philosopher, writer, musicologist David Rothenberg after this Saturday evening screening.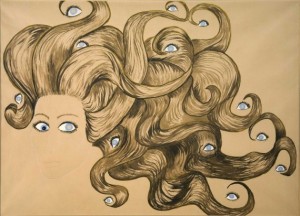 The shorts programs offered by Wind-Up, Variety Show: The Wide, Wonderful World of Wind-Up and Short + Sweet, are even more intriguing combining the standard short film format with additional, nontraditional, events. Playing as part of the Wide, Wonderful program is  Abandoned Goods, a short that brings life to the collected works of a British mental institution's art program. Through a keen eye and with palpable care and interest, Abandoned Goods becomes an expression of other's expressions, an archive animated. The other short films in this program include visionary animator Don Herzfeldt's World of Tomorrow and Topaz Adizes' stark look at the realities of a relationship in The And: Marcela and Rock. This program also features a photography presentation, an interactive gameshow and even a listening party of newly recorded whale songs, each distinct segment led by artists, archivists and musicologists of the highest order. The Short + Sweet program features storytelling, in both short film form as well as manifest offscreen. The great Penny Lane (Our Nixon, The Voyagers) will discuss a clip from her upcoming animated release NUTS! the tale of John R. Brinkley, who, among an impressive array of crazy exploits, is best known for implanting goat testicles into men to increase virality in the early 1900s. Elizabeth Lo's Hotel 22, a haunting film about a bus turned homeless shelter that wanders the midnight streets of San Francisco, Brian Bolster's comedic One Year Lease, Object is a beautiful undersea odyssey with twists directed by Paulina Skibińska and Jessica Bardsley's meditation on kleptomania and Winona Ryder, The Blazing World round out the Sweet + Short offerings Saturday morning
The  program Radio 1-2-3, will take radio waves into three dimensions complete with radio based dance performance, a podcast listening/premier of a new episode of Love + Radio, and a live, autobiographical tour with This American Life contributor Scott Carrier as he walks us through his wandering, unconventional life.  Expanded cinema proponent Sam Green, along with collaborator Dave Cerf, will bring a new iteration of his signature live performance style with his piece Greetings on Behalf of the People of Our Planet!, a series of true, expanded short stories. Show & Tell with cinematographer (Citzenfour, The Oath) and director (Innocent Until Proven Guilty) Kristen Johnson will look at pieces from her own career to reveal the complicated space that exists behind the camera, one of responsibility, artistry and ethical concern.
And lastly: the music! Wind-Up will feature nightly music showcases and before screening live music sets to set the mood. Local favorites And the Kids, Wishbone Zoe and Secret Lover will all perform at different venues in North Adams and Williamstown but it is the Shreveport Louisiana based Seratones that I am dying to see! With no LP yet available and a recent deal with bluesy label Fat Possum their grunge funk (with an occasional touch of Jefferson Airplane) is slowly finding ears. The first time I heard them I remember thinking "This is something I have never heard and something I can't stop listening to!" So stoked!
Wind-Up Fest looks at nonfiction storytelling through a different lens, and not one strictly attached to a camera. By exploring the people who make the work, and expanding the borders of what we think of as documentary, it seeks to highlight the ideas behind nonfiction storytelling and the mechanisms of expression being used to actualize those ideas. The potential energy buzzing in this fest makes me so excited, will be sure to check back in after the weekend's festivities with a full report from the forefront of sensory non-fiction storytelling.
For a complete listing of Wind-Up Fest events visit their website: http://wind-up.org/
– – Donna K. (@TeamDonnaK)