FILMMAKER MAGAZINE PICK OF THE WEEK: THIS IS NOT A FILM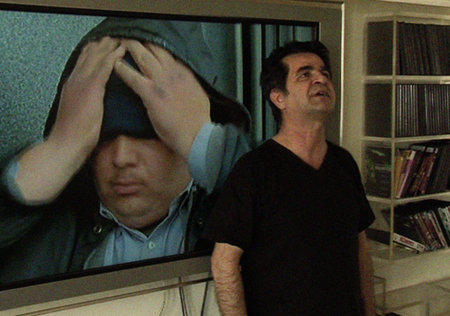 Though we are only two months into this new year of movie viewing, I feel confident in stating right now that if Jafar Panahi and Mojtaba Mirtahmasb's doesn't end up as my number one film of 2012, it will be near the very top of my overall list. Here is just a snippet of Nelson Kim's review:
"This Is Not A Film presents itself as a seemingly artless video diary, merely a record of whatever random events happened to befall Panahi on that single day of his house arrest, when it is, in fact, a cunningly constructed post-modernist mind-bender in which nothing is accidental or arbitrary. So when you see it—which you most certainly should, as there probably won't be a more formally inventive, politically urgent, intensely personal work of cinema playing on any screen this year—bring your X-ray specs and your secret decoder ring; be prepared to peer behind the curtain and read between the lines. And once you do so, the veil of allegory and metaphor partially lifts and glimmers of Panahi and Mirtahmasb's true intentions come into view."
Read Nelson's "Pick of the Week" review over at the Filmmaker Magazine blog—it will be published at HTN on Monday morning—then be sure to see this film whenever, however, as soon as you can.
— Michael Tully