FILMMAKER MAGAZINE PICK OF THE WEEK: OUT OF THE BLUE
Yes, there are a lot of new movies opening this weekend that are well worth your while, but for those of you lucky souls living in and/or visiting NYC, your number one priority should be heading to Anthology Film Archives to watch a brand new 35mm print of Dennis Hopper's 1980 classic Out of the Blue. Starring Linda Manz (Days of Heaven), Hopper's blistering portrait of the loss of one girl's innocence before it was even found is as punk rock and viscerally alive as a motion picture can be.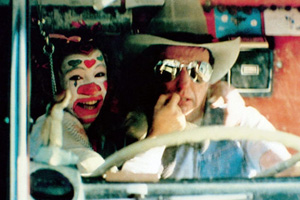 Read the review right here (it will be going live on Hammer to Nail first thing next week).
One Response to "FILMMAKER MAGAZINE PICK OF THE WEEK: OUT OF THE BLUE"
This emotion will in turn brin Says:
April 13th, 2013 at 5:12 am

Uncovering your prospect's discomfort and dissatisfaction is
definitely the fastest beats by dr dre
singapore way to sponsoring your prospect. After you don't
know what prospect's discomfort is, no quantity of "closing techniques"
will get him to enroll as a distributor or purchase your products. The
prospect's pains, the moment brought into the forefront of his mind,
will induce a state of agonizing frustration. This emotion will in turn
bring about him to be a lot more readily open to your MLM opportunity.
Leave a Reply