Josh and Benny Safdie's EMOTIONAL SLOPPY MANIC CINEMA at BAM
(Emotional Sloppy Manic Cinema runs Thursday August 12 through Tuesday August 24, 2010, at BAM. Go here to learn more.)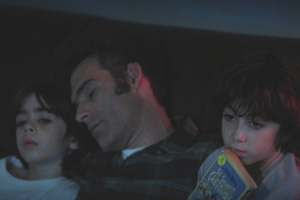 Though they are still only their mid-20s, brothers Josh and Benny Safdie have made quite a splash on the independent film scene. Josh's effervescent feature debut, The Pleasure of Being Robbed, premiered at SXSW before picking up the Independent Visions award at the Sarasota Film Festival and landing at the prestigious Director's Fortnight in Cannes. It was joined there by then-very-recent-college-graduate Benny's short, The Acquaintances of a Lonely John. One year later, the Safdies were back at Director's Fortnight with a film they co-wrote and co-directed, Go Get Some Rosemary, which was picked up for distribution by IFC Films and renamed Daddy Longlegs. The homegrown, deeply personal films of the Safdie Brothers are scrappy affairs that blend documentary-like realism with dreamlike whimsy. They are filled with sadness and humor, defeat and hope, childlike naivety and adult bitterness—often at the same time.
In keeping with their mission of promoting young American directors, the folks at BAM Cinematek have chosen to honor the Safdie Brothers with a mini-retrospective (previously selected filmmakers include David Gordon Green, Azazel Jacobs, and Ronald Bronstein). Though the Safdies portion of the program only consists of only three entries—The Pleasure of Being Robbed, Daddy Longlegs, and Red Bucket Shorts Program—this is more than enough to establish their cinematic worldview. The shorts program is perhaps the true must-see, as it doesn't just contain memorable work from 2005-2010, it features material that was made specifically for this special occasion (if you can't make it, fret not, as there is a ton of footage to appreciate over at the Red Bucket Films website).
While that trifecta is all well and good, it's the films that Josh and Benny have carefully curated alongside theirs that makes Emotional Sloppy Manic Cinema a major repertory event. I don't need to explain why this list is kick-ass, as the titles speak for themselves. Here is the full schedule:
Zero de conduite + No One Will Play With Me (Thu, Aug 12 at 4:30, 6:50, 9:15)
The Pleasure of Being Robbed (Fri, Aug 13 at 2, 4:30, 6:50, 9:15)
Husbands and Wives (Sat, Aug 14 at 4:30, 9:15)
Mikey and Nicky (Sat, Aug 14 at 2, 6:50)
Straight Time (Sun, Aug 15 at 4:30, 9:15)
A Man Escaped (Sun, Aug 15 at 2, 7)
Frownland (Mon, Aug 16 at 4:30, 6:50, 9:30)
Little Otik (Tue, Aug 17 6:30, 9:15)
Red Bucket Shorts Program (Wed, Aug 18 at 7)
Cold Water (Thu, Aug 19 at 4:30, 6:50, 9:15)
Alice in the Cities (Fri, Aug 20 at 2, 4:30, 6:50, 9:30)
Daddy Longlegs (Sat, Aug 21 at 4:30, 9:15)
Small Change (Sat, Aug 21 at 2, 6:50)
Milestones (Sun, Aug 22 at 3, 7)
Heavy Traffic + Doin' Time In Times Square (Mon, Aug 23 at 4:30, 6:50, 9:15)
The Mirror (Tue, Aug 24 at 4:30, 6:50, 9:15)
A program like Emotional Sloppy Manic Cinema satisfies two major food groups: it shows us the present and future while reminding us of the past. Thanks to BAM Cinematek for the former, and double thanks to the Safdie Brothers for the latter.
— Michael Tully