Ella Es El Matador (She Is The Matador) on POV Tonight (9/1/09)
Thanks to the consistently illuminating POV series, PBS-ready households are in store for another small treat this week with the airing of Gemma Cubero and Celeste Carrasco's Ella Es El Matador (She Is The Matador)—though a more appropriate title might have been She Already Is A Female Matador And She Very Much Wants to Be One. But I guess that doesn't sound as snappy.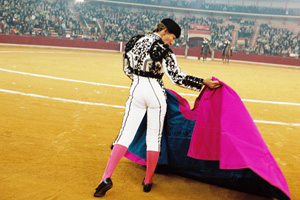 At sixty minutes, Cubero and Carrasco's film is the appropriate length. Though centered around two women who try to make a name for themselves in the macho, male-dominated world of bullfighting, it also takes the time to not only provide insight into the history of female matadors, but even more importantly, it helps to explain the fascination and obsession with a sport that many outsiders dismiss as antiquated and barbaric.
Eva Florencia is an Italian transplant living in Spain who has dreamed her whole life of becoming a matador, only the system is set up to make it virtually impossible for her to prove that she has the talent to rise to the top. On the other hand, Maripaz Vega has survived the twenty-five test rounds in order to become a full-fledged matador, but she still hasn't been able to perform in even one of the most lauded arenas. The powers-that-be are still holding on to an idea that females are physically inferior to males and are thus ill equipped for this dangerous professional endeavor. Florencia and Vega don't care about any of that. They just want to do what they feel they were born to do.
As is the case with the best Women Make Movies productions, Ella Es El Matador makes its point by humanizing its subjects and not overtly preaching grrrl power. These determined young women are simply chasing a lifelong dream that transcends gender dynamics. When we get to know them from the inside-out, we see that their quest isn't about equality between sexes. It's about their being human beings who deserve the same chances as everyone else. Both Florencia and Vega are talented, focused, and hard working, and they deserve to get their shot on the main stage. Will they get that shot? Tune in tonight and see for yourself.
Visit the film's WMM page as well as the official website to learn more.
— Michael Tully