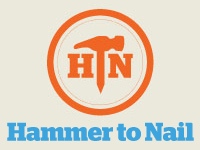 Hammer to Nail changed my life.
Just when I had hit a wall at the end of 2007/beginning of 2008 and decided that the previous several years of labor-of-love posting to my own blog "Boredom At Its Boredest" had run its course, thanks to HTN founders Corbin Day, Ted Hope, and Mike S. Ryan, I was given the opportunity to get paid to champion the type of off-the-grid and under-the-radar movies I loved to watch and so badly wanted to make. The position could not have come at a more desperately needed time, and in the subsequent seven years, I have been proud to call myself editor of Hammer to Nail. By staying true to our voice and not acquiescing to trends ("Casting rumor news! TV episode reviews! Who died today? Let's make a list!"), HTN has earned a sturdy reputation within the film circles that matter to us as HTN contributors (which is to say, writers and filmmakers). But in the past year or so, a dilemma has arisen…
Quite simply, my own filmmaking duties have begun to sell my commitment to HTN short and I have not been doing justice to the site. In the months and years that I was working on my previous film, while our quarterly Short Film Contest and annual HTN Awards posts continued to thrive, our daily/weekly content has suffered to an extent that I've spent the past few months trying to pass the editorial torch off to someone who might inject new life and energy into the mix. Mind you, this isn't to say that the site's voice had any intent of changing—not in the slightest. Yet as it now officially appears that I am going to be making another feature this summer (*no jinx, no jinx, no jinx*), the time has finally arrived: it's time for me to step down as editor of HTN. The challenge, of course, was to find a replacement who understood what HTN is all about and who would be able to bring a level of experience and enthusiasm that would make HTN continue to grow. Just a few weeks ago, that replacement arrived in my inbox in one of those casually serendipitous emails that make you say, "Thank you, world!" Ladies and gentlemen, I'm happy to announce the new editor of Hammer to Nail is Don R. Lewis. Don's own welcome letter is on the way, so stay tuned for that, as I'm sure he has lots to say about what led him here and what he's going to do. What I can say from my POV is that we're damn lucky to have him.
While I do confess to feeling that this news is pretty epic in a personal sense, the reality is that I'm in no way "abandoning" Hammer To Nail. For example, I'll be at SXSW in just a few weeks wearing an HTN badge alongside Mike S. Ryan, and you can bet that I'll be delivering another thorough fest wrap-up as I look forward to watching as many movies as humanly possible all week long (the week before that, I'll be at the Sun Valley Film Festival with my HTN goggles on as well). But when it comes to the daily grind of producing timely content that celebrates the most exciting filmmaking that theaters, VOD screens, and film festivals have to offer, it's time for me to step down and let Mr. Lewis run the shiggy-show.
Don will be taking control of the HTN social media accounts, which means that from this point forth I'll be reporting from the e-frontlines of both Twitter and Instagram under the so-pretentious-it's-stoopid handle of @tullstoy. Feel free to not follow me there! (Or you can always reach me by email at [email protected]) In Don's welcome letter, he will hopefully be providing all of you filmmakers/publicists/distributors/readers/wannabe-contributors with appropriate contact info moving forward.
As I remain committed to the mission of Hammer to Nail and am determined to keep contributing to the site in this new editorial era, it seems silly to conclude on too mushy a note. But I will say that I'm proud of what we've accomplished here since we first launched HTN at the 2008 Sundance Film Festival, and I'm more excited than ever for what the future holds for our site. Thank you to everyone who contributed words under my tenure, and thank you to the filmmakers who continue to make work that gives HTN a reason to exist.
Sincerely,
Tully