Recommended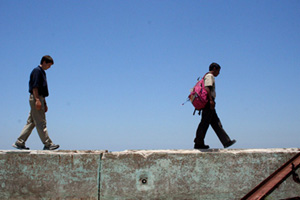 Low and Behold (Sidetrack Films) — Though it wowed me after watching it in conjunction with its world premiere at the 2007 Sundance Film Festival, I sense that Low and Behold will only get better with age. Not only is it a striking time capsule of post-Katrina New Orleans; on a filmmaking level, it's one of the more unique hybrid films to emerge in early 21st century American indie cinema. On the one hand, it unfolds like a traditional work of fiction, in which a timid insurance claims adjuster, Turner Stull (co-writer Barlow Jacobs), arrives in New Orleans and forms an unlikely bond with a local man, Nixon (Eddie Rouse), who is searching for his lost dog. On the other hand, it plays like a straight-up documentary, as [Zach] Godshall [director], Jacobs, and cinematographer Daryn Deluco take the time to stop and interview actual residents who share their own personal tales of survival and recovery. Read the rest of my capsule review, then buy it on DVD.
That Evening Sun (Image Entertainment) — I hate playing the elevation-by-degradation game, but in this case, it has to be done. It makes me burn that Scott Teems' That Evening Sun will most likely receive a fraction of the notice (box office and otherwise) that Clint Eastwood's Gran Torino got. I know, I know, Eastwood is an American legend that has been directing films for almost forty years. So then why does Gran Torino feel like the embarrassingly shoddy work of a small-town rookie, filled with stereotypical, wooden performances that rival a laughably bad student film? If Gran Torino was Eastwood's entry into the local 48-Hour Film Fest in Detroit, then maybe. But as a major motion picture that captured the fervor of critics and general audiences everywhere? No way. On the other hand, witness a motion picture like That Evening Sun, in which the first-time feature director Teems takes a similarly classic approach to his story but makes sure every element at his disposal has been handled with elegance and grace. This certainly doesn't feel like a first feature. That Evening Sun makes Gran Torino look like the joke that it is. Read the rest of my review, then buy it on DVD
, DVD [Night Cover]
, Blu-ray
, and Blu-ray [Night Cover]
.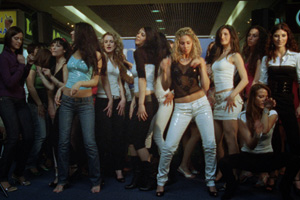 Videocracy (Kino/Lorber Films) — If you're looking to feel better about America's grotesque fascination with reality television and the cult of inane celebrity that has ruined our small screens (and supermarket racks, though I suppose they were always a lost cause), then Erik Gandini's Videocracy is the movie for you! Gandini's expose on Italian Prime Minister Silvio Berlusconi and his exploitation of his country's media culture for his own lucrative purposes would be funny if it were a parody. Instead, it more often feels like a Cronenbergian vision of a horrifically trashy future. I usually revisit films I'm writing about if it's been more than two months since I last saw them, but in the case of Videocracy, I was too scared to watch it again. Read the rest of my review, then buy it on DVD
.
The Exploding Girl (Oscilloscope) — In The Exploding Girl, our viewing experience is controlled through writer/director Bradley Rust Gray's framing, lighting, sound design, and editing. Rather than solely through dialogue and acting, it's the moments between the mumble and chatter where the drama of The Exploding Girl is located. Unlike most mumblecore films, this is a visual experience, conveyed through a camera perspective that is similar to Hou Hsiao-hsien's 'invisible observer' perspective, which allows the characters' state of instability to resonate so strongly. The Exploding Girl's drama is centered in those awkward off-balance moments fully because the filmmaker is confident enough to stretch beyond naturalism and explore the unspoken through oblique camera angles, foregrounded sound design, as well as the skillful, articulate staging of actors. Read the rest of Mike S. Ryan's review, then buy it on DVD
.
New To Blu-Ray
In Cold Blood (Sony Pictures) — (The 1967 version, that is.) Buy it on Blu-ray
.
The Player (New Line Home Video) — Buy it on Blu-ray
.
Poltergeist (Warner Home Video) — Buy it on Blu-ray
.
Have Not Seen But Really (1)/Kinda (2)/Maybe (3) Wanna
(1) A Call Girl (Film Movement) — Buy it on DVD
.
(2) Solitary Man (Anchor Bay) — Buy it on DVD
or Blu-ray
.
(3) MacGruber (Unrated Edition) (Rogue Pictures) — Buy it on DVD
or Blu-ray
.