Nonfiction is, without a doubt, where it's at in terms of new home video releases this week (with the exception of the infamous nudity/crudity making its Blu-ray debut, that is). If you haven't seen the first two films on this list, you are in for a double treat. They are both personal favorites. So much so that I've three-starred them for emphasis: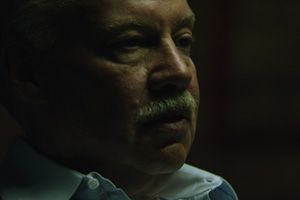 *** Collapse (MPI Home Video) — Call me gullible, call me a sissy, call me uninformed, call me whatever you want. There's no denying it: Chris Smith's Collapse scared the living piss out of me. Smith channels his inner Errol Morris with this unnerving one-man-rant by former LAPD officer turned investigative journalist Michael C. Ruppert, who has been dismissed by many as a crackpot doomsayer, but whose rigorously fact-checked mind and stirring arguments are compelling, convincing, disturbing, and rousing. Collapse might very well be the first feature-length documentary monologue that is better suited for the horror section. Read the rest of my review, then buy it on DVD
.
*** Burma VJ: Reporting From A Closed Country (Oscilloscope) — It's one thing to hear about oppression. It's another to see it. And it is in this latter distinction where Burma VJ becomes more than just a nerve-wracking thriller and elevates itself into a genuinely groundbreaking piece of cinematic history. The Democratic Voice of Burma is a small collective of underground video journalists who risk their lives to capture the world from an on-the-ground, behind-the-walls perspective. When the uprising began, the VJs sensed something big was about to happen and they responded by taking their cameras to the streets. This footage was smuggled out of the country by dangerous late night satellite uploads to "Joshua," a fellow VJ who had fled to Norway to help organize his troops and deliver the footage to the rest of the world. Read the rest of my review, then buy it on DVD
.
Sex Positive (E1 Entertainment) — Daryl Wein's affecting documentary recounts the steps a few brave souls took to introduce safe sex into the gay community in the 1980s when AIDS was running rampant (Richard Berkowitz, Joseph Sonnabend, Michael Callen). Buy it on DVD
.
Best New Old Movie Release of the Week
Mystery Train (Criterion) — Though Jim Jarmusch's ultra-cool vision is more tasty to some than others, Mystery Train remains one of his most pleasing affairs. This fancy new Criterion release contains many extras, including a Q&A with Jarmusch, a few documentaries, photos from the production, and a booklet with essays by Dennis Lim and Peter Guralnik. Buy it on DVD
or Blu-ray
.
New To Blu-ray Pick of the Week
Showgirls: 15th Anniversary Sinsational Edition (MGM) — Whether you prefer Kyle MacLachlan's ass or Elizabeth Berkley's breasts, neither will have ever looked crisper than in this "sinsational!" new Blu-ray transfer of Paul Verhoeven's outrageous showbiz tale. Call your friends, pick a substance to abuse, press play, and enjoy the spectacle. Buy it on Blu-ray
.
Have Not Seen But Plan To Do Just That
Youth In Revolt (Sony) — I haven't read the book upon which this movie is based, but I have seen Raising Victor Vargas. Based on that gem alone (as well as the short Five Feet High And Rising), I will forever watch anything Peter Sollett directs. I like Miguel Arteta too, so I'm not nixing this from the post. Strange indie-Freudian slip, that was. Whoops! Buy it on DVD
or Blu-ray
.