DVD RELEASES 2010/6/1
Let's make things simple and blunt this week: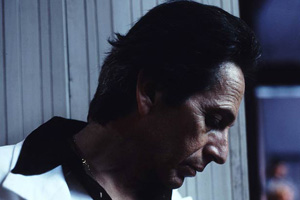 Tony Manero (Kino) — The first time I saw Pablo Larrain's Tony Manero (at its 2008 New York Film Festival press screening), I didn't quite know how to wrap my head around it. Was it a satire of celebrity obsession run murderously amok? Was it a harsh indictment of General Augusto Pinochet's brutal dictatorial reign over Chile from 1973-1990? Was it an even harsher critique of the United States, who had backed the 1973 coup that led to the death of President Salvador Allende and subsequent insertion of Pinochet into power? Were we, in fact, to take this psychopathic main character to be a bluntly metaphorical stand-in for Pinochet himself? Or was the film's political backdrop just that—a backdrop? Was it okay to merely refer to Tony Manero as quite possibly the driest, blackest comedy ever? Having recently watched Larrain's film for a second time, my opinion is that while those politically metaphorical readings are valid, there's no need to take things in that direction. For me, Tony Manero's most striking trait is its feverishly demented tone—a fusion of so many clashing styles that it spins on a dance floor of its very own. Read the rest of my review, then buy it on DVD
.
— Michael Tully
Leave a Reply