Recommended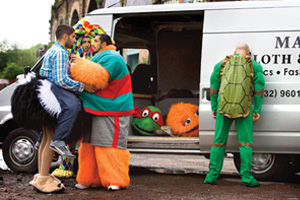 Four Lions (Magnolia Home Entertainment) — Filmmaker Christopher Morris is a bold motherf***er. Four Lions goes so hilariously far over the edge, while staying simultaneously grounded, that I still can't believe what I saw. Christopher Morris, his writing team, and especially his actors, must have steel testicles (or is that death wishes?), because this movie is going to piss a lot off people off. Laugh-out-loud funny and featuring some outrageously inappropriate physical comedy, Four Lions has no precedent that I can recall at the moment. The further away I get from it, the more desperately I want to watch it again. Buy it on DVD
or Blu-ray
.
A Film Unfinished (Oscilloscope) — Pardon my callousness, but I wasn't that enthused about watching Yael Hersonski's A Film Unfinished, even though I'd heard nothing but positive things about it. Not because I'm too sensitive about the horrors inflicted upon the Jewish people by Hitler and Nazi Germany, and certainly not because I'm an anti-Semite. My problem is that as a film lover/watcher/reviewer, I've become pummeled into numbness by what I (don't) like to refer to as the Holocaust Documentary Industry. It's gotten so bad that whenever I hear about a new Holocaust doc, I cringe and head in the other direction. I was raised Catholic and thus have my own special guilt sauce streaming through my bloodstream, so while I genuinely don't feel good about this newly cemented personal aversion, the constant barrage of Holocaust docs has left me no other option. Which is a long-winded, awkward way of saying that 1) I am glad that I saw A Film Unfinished, and 2) I am here to highly recommend it. It's a thoughtful, at times sickeningly effective essay that manages to bring something new to the discussion. Hersonski shows us yet another, perhaps even more disturbing, side of Nazi evil in the form of a propaganda machine that planned to use the power of cinema to further deceive the world. Read the rest of my full review, then buy it on DVD
.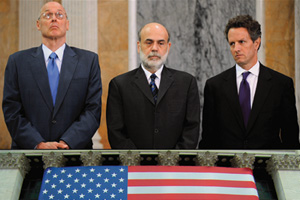 Inside Job (Sony Classics) — Just what exactly caused the world's economy to take a near catastrophic tumble in 2008? Answering that question is the gargantuan task Charles Ferguson has set up for himself with this Best Documentary Oscar-winning follow-up to the equally complicated No End In Sight. Yet as he did with that excellent film, Ferguson proves himself to be up for the challenge, delivering a fact-packed, information-stuffed breakdown of events that never collapses under the weight of its own intellect (to wit, even an idiot such as myself could follow along without becoming discombobulated). Woven into this neat, propulsive bundle, Inside Job confirms what I've sensed all along, that the main reason I've had so much trouble understanding credit swaps and derivatives and this whole economic debacle in general is that it doesn't make any practical sense. Early on in the film, I felt a huge burst of relief when I realized Ferguson wasn't turning this into a conservative/liberal issue. But that only led to a deeper, more depressing awareness, that this is a bipartisan issue and when it comes to those who are in positions of power at this very moment, whether they be Republican or Democrat, there appears to be no end in sight. Really uplifting stuff! (That said, I could have done without the bombardment of pop tunes—ironically used, I realize, or so I hope—on the soundtrack.) Buy it on DVD
or Blu-ray
.
Helena From The Wedding (Film Movement) — The debut feature from Brooklyn director Joseph Infantolino isn't exactly a ringing endorsement for marriage. This dark comedy about spousal problems unfolds largely in a single, claustrophobic house like a snowbound Eyes Wide Shut, but instead of freaky masks and orgies there are holiday sweaters and group backgammon games. The drinking and drugs are still there, and so is the spousal insecurity, which begins as lingering paranoia and quickly moves from passive to very active aggression. And did I forget to mention the movie is also funny as hell? Read Cullen Gallagher's full review here, then buy it on DVD
.
Jackass 3 (Paramount) — Midway through my excited opening weekend midnight viewing of Jackass 3, I had the sobering realization that I think my fascination with and appreciation of these insane bozos has reached its expiration date. Though I still had a good enough time. Buy it on Single-Disc DVD
, 2-Disc Edition w/ 3D
, or 2-Disc 3D DVD/Blu-ray Combo + Digital Copy
.
Around A Small Mountain (Cinema Guild) — If I may be frank here, I wasn't as into this Jacques Rivette ditty as were so many others, but I do think it's worth an at-home perusal. Buy it on DVD
.
New/Old To Blu-ray
Rivers and Tides: Andy Goldsworthy Working With Time (New Video Group) —  An inspiration on a multitude of levels, Thomas Riedelsheimer's patient, restrained, beautifully crafted portrait of Scottish artist Andy Goldsworthy is one of those magical viewing experiences that will enrich your perception of the world. Goldsworthy doesn't just work in and with nature to make his sculptures; he embraces it wholeheartedly, allowing its uncontrollable force to dismantle his creations, transforming them into something even more connected with the earth. If this sounds hippified and heady, it isn't. Rivers and Tides is a mesmerizing glimpse into the creative process of a modern human treasure. Buy it on Blu-ray
.
Exit Through The Gift Shop (Oscilloscope) — Is invisible street artist Banksy's debut feature an outright joke? Is it an actual profile of the Mr. Magoo-like Thierry Gutta (aka Mr. Brainwash), a video camera toting hanger on who spent years filming street artists only to become a known street artist himself? Does it condemn Gutta for his accidental success? Does it mock art aficionados for falling for Gutta's shtick? Is it a shtick? Who knows. I'd like to think Exit Through The Gift Shop is a carefully orchestrated satire of the modern art world—Andy Warhol, most directly—that brilliantly exposes the absurdity of attaching so much monetary value to work that most of us walk past on the street without even noticing. Oh yeah, and it's entertaining as sh*t. Buy it on Blu-ray
.
Have Not Seen But Really/Kinda/Sorta/Maybe/Wanna
The Walking Dead: Season One (AMC/Anchor Bay Entertainment) — Frank Darabont's adaptation of Robert Kirkman's graphic novel received enough good notices to make me want to give it a spin. Buy it on DVD
or Blu-ray
.