Pick of the Week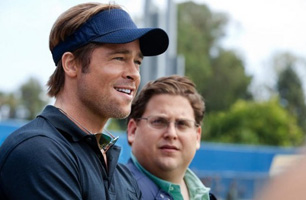 Moneyball (Sony) — I found this movie to be surprisingly excellent. If Hollywood put this type of stuff out, I would visit the multiplex much more often. Available on DVD
, 2-Disc Blu-ray/DVD Combo + UltraViolet Digital Copy
, Blu-ray + UltraViolet Digital Copy
, and at Amazon Instant
.
Recommended
Night and Day (Zeitgeist Films) — See Hong Sang-soo's film for all sorts of reasons, the first-and-foremost of which is the hilariously pained performance by Kim Yeong-ho. Available on DVD
.
Aurora (Cinema Guild) — Cristi Puiu's The Death of Mr. Lazarescu is one of my favorite films of this century—as close to Dostoevsky as I have seen cinema ever get—which meant that this film had a lot to live up to. Of course, it didn't. Which isn't to say that I didn't appreciate it—I'm recommending it here—but if you're feeling a sense of general itchiness, you might want to wait to press play until you're in a more patient mood. Available on DVD
.
Boardwalk Empire: The Complete First Season (HBO) — I really like, but don't outright love, this series. The first season especially seemed to lose its luster along the way, but the production value is top-notch, as are the performances (specifically Steve Buscemi, Kelly Macdonald, and an increasingly unhinged Michael Shannon). Available on DVD
and Blu-ray
.
The Man From London (Zeitgeist Films) — As with my above reaction to Aurora, I was a bit disappointed with this Bela Tarr. But likely that's because I deem his Werckmeister Harmonies and Satantango to be so superior to most films out there. Again, check your expectations, and your nagging impatience, at the door, and you will have a much better time. Available on DVD
.
Have Not Seen Yet But Really/Kinda/Sorta/Maybe Wanna
Higher Ground (Sony Classics) — Available on DVD
and 2-Disc Blu-ray/DVD Combo
.
Protektor (Film Movement) — Available on DVD
.
An Idiot Abroad (BBC) — Available on DVD
.
Wild Card of the Week
Film Socialisme (Lorber Films) — Maybe if I were still a 20-year-old undergrad this latest Jean-Luc Godard "film" would appeal to me, but thank God those days are a vague, distant memory. Sitting through this type of stiffly didactic work makes me feel like my parents must feel watching something like Werckmeister Harmonies. For a more recent example of an "essay film" that is gushing with warmth and intelligence and humanity and excellence, please visit Patricio Guzman's Nostalgia For The Light. But if you are a Godard completist and haven't yet seen this one, it is now available on DVD
and Blu-ray
. You have been cautioned.