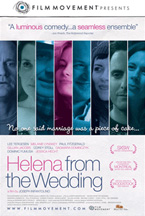 (After a successful film festival run, Helena From The Wedding was picked up for distribution by Film Movement and is now available on DVD. It opened theatrically in New York City on Friday, November 12, 2010. Visit the film's official website to learn more.)
Helena From The Wedding, the debut feature from Brooklyn director Joseph Infantolino, isn't exactly a ringing endorsement for marriage. This dark comedy about spousal problems unfolds largely in a single, claustrophobic house like a snowbound Eyes Wide Shut, but instead of freaky masks and orgies there are holiday sweaters and group backgammon games. The drinking and drugs are still there, and so is the spousal insecurity, which begins as lingering paranoia and quickly moves from passive to very active aggression. And did I forget to mention the movie is also funny as hell?
Lee Tergesen and Melanie Lynskey star as the newlyweds Alex and Alice Javal, who are looking to bring in the new year and share their conjugal bliss with their friends in a cabin in the mountains. They've invited fellow wedded couples Don (Dominic Fumasa) and Lynn (Jessica Hecht), and Eve (Dagmara Dominczyk) and Steven (Corey Stoll), as well as Nick (Paul Fitzgerald), who is flying solo after being both divorced by his wife and dumped by his girlfriend. But the holiday spirit begins to sour as soon as the guests arrive. Don forgot the wine, Alice else forgot her husband's boots, pregnant Eve thinks Steven is cheating on her, and Alex can't keep his eyes of the party's one unexpected guest: Helena (Gillian Jacobs of TV's Community), whom he and Alice met at a wedding a few months ago.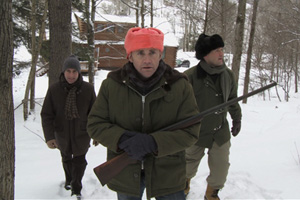 The movie shows shades of Eric Rohmer's minimalist, morality-centric plots and Robert Altman's tapestry of mannerisms, but Infantolino also brings his own sensibility to the table, with equal doses cynicism and comedy. While he empathizes with his characters and their hang-ups, Infantolino doesn't hesitate when it comes to their selfishness, their delusions of grandeur or self-pity, or their all-pervasive immaturity. They may be nearly 20 years out of college, but they're all still looking for something to give meaning to their lives, and what becomes readily apparent during the weekend is that their jobs or relationships won't provide that stability. So, they do like many college kids, and dive into drugs and alcohol and try to get into the pants of the only single girl around: Helena. Ironically, she is not only the least "tied down" of the characters, but also seemingly the most well balanced and emotionally stable of the bunch. But perhaps that is just another example of the "grass is always greener" syndrome, as she remains an enigma even at the movie's end.
Helena From The Wedding boasts a strong ensemble cast who brings a discomfiting familiarity to the phony pleasantries that we know all too well from our own derailed holiday parties (though, sadly, none of mine have ended with such memorable slapstick shenanigans as in the movie). With the year winding down and numerous holiday parties of our own looming in the near future, the last laugh might just be on us. Will we end up, like the characters in the movie, on our knees searching for a metaphoric lost backgammon chip, unable to find an answer that we know should be in plain sight but (for some unexplainable reason) escapes us time and again? Such is the piercing humor of Helena From The Wedding, a bittersweet sting that brings a smile to our faces and a lump in our throats, if not on our heads.
— Cullen Gallagher