There's really only one DVD release worth talking about this week, but just for good measure, we'll give you two.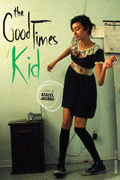 The GoodTimesKid (Benten Films) — The boys at Benten Films absolutely crush it out of the park for the long overdue home video release of Azazel Jacobs' enchanting second feature. A deadpan noir breakup comedy involving mistaken identities, The GoodTimesKid feels like it was shot in an earlier, more innocent time, before the words "hip" and "quirk" were plundered by Sundance hopefuls and mutilated into their current trite, grating form. As if the film itself weren't proof enough, the disc's supplemental materials should be taught in film schools everywhere as a lesson in production ingenuity and guilefulness (though one might not want to take things as far as literally stealing their film stock). Though Jacobs is credited as the director, the incredible trailer—worth the price of admission alone, I kid you not—as well as an accompanying slide show of production stills, establishes just how small a crew this really was, as the core unit consisted of just Jacobs, co-writer/co-star Gerardo Naranjo, co-star/costume designer Sara Diaz, and additional cameraman Eric Curtis (remember, this is a 35mm production, not a mini-DV one). The modest story is best left discovered for oneself, but suffice to say, Jacobs isn't coasting on style and charm alone, as the ultimate gift of this dryly funny breakup tale is that it isn't a breakup tale at all. Buy the DVD
at Amazon right now if you care about independent cinema.
The Class (Sony Pictures Classics) — With The Class, Laurent Cantet (Time Out, Human Resources) reaffirms his status as one of world cinema's most important social humanist filmmakers. Brandon Harris wrote about the film in conjunction with its appearance as opening night film of last year's NYFF. Says Harris: Quietly heartbreaking while maintaining both intimacy and reserve in its documentary aesthetic, The Class, surprise winner of this year's Palme d'Or at Cannes, is the most accomplished film about modern eduction since Frederick Wiseman's masterpiece High School. It is that all too rare movie that leaves our assumptions and prejudices thoroughly tested. Read the full review here. Then buy the DVD
or Blu-ray
at Amazon.