(Cropsey is now available on DVD through Breaking Glass Pictures. It opened theatrically in New York City on Friday, June 4, 2010, at the IFC Center, before expanding to more cities in the following weeks and months. It was also made available on VOD through Gravitas Ventures beginning on July 2nd. Visit the film's official website to learn more.)
Nine years in the making, Joshua Zeman and Barbara Brancaccio's Cropsey is the type of film that can only be made slowly, as time passes and the truths of the messy past can be properly separated from myth-making and the byproducts of paranoia. It's a film that can't properly be situated in a genre context. It's too ambitious to be a true crime doc—its interests are much more expansive than that genre calls for. It certainly isn't a horror film in any traditional sense, although the story it tells contains terrors all too real to provide fodder for those seeking cheap thrills. Its aspects of personal history and remembrance are so lightly touched upon that it can't be taken as memoir. It is an utterly unique work in this respect, personal in the most visceral sense of the word. It's impossible to imagine that a pair of filmmakers who didn't come from this particular place—Staten Island—at this particular time—the Carter and Reagan eras—could make this film.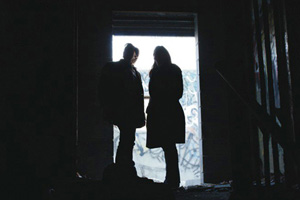 Part place meditation, part true crime thriller, Cropsey delves into the disappearances of several handicapped children in Staten Island during the 1970s and '80s. The filmmakers trace their distinctive childhood memories of the events as well as those of dozens of Staten Island residents who live on with this disturbing mystery, many of whom are unconvinced—even though someone has been brought to justice for these crimes—that the book is closed on these terrifying events.
In 1987, a so-called "shadowy drifter" named Andre Rand, an occasionally homeless man and former convicted child abuser who had worked at, and lived in the woods behind, a notoriously inhumane children's mental institution in the borough, was charged with the kidnapping and murder of Jennifer Schweiger. A 13-year-old with Down Syndrome who disappeared that year, Schweiger was later found half buried in the woods near the Willowbrook State School, Rand's former workplace. Convicted only of the kidnapping, it became apparent over several years that Rand was implicated in the disappearances of a rash of disabled children during the previous decade and a half. Or is he?
Nearly all the evidence accumulated against him is circumstantial, yet few people who the filmmakers encounter doubt that Rand is the killer. He refused to be interviewed for the film, having been made into a symbol of all that was rotten in the city's forgotten borough. A photo taken of him as he was led out of a police precinct after he was initially booked sealed his dubious legend; his head is bowed and he's drooling—the look of sheer madness that seems to encompass his face screams dangerous pervert. As the project continues over several years, Zeman and Brancaccio are contacted by Rand, who begins writing bizarrely articulate letters back to them. While universally maintaining his innocence, he draws the two filmmakers into an increasingly riveting murk of local politics and prejudices when he's brought to trial for another young girl's 1981 disappearance as his first sentence is drawing to a close.
A more moving tribute to the Island than 25th Hour, Cropsey is set in a place that, as one retired reporter puts it, "People dump what they don't want to see. Mobsters dump dead bodies here. We dump trash here. And we dumped these disabled children here, cause they're not pretty to look at." Within these previously unseen depths and unspeakable horrors, Brancaccio and Zeman have found a story nearly too shocking to believe.
— Brandon Harris