THE CURBSIDE CRITERION: MOONRISE KINGDOM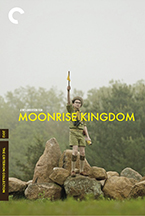 (We here at Hammer to Nail are all about true independent cinema. But we also have to tip our hat to the great films of yesteryear that continue to inspire filmmakers and cinephiles alike. This week, our new addition to the site, "The Curbside Criterion" continues where HtN staff can trot out thoughts on the finest films ever made. This week Brad Cook dives into the new Blu-Ray release of Moonrise Kingdom, Wes Andersons glimpse at young love.)
Moonrise Kingdom is a Wes Anderson film that has all the elements one expects – quirky characters, deadpan dialogue, fictional locations that feel like they truly exist somewhere, unique effects, and hints of a compelling back story – but, for me at least, the end result is a good-but-not-quite-great experience. I've thought about that quite a bit, and I think it's because Moonrise Kingdom lacks the secret sauce that made me love The Life Aquatic, The Royal Tenenbaums, The Grand Budapest Hotel, and so many of his other films.
That secret sauce? A kingdom in decline. The Wes Anderson films I love fully explore that idea, giving us a once-great person, place, or family whose best years are in the past. I love watching his characters grapple with a world that has changed and will never go back to the way it was, so they better figure out how to make their current situations work. With varying degrees of success, they do, and that's what, in my view, differentiates a great Anderson film from a good one.
But as I said, Moonrise Kingdom is still a good film. Its story of young people falling in love and coming of age while hiding from their disapproving families is fun to watch unfold, and I admire the way Anderson has put together this story world with the same loving care he has applied to his other films. His fictional island off the New England coast feels like it's straight out of a 1960s era issue of Boy's Life magazine, an effect heightened by his made-up Khaki Scouts whose regimented summer camp is ruined by fellow scout Sam running off with his true love, Suzy.
The bonus features on this new Criterion Blu-ray dig into the making of the film, starting with an unsurprisingly oddball commentary track. It's a new discussion that features Criterion producer Peter Becker and Jake Ryan, who plays Suzy's brother, interviewing Anderson. As the conversation progresses, the idea arises to get various Moonrise collaborators on the phone and talk to them too. By the end of the track, co-stars Edward Norton, Bill Murray, and Jason Schwartzman, as well as co-screenwriter Roman Coppola, have joined the discussion by phone. A piano performance and American Zoetrope's voicemail system also factor into the fun along the way.
Whereas so many commentaries feature a lot of "Oh, this is the scene where the flood happens" and "This part was fun to shoot" comments, and group tracks often devolve into reminiscing about the production and how much fun it was, this one is a blast to listen to all the way through, thanks to the back-and-forth nature of the discussion. Anderson isn't one to get into a lot of deep thought about his movies, so don't expect that, but it's still a good time.
There's also a tour of Moonrise Kingdom's sets and shooting locations put together by Martin Scali, who also worked on Fantastic Mr. Fox. He narrates the footage in French, but don't worry, there are English subtitles. (I wouldn't have been shocked if Anderson didn't want subtitles, in his typical trickster way.) Scali was a fly on the wall for the most part, showing scenes being shot and adding his own commentary to the action. It's a fun watch.
The on-the-set angle continues in the four-minute "Welcome to New Penzance," which has Bob Balaban in character as the narrator talking about the movie and showing some behind-the-scenes footage. It's obviously a promo piece, but it's a notch above your typical studio-produced EPK materials, and Balaban appears in another promo that has him reading some animated excerpts from the fabricated books Suzy reads in the movie. There's also a three-minute tour of the set with Bill Murray that features his trademark droll humor.
Edward Norton apparently wanted to get in on the behind-the-scenes fun too, so he shot 11 videos on his iPhone and presents them in a 20-minute chunk, complete with an intro that explains why he did it and why he wanted to make them look like they were filmed in 8mm.
Moving on, we have some storyboard animatics and narrator tests that show some of the lengths to which Anderson will go when planning out a movie, along with four minutes of auditions for the kid roles. The last "making-of" piece gives us a look at how the movie's flash flood sequence was created with miniatures.
The disc concludes with the theatrical trailer, a promo with Jason Schwartzman as he plays his character preparing to show Moonrise Kingdom to a few Khaki Scouts, and some photos from a 1958 performance of Benjamin Britten's musical Noye's Fludde, which was a major influence on the movie. That last item also has photos from a 1970 Texas performance in which Anderson starred.
I don't have any previous versions of this film on home video, but I've read that everything from an earlier Blu-ray release was ported over, save a short EPK. Completists beware.
Finally, Criterion has thrown in a few physical items of the sort that differentiate their releases from the big studio stuff. There's the usual booklet, which looks like a magazine shown in the movie, a reproduction of a flyer for the Britten musical, a map of New Penzance Island, and a retro-looking postcard that has a photo of the cast. The booklet includes photos from the movie, an abbreviated version of an essay, and five kids' thoughts (not always positive) on the film.
– Brad Cook (@BradCWriter)