THE CURBSIDE CRITERION: HOOP DREAMS
(We here at Hammer to Nail are all about true independent cinema. But we also have to tip our hat to the great films of yesteryear that continue to inspire filmmakers and cinephiles alike. This week, our new addition to the site, "The Curbside Criterion" continues where HtN staff can trot out thoughts on the finest films ever made. This week Brad Cook dives into the new Blu-Ray release of  possibly one of the greatest films ever made, 1994's Hoop Dreams.)
I've never been a huge basketball fan (baseball and football are my favorites, in that order), but I enjoyed the storylines of the 1980s and 90s, from the Magic Johnson vs. Larry Bird rivalry to Michael Jordan's superstardom. Since then, I've paid little attention to the NBA, but I was interested in checking out Hoop Dreams, not because of its focus on basketball but because it looks at something that often gets lost when people think about pro sports: Those millions of kids who dream of playing in the big leagues but who never achieve that goal, for a multitude of reasons.
And I'm not talking about those uncoordinated kids who, like someone screeching through a song during American Idol tryouts who don't have a chance to begin with. Hoop Dreams' dual protagonists are teenagers who clearly have the raw talent to go a long way in the sport, if only the many things within and without their control don't burst their bubbles. They are a pair of Chicago teenagers, William Gates and Arthur Agee, who are recruited from some rough-and-tumble playgrounds to play at a prestigious suburban high school where Detroit Pistons star Isiah Thomas cut his teeth.
As you can probably guess, things don't always go the boys' way, although both achieve some triumphs to offset the difficulties. Filmmakers Steve James, Frederick Marx, and Peter Gilbert chronicled their stories over a five-year period, producing a nearly three-hour film that's as epic in scope as a documentary can be. In an era long before reality TV, the trio filmed the details of both boys' daily lives, from the mundane to the emotional to the tragic. With help from a cast of compelling supporting characters, including Arthur's drug-addicted father and William's star-fallen older brother, Hoop Dreams is a compelling look at the factory into which so many kids enter, only to see very few emerge as professional athletes.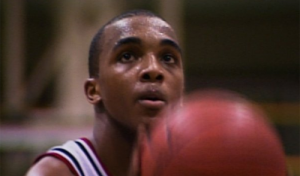 This new Blu-ray of the film from Criterion features a digital restoration, but don't expect Hoop Dreams to look like a big-budget major motion picture, since it was originally shot on video in the late 80s and early 90s. Of course, that's not a big deal since it's a documentary.
Criterion previously put this film out on DVD in 2005, and the pair of commentary tracks included on that disc are preserved here. One of them features Gates and Agee reflecting on the experience and adding context to some of the things that suddenly pop up during the movie, such as the reveal of Gates' child: He explains that he originally tried to hide that fact from the filmmakers out of a desire to not be seen as a stereotypical black teenager. Agee had also desired to hide some things from the crew, such as his father's drug addiction and his family's loss of electricity for three months. In addition, the pair talk about the friendship they developed during filming, which isn't really shown in the documentary, aside from a hug after one of the games.
James, Marx, and Gilbert participate in the other track and talk about the subjects you'd expect, such as how the project came together, but they also delve into more philosophical matters, like the question of how involved they should have been in what they were filming. (How does one film difficult scenes without giving in to the desire to intervene in some way? That's a question all documentarians wrestle with.) They also give their opinions on the footage, offering a perspective that's avoided in the film's narration.
The three filmmakers also appear in new interviews filmed in 2014 for Life After Hoop Dreams, a 40-minute follow-up documentary. The other footage in this mini-doc consists of interviews filmed in 2004 and 2005 with Agee and Gates to catch up on what had happened to them in the decade since Hoop Dreams was released. As with the original documentary, they had experienced their share of ups and downs, and they seemed at peace with the fact that they didn't achieve their goals of playing in the NBA. Too bad they weren't interviewed again in 2014, so we could also have their perspective 20 years later.
The filmmakers' commentary also touches on the impact that Siskel and Ebert's rave review had on the movie's exposure, so Criterion has also included a 15-minute round-up of the duo's comments. They start with that review and include the pair's later laments about Oscar snubs, along with a report on the Academy reforming the way nominations are handled for documentaries, which they attributed to their influence. A February 2000 clip, with Martin Scorsese guesting for the departed Siskel, has Ebert explaining why Hoop Dreams is the best film of the 1990s. (Scorsese agrees.)
Finally, we have 20 minutes of deleted scenes, a music video, and a pair of trailers. The obligatory paper insert is a fold-out that features various images and a pair of essays.
– Brad Cook (@BradCWriter)