THE CURBSIDE CRITERION: GILDA
(We here at Hammer to Nail are all about true independent cinema. But we also have to tip our hat to the great films of yesteryear that continue to inspire filmmakers and cinephiles alike. This week, our "The Curbside Criterion" continues where HtN staff can trot out thoughts on the finest films ever made. Today Christopher Llewellyn Reed takes a stab at the new Blu-Ray release of Gilda the Charles Vidor classic that cemented Rita Hayworth as more than just a pretty face who was light on her feet.)
Even those who have never seen Charles Vidor's ornate film-noir melodrama Gilda at least know the famous shot where its star, Rita Hayworth, first enters the frame, her head following the flip of her gorgeous mane. Perhaps the most famous quotation of that moment comes in Frank Darabont's 1994 The Shawshank Redemption: Red shushes Andy so he can watch Gilda do "that s*** with her hair." Hayworth as Gilda became a powerfully alluring sexual icon of the post-World War II era – she had been a pin-up during the war, but Gilda cemented her fame – forever establishing her as an object of male desire, for better and for worse: Hayworth loved being a star, but she found the "sex goddess" label limiting in later life, as we learn in the extras on the new Criterion Collection Blu-ray disc edition.
In addition to Hayworth, there's Glenn Ford. Freshly returned from (non-combat) duty in the Marines, Ford plays Johnny Farrell, protagonist and narrator (voiceover was a common feature of 1940s noirs). When we first meet him, he is gambling on the docks in Buenos Aires, Argentina, where he wins a pretty penny. Angry losers follow him outside and hold him up, but he is saved by the intervention of a mysterious stranger, Ballin Mundson, played by that urbane actor-with-a-scar, George Macready. Ballin chases the would-be muggers with his "little friend," a cane with a sharp dagger tip. Yes, it's clearly phallic. And this act of rescue presages a homoerotic quality to the story that is remarkable for the 1940s, when censorship ruled the day. Perhaps, as film historian Eddie Muller (Dark City Dames: The Wicked Women of Film Noir) explains in an accompanying interview, the censors ignored such moments because to acknowledge them was to admit the existence of homosexuality in the first place.
Both Ford (whose best work, in movies like The Big Heat and Blackboard Jungle, was still to come) and Macready (perhaps best known for his role as the scheming General Paul Mireau in Stanley Kubrick's Paths of Glory) are strong, and have an easy rapport that supports their onscreen friendship and boss-employee relationship. For, once saved, young Johnny goes to work for Ballin, running his casino and pretending not to notice the various Germans coming and going (making this a companion piece to another 1946 release, Alfred Hitchcock's Notorious, where South-American Nazis also play a role). Soon, this (romantic?) idyll is shattered with the arrival of Gilda, who has a lot more going on than just hair.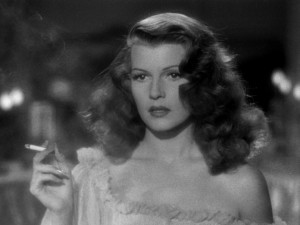 Before making Gilda, Hayworth (born Margarita Carmen Cansino) had been known (beyond the pin-up) primarily as a dancer, partnering with the likes of Fred Astaire – in You'll Never Get Rich – and Gene Kelly – in Cover Girl (up until then her biggest hit). Astaire, in fact, called her his favorite dancing partner, which is very high praise considering how many films he made with Ginger Rogers. It's easy to understand why, as Hayworth has an easy grace of movement that is present even in Gilda, in which the choreography is limited, but very sensual, in the two musical numbers (but where her singing, as always, is dubbed). Gilda would change Hayworth's image; no longer would she be merely a wonderful dancing sensation, but a siren to lead men astray. The very next year, she would make The Lady from Shanghai with then-husband Orson Welles, and play an even more dangerous femme fatale. Here, however, in Gilda, she is more wounded canary (as Johnny unwittingly calls her) than voracious hawk. She comes between the men, but not out of malice; she can't help how her overt sexuality unsettles them.
And so we have our love triangle, homoerotic subtext and all. It's a deliriously fun film, as famous for Hayworth's on-camera quasi-striptease – to "Put the Blame on Mame" (where she wears a stunning black dress by designer Jean Louis) – as for that hair flip. Occasionally, punches are thrown, shots are fired, kisses are bestowed. Did I call it ornate? Try baroque: its excesses are all part of the appeal!
So what can you expect in Criterion's new release? The video transfer is solid, although I will admit that I had hoped to be completely blown away by the difference between this disc and my older DVD. That I wasn't means that the original negative may simply not be capable of delivering any higher quality. Still, though there are the occasional faded parts of the image, it's still beautiful to look at it, and the Blu-ray does adequate enough justice to the work of noted cinematographer – and, later, director – Rudolph Maté (who had earlier shot Carl Theodor Dreyer's silent masterpiece, The Passion of Joan of Arc). On the audio side, there are no such problems (it was an original mono mix, anyway).
As far as special features go, it's a (somewhat) mixed bag. Film critic Richard Schickel does the commentary, recorded in 2010, and while he is clearly extremely knowledgeable about the prolific Vidor (Love Me or Leave Me), the actors, film noir, and the general time period, itself, it too often feels as if he did no prep work for the recording session, but merely sat down and said whatever came to mind, whenever it did (see Roger Ebert's commentary on Citizen Kane to learn how it should be done). There are, nevertheless, some good nuggets of information in his narration.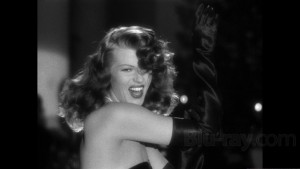 Next, we have a 22-minute dual-interview piece, also from 2010, with filmmakers Martin Scorsese (Taxi Driver) and Baz Luhrmann (The Great Gatsby). Why them? Not sure, but they both have very interesting comments to make about both the film and Hollywood history. I would count this as a definite plus. As I would the second interview on the disc, with the aforementioned Eddie Muller. He knows his stuff.
We also have the movie's original trailer, as well as a fascinating TV special from 1964, entitled "The Odyssey of Rita Hayworth," which was part of the short-lived Hollywood and the Stars series. Joseph Cotten (The Third Man) narrates, and Hayworth, herself, provides much of the commentary. It's a complete puff piece, for sure, but holds great interest if only because it does not shy away from addressing Hayworth's many marriages and post-Gilda career trajectory, even if it avoids her alcoholism, today fully acknowledged, along with the early-onset Alzheimer's which killed her (but we learn about those from the other special features).
Finally, the Blu-ray's liner notes come with an excellent essay by film critic Sheila O'Malley, which reinforces much of what is spoken in the commentary and interviews, while providing new insights about the post-war era of Gilda's release. Overall, then, given the movie's importance as an example of its time and place, and given the fact that enough of the special features provide ample support for those who wish to learn more about the movie's history, I recommend the disc. It's not perfect, but it's seductive enough to lure us in. Much like Gilda, herself.
– Christopher Llewellyn Reed (@ChrisReedFilm)