SOUNDIES: THE ULTIMATE COLLECTION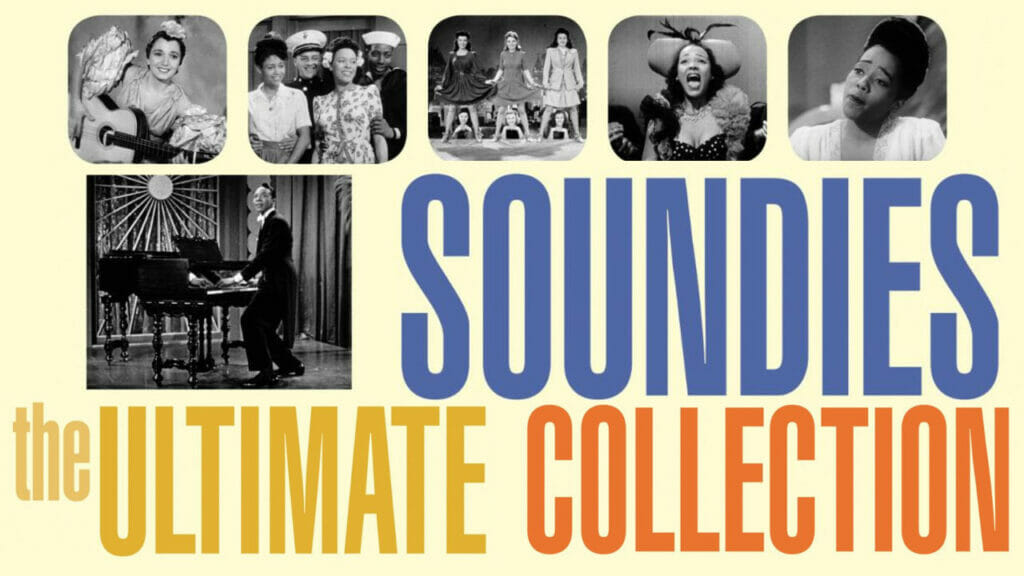 Whenever the origins of MTV (launched in August of a little more than four decades ago) are discussed, the predecessor of the 1980s music video is often noted as the Scopitone, the French music jukebox from the late-1950s / early-1960s, or its Italian equivalent from the same era, the Cinebox. However, the humble beginnings of those formats owe greatly to the wonderful Soundies two decades earlier. While it has been a challenge to find the richness of these musical shorts outside of an occasionally miserable transfer nefariously uploaded to a variety of video-streaming services or an infrequent airing in-between the featured presentations on TCM, a four-disc Blu-ray set from Kino Lorber remedies the relative unavailability of these remarkable films, a couple-of-hundred included in all! Soundies present an ideal opportunity to sample the pulse of the culture at that time, especially in its frank portrayals of race and sexuality. Unsurprisingly, the short-form warranted more latitude in subject matter than the studios and their feature-length releases generally allowed.
Credit for this outstanding (or, self-described, "Ultimate") collection is due to the exhaustive work of Susan Delson, former film programmer at the Metropolitan Museum of Art. While writing a biography of filmmaker Dudley Murphy [Dudley Murphy, Hollywood Wild Card], she viewed the roughly ten Soundies that he directed in 1941. This led to the opportunity to explore many others through research at the Library of Congress, resulting in another book, published in late-2021—Soundies and the Changing Image of Black Americans on Screen—and, in another rewarding feature of the Soundies home-video collection, an accompanying booklet essay, "A Densely Layered History" (alongside essays by Ellen Scott and Mark Cantor).
While the shorts are stunning in their range of performers, Soundies were not entirely absent of the occasional problematic portrayals, something Delson fortunately includes within the set. "Soundies presented a very different vision of who and what Americans were back then—far more diverse than what the Hollywood studios were generally putting on screen—but it goes beyond simply the number and variety of Black performers," explained Delson in our correspondence. The difference here is "the way they're presented on screen. At a time when Hollywood was still largely dealing in stereotypes and caricatures, the great majority of Black-cast Soundies depicted their performers as successful, sophisticated, and urbane—not only at ease in the modern city but actively involved in shaping it, and modern life in general. There's a sense of agency in many of these films, far beyond anything coming out of Hollywood." Arguably, in addition to societal changes in the U.S. brought about during the Second World War, these films contributed to accelerating the momentum for an inevitable (and overdue) Civil Rights movement.
Soundies were viewable in eight-film compilations for ten cents per-view on a machine called the Panoram. Although a number of companies created their own variations of these 16mm-jukeboxes, Mills Novelty Company of Chicago, with its late-1800s origins hand-crafting arcade and slot machines, was the manufacturer that was ultimately successful. "Mills Novelty was a longstanding family business with a reputation for designing and manufacturing solid machinery," Delson noted. They're still in existence today, primarily as a resource for restorations of the Violano Virtuoso, a mechanical violin-playing device. "On the film-side, I think Mills was fortunate in attracting a few key producers and directors, both in Hollywood and in New York," a relationship fully described in the third chapter of her book.
The multi-talented Bret Wood produced (and edited) the ambitious project. "He has a wonderful feel for the material," explained Delson, adding that "we were in agreement on what we wanted the package to be—wide-ranging, inclusive, and unflinching about the racism and other negatives." The entire process was completed in about two years.
To get a sense of the breadth of the selections, take a gander at a few of the chapter headings: "We'll Drink to That" / "Stirring Up the Melting Pot" / "Is it Love or is it Conscription?" / "Jumping Into Gender-Play" and other timely themes. Thankfully, four of the aforementioned eight-film sequences are accurately reproduced as "Straight from the Panoram" at the conclusion of each disc. With such a startling array of selections, it seemed necessary for a proverbial "Chef Recommends" or two (or more). "I have so many favorites that I'll have to categorize them. Among the classics, I'll point to the first Soundie in the set, Jam Session, with Duke Ellington and His Orchestra. It's the most-watched Soundie online, heading toward three-million views on YouTube," generally under the title C Jam Blues, the title of the piece Ellington and Orchestra are performing. Delson continues, "As you may have noticed, I really got into yodeling and came to appreciate how much of a presence it was in early country and country-western music. Among the yodeling vocalists, my favorite is Carolina Cotton, who costars with a young Merle Haggard in Why Did I Fall for Abner. But I also have a soft spot for Rosalie Allen in that wonderfully oddball country-Swiss Alps mashup, Yodel."
An ideal part of any wide-ranging collection is the opportunity to discover comparatively unknown performers. This is true for the viewers, of course, but programmers have the possibilities of enlightenment along the journey as well (and one could argue that these opportunities are a substantial rationale for why successful curators get into programming in the first place). Finds to highlight in these shorts include proto-rock performers Maurice Rocco and Harry 'The Hipster' Gibson and "wonderful vocal groups like the Four Ginger Snaps, the Kim Loo Sisters, and Day, Dawn and Dusk." Delson additionally speculates that the Soundie from the boogie pianist Lynn Albritton might be the only surviving documentation of her work. She concludes with a reference to a "terrific performance by vocalist Toni Lane in When Hitler Kicks the Bucket. I could go on but I'll stop there."
For a questionable musical number like Hong Kong Blues, with its combination of both racist- and sexist-stereotypical material, Delson remarks that such thinking "permeated mainstream American culture at this time, to the point that it seemed natural and unquestioned (that is, for people not in the groups being stereotyped). In Hollywood movies, for instance, stars like Judy Garland, Bing Crosby and Fred Astaire were still appearing in blackface." It can be shocking for the uninitiated but the decision to keep these unsavory elements available for audiences to view should be commended. The set includes video-introductions to each chapter and the "Outrageously Incorrect—and Sometimes Subversive" selections benefit from an apt context for their inclusion.
Naturally, Soundies were a form of advertisement for the featured performers, identical in its deviations from mere documentation of performers-on-a-stage to the music videos with rambling narratives in the years that followed. The ability to see an artist whom you might've only heard on the radio was a distinct novelty and the production of these short-subjects were cleverly crafted to promote the potentially memorable talents of each associated artist. The early careers of many musicians of the era were showcased, accordingly (such as one credited to Walter Liberace when, later on, merely his last-name would be sufficient). "In the first months of regular Soundies production, when budgets were fairly flush," Delson explains, "fees for a few name-artists were relatively high." Payment, however, was not the primary lure for the majority of the participating performers. "It was much more about exposure. Back then, most musicians made the bulk of their money from live appearances, and Soundies were terrific publicity for upcoming tours. Louis Jordan and his manager, for instance, had a solid understanding of what Soundies could do for his career, especially as he was expanding to mainstream audiences. He made several Soundies, all of them Panoram hits. Some were even bundled into mini-medleys and re-released in later weekly reels."
Soundies, additionally, "were something of a training ground for performers who later worked in early television," such as Nat King Cole and many others. "Soundies were a great opportunity to pick up that skill, which was key to establishing the intimate audience connection that was such a hallmark of early television." Pre-MTV, indeed, in many more ways than one.
There are a handful of short film collections that should appear on the shelves of any home. Kino Lorber has released several such sets—Gaumont Treasures, Cinema's First Nasty Women and Pioneers of African-American Cinema in particular—and, if you have even a modest interest in the intersection of music and culture in the mid-20th century and the revolutionary developments that followed, this latest collection is an absolutely essential addition.
SOUNDIES: THE ULTIMATE COLLECTION (1940 – 1946)
dir. [various]  [roughly 600min.]  Kino Lorber + Library of Congress
Jonathan Marlow (@aliasMarlow)