THE CURBSIDE CRITERION: MURIEL, OR THE TIME OF THE RETURN
(We here at Hammer to Nail are all about true independent cinema. But we also have to tip our hat to the great films of yesteryear that continue to inspire filmmakers and cinephiles alike. This week, our "The Curbside Criterion" continues where HtN staff can trot out thoughts on the finest films ever made. Today Christopher Llewellyn Reed takes an in-depth look at the new Blu-Ray release of Muriel, or the Time of Return, Alain Resnais' third, slightly less talked about, feature.)
Muriel, or the Time of Return, released in 1963, was French director Alain Resnais's third narrative feature, after Hiroshima Mon Amour and Last Year at Marienbad. Those previous two films each showcased a different writer of the "nouveau roman" movement of the 1950s: Marguerite Duras, on Hiroshima; and Alain Robbe-Grillet, on Marienbad. With Muriel, on which Resnais (1922-2014) started work while Marienbad was still in production, the director returned to a previous collaborator, the poet Jean Cayrol – also part of the same literary movement – who had written the narration for his documentary Night and Fog. Cayrol had never tackled a screenplay before, and though he was challenged, the final result was Resnais's most plot-centered film to date – and the first where the characters have actual names – following a five-act structure with a clear beginning, middle and end. The movie is by no means aesthetically unadventurous, however, as the linear story seems to push Resnais towards greater experimentation with visual and, especially, editorial convention. It's a fascinating, if at times purposefully ambiguous and perplexing, work of art that deserves to be seen by fans of either Resnais, French cinema of the 1960s, or both.
Though Resnais is often considered part of the French New Wave, he began his career a little earlier than directors like François Truffaut and Jean-Luc Godard (and was a little older, as well). Like them, however, he pushed the boundaries of the cinematic form. He seemed particularly interested in how the spoken word operates in conjunction with, and opposition to, the image; hence his continued insistence on working with avant-garde writers, whose transformations of language he hoped to build upon in the medium of film. Beyond forging a radical new way of making movies, Resnais, at this time, was also almost obsessed with themes of time and memory. In Muriel, he returns to these subjects – announced in the subtitle – albeit in a slightly more nuanced fashion than he did in Hiroshima and Marienbad, where the whole raison d'être was to meditate on time. This is a more mature work, where text is now subtext, and where an actual plot serves as anchor to the search for meaning.
The "Muriel" of the title is a woman we never meet, whose name may not, in fact, be Muriel. She is purportedly the fiancé of Bernard, the stepson of Hélène, a purveyor of antique furniture that she sells directly from her apartment in Boulogne-sur-Mer, in the north of France. As the movie begins, Hélène is expecting a visit from a former lover Alphonse, whom she has not seen since before the start of World War II. Alphonse arrives that first night, with his niece, Françoise, in tow. Bernard, despite his ostensible relationship with Muriel, takes an interest in Françoise, especially because he does not think she is Bernard's niece. He may be right. And so begins a story where nothing and no one is entirely what they appear to be. In the background of all the deception looms the specter of France's Algerian War, in which Bernard fought. Alphonse claims to have spent 10 years in Algeria, but that seems as true as his claim to be Françoise's uncle. What emerges from all of this back and forth, however, is a richly textured narrative of, yes, overlapping time and memory. One war blends into the next; past and present intertwine.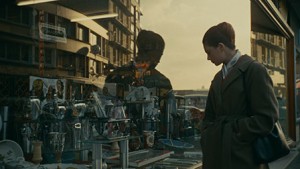 Resnais transforms what could become a pedestrian melodrama into a refreshingly bracing cinematic experience by abandoning the rules of conventional editing. He inserts fast close-ups of body parts and objects into standard dialogue scenes, repeats footage when it seems unnecessary, jumps around in time without explanation, and interrupts musical interludes just as they begin, all to shake us out of our complacency as viewers. It can be jarring, but it is, above all, interesting. Speaking of the music, German opera composer Hans Werner Henze provides the score, and his contribution heightens the melodrama, even as Resnais's editorial decisions act in counterpoint to these tendencies, cutting away just as the chords swell. A reverse counterpoint to Resnais's brutally avant-garde cuts is Delphine Seyrig (Last Year at Marienbad), who brings a certain normality to her portrayal of Hélène as a woman determined to see only the good in others, even as they continue to disappoint. Seyrig won the Best Actress Award at the Venice Film Festival for her role here. She is our surrogate, trying to decipher the sinister machinations of forces beyond her comprehension, much as we attempt to decode Resnais's elliptical storytelling devices. Like her, we survive, stronger from the experience, though perhaps bruised in the process. Isn't it good to stretch one's expectations of what a movie can be?
Whatever your thoughts on this, there is no question that Criterion has done, as usual, a wonderful job with its new 4K transfer, which beautifully preserves the fine color cinematography. As far as extras go, we have a very strong essay from film scholar James Quandt; the movie's trailer; excerpts from three different French TV documentaries, none of which are particularly worth the inclusion, to be honest; and one spectacular interview with French film specialist François Thomas. Quandt and Thomas are rock stars, and from their contributions we learn a great deal about Resnais and the context of the time in which he worked. Not all of the special features are equally good, then, but there's enough great value in the package to make it well worth the purchase.
James Quandt's essay
Though I may disagree with James Quandt on his assertion that this is Resnais's greatest film – it is intriguing and artistically innovative, but I wouldn't go that far – I cannot find fault with his commitment to providing a detailed aesthetic and historical analysis of the movie and its production. On the contrary, as with so many of the authors hired by Criterion to write these booklet essays, Quandt has done his homework, and has created an invaluable guide to Resnais's inspirations, 1960s France, the Algerian conflict, and the movie's influence on other films of its time. I particularly enjoyed his breakdown of the many edits (Resnais claimed close to 1000 cuts, while others say it was less), or the "splintered" jump cuts, as he calls them, and of the camera work. It is a terrific read.
Excerpts from three different French TV programs: one from 1980, on Alain Resnais; one from 1969, with actress Delphine Seyrig; and one from 1963, with composer Hans Werner Henze. All are just over 4 minutes long.
Sadly, none of these excerpts are very satisfying. I understand the challenges of finding good archival material on what is today a relatively unknown film, but as these bits are just too short to offer meaningful analysis on the movie, perhaps they would have been better left off the disc. By far the best of the three is the one on Henze, who discusses not only his collaboration with Resnais, but also his thoughts on film music, in general. He reports that Resnais thought of this movie, itself, as an opera, and wanted the score to illustrate the operatic structure of film. If only this particular interview were longer…
2016 Interview with French film scholar François Thomas
This 27-minute interview with François Thomas is the highlight of the special features. He is a marvel of a scholar, always ready with the minutest of details about the film's production. He starts off with a discussion of how today we might look at Muriel and see it as Resnais's most abstract film, but it was quite topical for its time, with its references to the Algerian War clear for all to grasp. From there, he takes us back to 1959, when the idea for the movie first came to Resnais, and explains how and why he chose Jean Cayrol, who seemed more "malleable" than either Duras or Robbe-Grillet, Resnais's previous collaborators. I love his brilliant analysis of why Bernard, Hélène's stepson, cannot communicate about the war, and how that topical aphasia translates into the aesthetics of the movie. I also like his explanation of the choice to film the movie in Boulogne-sur-Mer, rather than in Brest, which was Resnais's first choice. And on and on. This more than makes up for the disappointing excerpts from the French TV specials.
 Trailer
Finally, there is the movie's period trailer. It's actually a fairly compelling document, as it manages to not only give away quite a lot of the story, but also make it look like a thriller (albeit one with a few comedic notes). Sure, Muriel has the structure of a melodramatic thriller, but the tone and style of something far more experimental, something not at all reflected in the trailer. And who can blame the PR folks? Stick to what you think the audience will like…
Overall, I give a hearty recommendation to this Blu-ray package, even if a few elements are less than stellar. The rest are good enough to overcome that minor deficit.
– Christopher Llewellyn Reed (@ChrisReedFilm)