THE CURBSIDE CRITERION: LADY SNOWBLOOD & LADY SNOWBLOOD: LOVE SONG OF VENGEANCE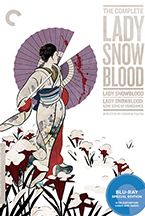 (We here at Hammer to Nail are all about true independent cinema. But we also have to tip our hat to the great films of yesteryear that continue to inspire filmmakers and cinephiles alike. This week, our "The Curbside Criterion" continues where HtN staff can trot out thoughts on the finest films ever made. Today Brad Cook takes a stab at the new Blu-Ray release of Lady Snowblood and Lady Snowblood: Love Song of Vengeance the classic Toshiya Fujita films that inspired Tarantinmo's Kill Bill films as well as many other 1970's revenge dramas.)
Japanese cinema has long been influential among American filmmakers, and Criterion is honoring the two 70's classics that inspired Quentin Tarantino's Kill Bill films with a Blu-ray release of Lady Snowblood and Lady Snowblood: Love Song of Vengeance. They're found on a single disc, along with a pair of meager extras and a fold-out paper insert.
The first film is a straight-ahead revenge story in which Yuki Kashima hunts down the thugs who killed her parents and earns the nickname Lady Snowblood along the way. Director Toshiya Fujita is unafraid to show torrents of blood spurting from Lady Snowblood's enemies as she cuts them down, but there's also a very elegant, simple beauty in the cinematography that serves as a counterpoint to the gore.
It's not hard to see how this movie also likely influenced the Death Wish series, the Dirty Harry films, and other works that idealize vigilante justice. I can certainly understand that emotion, although I keep that attitude separated from the real world, where life doesn't quite work that way. However, this is a fun 97-minute story that moves along at a brisk pace.
With Lady Snowblood's mission complete, there didn't seem to be much room for a sequel, so Fujita decided to present her as a woman wanted for the crimes committed in the first installment. She is captured and sentenced to be executed, but she is rescued by some government agents and taken to a high-ranking official who tasks her with stealing a sensitive document from a well-known anarchist in exchange for her freedom.
Lady Snowblood secures employment as a maid working for the political activist, but he knows who she is and uses her to turn the tables on the government agents who are constantly harassing him. The story soon turns into a cat-and-mouse tale that is lighter on the gore and heavier on some political messages. The movie could have become too heavy-handed in the process, but Fujita spins an entertaining yarn that walks the line between the two.
In addition to trailers for the films, Criterion has included two new interviews, one with writer Kazuo Koike, who talks about his manga that inspired the movies, and another with screenwriter Norio Osada, who digs into the process of bringing the story to the screen. The former is about 11 minutes and the latter runs 22 minutes. It's a bummer Criterion didn't put more into the bonus features in this release, but I'm sure they correctly assumed this edition wouldn't sell nearly as well as, say, a Kurosawa film.
The accompanying fold-out leaflet has an essay by film critic Howard Hampton.
– Brad Cook (@BradCWriter)