THE CURBSIDE CRITERION: DREAMS
(As you may have noticed, it's holiday season! As a result, Hammer to Nail is going to bust out some reviews of the latest and greatest Criterion Blu Rays as well as re-running reviews and interviews of films that are available now. What better gift than the gift of awesome cinema!?! Next up…the new Criterion Blu of Akira Kurosawa's late career experimental film Dreams.)
Akira Kurosawa spent the early part of his career establishing himself as a nuts-and-bolts filmmaker, whether he was creating a classic samurai film like Seven Samurai or a taut police procedural like High and Low. Toward the end of his life, though, he began to indulge a bit more, letting the camera linger a little longer on gorgeously composed shots, as he did in Ran, or spreading his experimental wings, as he did in Dreams.
Of course, he earned the right to do whatever he wanted later in life, particularly thanks to the intervention of people like Francis Ford Coppola, George Lucas, and Steven Spielberg. Coppola and Lucas helped ensure Kagemusha was made, and Spielberg stepped in to produce Dreams, which also features a cameo by Martin Scorsese as Vincent Van Gogh.
Yes, the Scorsese cameo comes off a bit odd, and some of the sequences in this anthology film sag a bit, like the story about the mountain climbers, but others are impossible to forget. The stories in Dreams were based on Kurosawa's own dreams, and they range from fanciful to frightful. In one that has a fairy tale quality, a young boy comes across a fox wedding in the woods. In another, a soldier confronts the ghosts of dead comrades. A third features a power plant meltdown.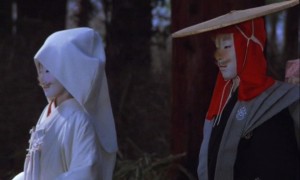 Each story stars a character known only as I, who progresses from child to adult over the course of the film, traveling through landscapes that become increasingly harsh and depressing. However, the last story ends on a hopeful note, as if Kurosawa has worked through the many anxieties that worried him throughout his life and was now at peace.
This Criterion Blu-ray, which sports a shiny new 4K digital transfer and a new translation, features the kind of supplements that have been typical of the company's "film class in a box" approach. Film scholar Stephen Prince, who should be no stranger to Kurosawa fans, recorded a new commentary for the film that's akin to a university lecture. That may sound dreadful to some people, but I love these kinds of tracks. Prince clearly arrived prepared with what to say, and he discusses everything from the film's themes to how it was made. I'll take that kind of commentary any day over the ones where the participants have obviously shown up cold and are watching the movie for the first time in a few years.
Criterion also assembled a pair of new interviews that run a combined 33 minutes, one with script supervisor Teruyo Nogami and another with assistant director Takashi Koizumi. Both discuss their background working with Kurosawa as well as what they did on this film.
The legacy supplements lead off with The Making of Dreams, which clocks in at 150 minutes. Made in 1990, when Dreams was released, it serves up plenty of behind-the-scenes footage and interview clips with Kurosawa, although it spends an inordinate amount of time simply showing what was happening on set, rather than giving much context for the artistic decisions being made. Director Nobuhiko Obayashi also included animations based on the paintings Kurosawa created for a sequence deleted from the movie.
The other main bonus feature is Kurosawa's Way, a 2011 piece that runs 52 minutes and features Bernardo Bertolucci, Hayao Miyazaki, Clint Eastwood, Martin Scorsese, and many others talking about Kurosawa's influence on their work. Since people like Lucas and Spielberg have had many opportunities since the 1970s to talk about the filmmaker, it's nice to hear from other folks too.
Finally, we have the North American theatrical trailer and a booklet that contains an essay by film critic Bilge Ebiri and the script for that aforementioned deleted sequence, which was cut for budgetary reasons.
– Brad Cook (@BradCWriter)