THE CURBSIDE CRITERION: CAT PEOPLE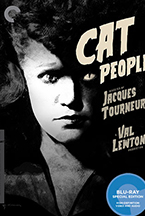 (We here at Hammer to Nail are all about true independent cinema. But we also have to tip our hat to the great films of yesteryear that continue to inspire filmmakers and cinephiles alike. This week, our "The Curbside Criterion" continues where HtN staff can trot out thoughts on the finest films ever made. Today Chris Reed dives deep into the new Blu-Ray release of Cat People, the deep, dark and bizarre 1942 original by Jacques Tourneur.)
Shadows in the night, chiaroscuro pools of mystery, preying on the innocent. Footsteps resonate, then disappear, made even more frightening by what we imagine caused their sudden muffling. Someone – or something – is stalking our waking nightmares, terrifying us through innuendo and unease. Such is the effect of producer Val Lewton's first film for RKO (one of the great studios of Hollywood's Golden Age, long since defunct), 1942's Cat People, directed by journeyman French director Jacques Tourneur. Except for one unfortunate shot – imposed by the studio – of an actual panther chasing its victims, all of the monsters are conjured in our own minds, thanks to innovative lighting and sound. Never again would low-budget – or "B-movie" – horror seem silly, easily dismissed as the poor cousin to the main attraction.
Starring the not-coincidentally feline French star Simone Simon (chosen in part because of the animal her face recalls), the straight-as-an-arrow American actor Kent Smith, the straight-shooting' "new kind of other woman" (as she's called in the film) American actress Jane Randolph, and slick-to-the-point-of sleaze Russian-born actor Tom Conway (older brother to George Sanders, whom he closely resembles in look, style and voice), the film was made with very little money and oversight by a studio that was far more concerned with the films of its enfant terrible, Orson Welles. And yet, when Cat People returned a far greater profit on investment than Citizen Kane – which nearly bankrupted RKO – the studio realized the moneymakers these cheapies could be, and gave Lewton the green light to go ahead with more (though with the same small budgets). These inexpensive psychological thrillers proved enduringly popular for a number of years, until the end of World War II and the wave of returning soldiers with stories of real horror dimmed the public's appetite for Lewton's twisted confessions.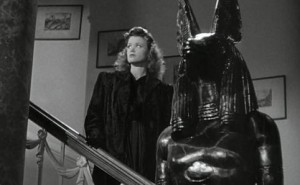 Always a producer, never a director, Lewton nevertheless placed his creative stamp on the movies made by his unit. He had a knack for employing good people, including Tourneur (who then went on to slightly bigger films like Out of the Past and The Flame and the Arrow); cinematographer Nicholas Musaraca (who also moved on, shooting The Spiral Staircase and I Remember Mama, as well as Out of the Past, as well); director Robert Wise (who then also left to pursue a career that would include films like West Side Story and The Sound of Music); editor-turned-director Mark Robson (who cut Cat People and a few others for Lewton, then directed a few more before also leaving, eventually directing Peyton Place and Valley of the Dolls, among a wide-ranging list of credits); and composer Roy Webb (already well established when he met Lewton, but with the scores for Notorious, Out of the Past and I Remember Mama still in his future). He brought back the same actors for multiple films, too, including three of Cat People's leads – Simon, Smith and Randolph – for The Curse of the Cat People (directed by Wise), in 1944. A European immigrant (from Russia) with eclectic tastes, Lewton supervised – and sometimes rewrote, without credit – the scripts of his movies, layering them with disturbing (for the time) sexual complexities, paranoia (both sexual and general), and emotional hysteria that subverted the family-friendly values of the studio system's Production Code, twisting its cultural prerogatives through nuance and suggestion. In that sense, the lighting that he, Tourneur and Musuraca pioneered in Cat People (with a major debt to 1920s German Expressionism), which would soon become standard a few years later in what became known as "film noir," was the perfect example of Lewton's aesthetic: don't tell; show. Many years later, newcomer Steven Spielberg would do much the same thing – terrorizing with just little hints of the monster – in his summer blockbuster Jaws, turning what had been B-movies into the new mainstream.
It all began with Cat People, which itself owed its existence as RKO's response to the horror canon – Dracula, Frankenstein, The Mummy – that Universal had put out in the previous decade. It tells the relatively simple (on the surface) tale of Irena Dubrovna (Simon, La Bête Humaine), a Serbian immigrant to the States, who meets Oliver Reed (Smith, The Spiral Staircase), a paragon of normal American masculinity, at the zoo as she is sketching the panthers. She's all slinky sensuality to his square-jawed innocence, but just as it looks like their quick mutual seduction and marriage might result in some East-West sparks, Irena reveals her fear that she is one of the "cat people" from her native village, cursed long ago to transform into deadly panther-like creatures when their passions are aroused. In other words: no sex, lest she rend Oliver limb from limb. Which fact throws him into the arms of his sensible co-worker Alice (Randolph, In the Meantime, Darling), who has long had a yen for him. Meanwhile, Irena seeks to understand her conflicting impulses by seeing a psychiatrist (Conway, the narrator of Disney's 1953 Peter Pan) who oozes continental charm and takes a particular interest in Simon's apparent psychosis. Is she crazy? Is she doomed? Does she actually become a cat when inflamed with strong emotion? No more plot spoilers here, but you can see how the subject matter would lend itself to multiple and variant readings, which helps explains audiences' strong responses to the film in an era where discussions of such matters were normally stifled, at least at the movies. It's sexy and demented stuff, as was much of Lewton's output.
And now we get this beautiful 2k digital restoration of the film, on high-definition Blu-ray, complete with all manner of exciting extras, courtesy of Criterion. In addition to the film, itself, which comes with an outstanding optional commentary track by film historian Gregory Mank, there are the following special features: "Darkness Betrayed," a mostly solid essay, found in the accompanying booklet, by Geoffrey O'Brien, Editor in Chief of the Library of America; Val Lewton: The Man in the Shadows (Kent Jones, 2007), a brilliant 77-minute documentary about the legendary producer that is worth the price of the disc, alone; a fine 26-minute episode, filmed in 1977, of the French TV show "Ciné regards," with director Jacques Tourneur; a terrific 16-minute video interview with cinematographer John Bailey (who shot Paul Schrader's 1982 remake of Cat People); and, finally, a horrible copy of the trailer for a long-ago re-release of the film, which is the only extra that does not belong here. Overall, then, this is must-own for fans of the film, of horror and, especially, film history. What follows is my review of all of the ancillary materials.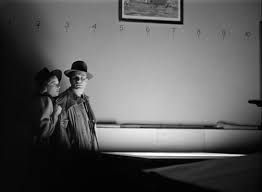 Commentary by film historian Gregory Mank
Where to begin? Mank provides so much production history that I struggled to keep up with my note-taking as he rattled off fact after fact. For those not compelled to write such information down, I imagine that it would be far less stressful to listen to Mank's commentary. There is just such a treasure trove of interesting tidbits here, including – but not limited to – the following: the one actual black panther we see, over and over again, was named Dynamite; Simone Simon's voice was used to dub over that of the "cat woman" who speaks to her in the restaurant on her wedding night, resulting in an additional bit of doubling, literal as well as thematic; Alan Napier, one of Kent Smith's work colleagues in the film, would later gain fame as Alfred on the 1960s TV version of Batman; and on and on. Mank discusses the pre-production, actual shoot, distribution history and so much more. Watch the movie and then watch it again with the commentary on. You will not be disappointed.
"Darkness Betrayed" – essay by Geoffrey O'Brien, Editor in Chief of the Library of America
This essay provides a solid summation of the film's themes and aesthetic devices – it's a good academic reading of film, in other words – but less production history than does Mank's commentary. Still, it's a more than worthy accompaniment to the disc, offering interesting analysis about the film's sexual themes and its discussion of sin in the context of 1940s America. Like Mank and Kent Jones (see below), O'Brien is fascinated by the flirty and subversive suggestiveness of Simon's line, "I like the dark; it's friendly," and posits that Cat People is as much a film about a failed marriage – and the sexual anxiety that leads to that failure – as it is a horror film. Despite one unfortunate factual error – actor Tom Conway was George Sanders's older, not younger, brother – O'Brien does a fine job setting up the film for the novice viewer.
Val Lewton: The Man in the Shadows (Kent Jones, 2007, 77 min)
Along with Mank's commentary, this is the real gem among the special features. Chock full of research about Lewton, the documentary presents the information in a clear, concise manner, all of it narrated by director Martin Scorsese, himself an avid film historian (A Personal Journey with Martin Scorsese Through American Movies). Jones, who most recently directed another excellent filmmaker profile, Hitchcock/Truffaut, is the current Director of the New York Film Festival, and not only knows his stuff, but knows how to make a fascinating movie. He walks us through Lewton's personal life story, then his professional career, his work at RKO, and finally his premature death, at 46, in 1951. Among the many interview subjects in the film is Geoffrey O'Brien, author of the essay in this package's booklet (see above), as well as cult filmmaker Roger Corman (The Little Shop of Horrors), Cat People director Tourneur, and Lewton's son, all of whom contribute important facts about the producer's legacy. I would have been happy to buy this film on its own; that it comes as a bonus feature makes this Blu-ray package an even greater deal.
Episode of French TV show "Ciné regards" with Jacques Tourneur (26:37 min)
Some of the interview here is featured in Jones' documentary (above), but there is plenty of previously unseen material, as well. We also get the full scope of Tourneur's career, from his early days in America – born in 1904, he became a naturalized U.S. citizen in 1919 – to his filmmaking start in France to his return to the States in 1935 to his burgeoning success in the 1940s (thanks to Lewton) and beyond. Tourneur died just 7 months after this interview was filmed, yet looks so vibrant on camera, that there is an additional poignant quality to what we see. It's a fine addition to the collection of extras.
June 2016 Interview with cinematographer John Bailey (16:36 min)
Bailey, an accomplished cinematographer with an incredibly varied list of credits that includes The Big Chill, Groundhog Day and even Ramona and Beezus, shot Paul Schrader's 1982 remake of Cat People, and here explains both what he thinks of the original film and how he and Schrader prepared for their own version of it. It's wonderful to get an artist's perspective on what makes Musuraca's work so special – particularly his use of a consistently "destabilizing" (as Bailey calls it) low-angle light source – and Bailey offers one fascinating insight after another. I wished there were even more of him on the disc, but these 16 minutes are better than not having any Bailey at all.
Trailer (1:04 min)
This is the one sour note, since it's of such terrible quality that it begs the question, why not restore it? As presented, it's so short, the cost to restore could not have been that great. Further, the trailer here isn't even for the original 1942 premiere, but a later re-release. I would have left it off the disc, but its inclusion hurts no one and takes up little space.
To sum up, I cannot recommend this wonderful new Criterion Blu-ray release of Cat People enough. In addition to the seedy and subversive joys of the film, itself, the included extras make it a mandatory part of even the most amateur film buff's collection.
– Christopher Llewellyn Reed (@ChrisReedFilm)