GUATEMALAN HANDSHAKE, THE
It's A Strange, Weird, Funny, Sad World
Leave a Reply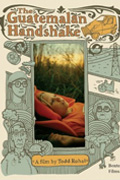 (Visit the the official website of The Guatemalan Handshake to watch a high resolution trailer, then buy it at Amazon
.)
Some movies slip through the cracks. After screening at festivals all over the world and winning multiple awards, Todd Rohal's The Guatemalan Handshake appeared destined for an inappropriately premature slip into oblivion. Fortunately, Benten Films stepped in to ensure that this wouldn't happen. The result is a gorgeous 2-disc DVD release, which is filled with extras and contains a beautiful transfer of Rohal's truly original debut feature. (Note: For these purposes, we will concentrate on the film itself and leave the special features for a rainier day.)
Unplug Things And They Still Hum
In order to write about The Guatemalan Handshake, one must contemplate inventing a new language. For that is exactly what this movie does. To call it a dream isn't quite appropriate. The illogic at work here is not of the sleepy subconscious. Rather, it is of the youthful, nostalgic, foggily awakened mind. To experience this truly distinct blend of the absurd and the sincere is to sit down and be talked to by an adolescent who has just drunk a pitcher of aged Kool-Aid and has begun to recount a particularly strange, yet indelible, summertime memory. The Guatemalan Handshake is filled with an innocent sense of mystery and loss—not to mention an overabundance of good humor—that provides a jolt to a viewer's common senses of expectation. In this world, time doesn't unfold typically. It juts and jars and stands still and escapes itself. It is the past and the present at the exact same time. We watch these oddly familiar characters act in ways that feel simultaneously strange and perfectly normal. How Rohal manages to pull this off is just one of this film's many delightful mysteries.
Early in the 21st Century, while almost everyone else was embracing easier, cheaper, and faster methods to shoot their low-budget films (i.e., Digital Video), Todd Rohal had his sights set on a much grander vision (i.e., Anamorphic 35mm). This wasn't merely a decision based on prettiness, however. It was a way for Rohal to separate himself from his peers and present a world that accurately reflects the strange spirit of small American towns everywhere. By capturing his carefully chosen locations in this lush, vibrant widescreen format—downtown diners, used car dealerships, rock quarries, demolition derby tracks, nary a chain establishment to be found!—Rohal gives his world an added dimension that would feel thinner and less resonant had he shot it on mini-DV. The result is a world that feels more like a time capsule of mid/late 20th Century Americana than a portrait of the here and now.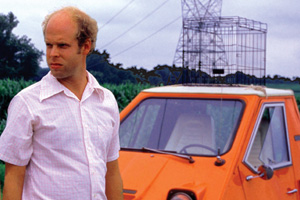 While it appears that the film is told from the perspective of Turkeylegs (Katy Haywood), an expressive young girl who is mourning the disappearance of her friend Donald Turnupseed (Will Oldham), this isn't necessarily the case. Throughout the film, different characters deliver their own distinct voiceovers (a wheelchair-bound nose picker, a baton-twirling princess), not to mention the more obvious fact that there are many scenes in which Turkeylegs is nowhere to be found. However, if there is a film in the world that need not be married to these matters of logical explanation, The Guatemalan Handshake is it. I simply propose that this is a movie told from a universally youthful perspective, where the only world that exists is the world inside this tiny town. Here, politics don't matter. Other continents don't matter. The next town over doesn't matter. Rather than feeling claustrophobic and self-contained, this approach most truthfully reflects the way children view the world. They only know what they see. They are unable to comprehend a universe beyond their own county line. To Turkeylegs and Sadie (Sheila Scullin), Donald's absence is some sort of profound mystery. In reality, maybe he just got fed up and split town.
The Guatemalan Handshake's entire cast of characters is coming to terms with some form of loss: Donald has lost his turtle; Turkeylegs has lost her best friend Donald; Ethel Firecracker (Kathleen Kennedy) has lost her dog; Sadie has lost her boyfriend Donald; Mr. Turnupseed (Ken Byrnes) has lost his son Donald, not to mention the combination to the lock on his shed out back; Stool (a hilarious Rich Schreiber) has accidentally unleashed the strange electrical problems that are tormenting the town and lost his job in the process; Ivan (Ivan Dimitrov) has lost his fatherly power over Sadie; etc. It is this somber undercurrent that provides The Guatemalan Handshake with unexpected gravity and keeps it from becoming just another quirky small town comedy. These characters are bizarre and entertaining, to be sure. But they are all filled with legitimate sorrow. The way Rohal presents this sorrow, it isn't merely stuck in the present tense. It's the sorrow of individuals who are pining over the past.
More than simply toying with narrative convention, Rohal proves himself to be a demented genius when it comes to visual and sonic invention. Ethel (who actually looks like a human cartoon) places a tissue to her nose to unleash… an assault of firecracker blasts? A man runs through a cornfield swatting at his head to avoid a swarm of… killer bees? Turkeylegs wakes up from a nap in a field and we see the same upside-down, crooked world that she sees… all the time? Rather than taking a typical approach to his story, making sure every thread and idea has a logical explanation to it, Rohal has proudly tossed all convention into the dumpster in order to come up with something that is more exhilarating and, in a deeper sense, honest. To those of us who grew up in small towns where new forms of weirdness lurked inside every mailbox, much of this film plays more like a documentary than a fictional comedy. Sad, perhaps, but true, indeed.
Thankfully, Todd Rohal's wildly inventive debut feature, which has no direct comparison, is now on home video for everyone to appreciate. While there are sources to be found—most overtly David Gordon Green's George Washington (the docu-montages in which actual townspeople are interviewed), Harmony Korine's Gummo (elliptical voice-overs from children who appear to have stepped out of a cartoon), and many more—in an overall way nothing feels quite like The Guatemalan Handshake. In much the same way that David Lynch makes us care about dreams that aren't our own, Todd Rohal has made us care about a seemingly incoherent story told by an adolescent who we don't even know.
— Michael Tully
Leave a Reply